Home > Information > press release > T. Matsuda takes office of International Association of Cancer Registries President
T. Matsuda takes office of International Association of Cancer Registries President
December 22, 2017
National Cancer Center
in Japanese
Dr Tomohiro Matsuda of National Cancer Center (NCC), Japan officially took office of the President of the International Association of Cancer Registries (IACR) this year.
IACR, which not only sets specifications for cancer registry and data, also fosters exchange of information between cancer registries internationally, to improve the quality of data and comparability between registries. As Dr Matsuda, NCC Section Head of the National Cancer Registry contributes to the IACR, the synergy between the two institutions is likely to lead to strengthened incorporation of Asian input, in addition to the traditionally active contributors of Europe and North America, thus resulting in a framework opening more avenues into international cooperation with comparable data.
With the introduction of legislation, since 2016, all cancer diagnoses throughout Japan are registered. The first batch of this data is to be made publicly available in 2018. The data will be utilized mainly in cancer control in Japan, but is also expected to underpin comparative studies not only with Asian, but with other countries around the globe. Studies of Japanese occurrence and outcome, in comparison with other countries should lead to the evaluation of Japanese cancer treatments, and also contribute in unraveling the mechanisms of occurence of rare cancers mainly observed specific to Asia.
About IACR
Established in 1966, IACR counts over 590 members representing 130 countries and regions (as of October 2017). In addition to setting standards for cancer registration and data, publishing and disseminating information on cancer registration and data, IACR further develops and provides systems including IARC/IACRcrgTools, CanReg5, provides e-learning systems, trains and sponsors researchers and specialists for cancer registration and data, standardizes cancer registration to improve data quality, and promotes research by means of data comparison of registries (incidence on five continents), which contributes to cancer control policy. IACR enjoys an official relationship with, and works with the World Health Organization (WHO). Other collaborating organizations include Union for International Cancer Control (UICC), European Network of Cancer Registries (ENCR), and the International Agency for Research on Cancer (IARC), where its secretariat is based. The Annual Scientific meeting, convened on a different continent each year since 1982, attracts about 300 participants.



website here (link to external site)
Outlook
Contribution to support cancer registries in developing countries, through the Global Initiative for Cancer Registry Development (GICR), in coordination with WHO/IARC, and support from the e-ASIA Joint Research Program, through Japan Agency for Medical Research and Development (AMED). The project aims to transfer Japanese expertise to Asian countries bearing a heavy burden of cancer.
Promoting the standardization of cancer registries and data in leading regions of the world, through proposing detailed procedures and training curricula, organization of licensing system, to ensure improvement in data, opening avenues to utilize data.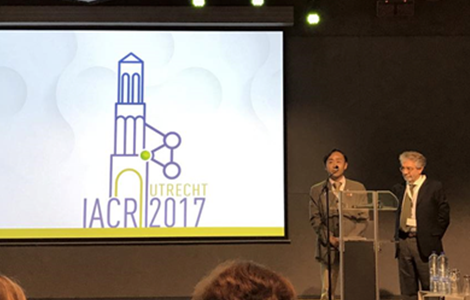 Dr Matsuda with Dr Roberto Zanetti, his predecessor
(IACR 2017 annual scientific meeting at Utrecht, Netherlands)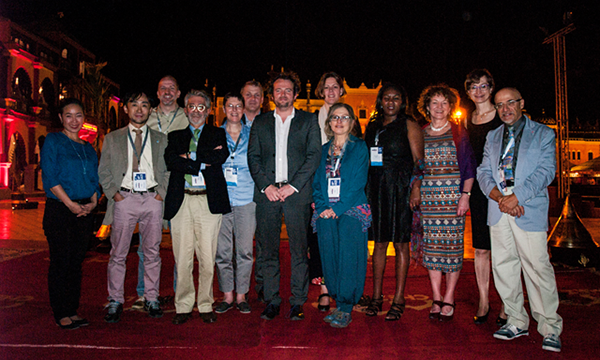 Dr Matsuda with fellow IACR directors
(IACR 2016 annual scientific meeting at Marrakesh, Morocco)
For enquiries on the IACR Presidency, please contact
Tomohiro Matsuda
Office of International Affairs
phone : 03-3542-2511
For enquiries in general, please contact
Office of Public Relations
Strategic Planning Bureau
tel : 03-3542-2511
fax : 03-3542-2545
e-mail : ncc-admin@ncc.go.jp