Home > Clincal depts. > Department of Anesthesia and Intensive Care
Department of Anesthesia and Intensive Care
Tetsufumi Sato, Junya Matsumi, Rie Suzuki, Yousuke Kawaguchi, Misako Shigematsu, Naohiro Shioji, Yutarou Asagoe, Yuki Enomoto, Satoru Inoue, Sei Manabe, Kento Omi, Tomoyo Matsuoka, Hiroyuki Kojima, Akiko Ogaku, Shouko Kawakubo, Nobuko Yokokawa, Arata Taniguchi, Shinichi Akabane, Kousuke Saita, Dan Liu, Yuki Nishihara, Taku Ichikawa, Tatsuya Kurokawa
Introduction
The Department of Anesthesia and Intensive Care provides anesthesia and intensive care. Over 5,000 cases a year needing anesthetic services are dealt with at 15 main operation rooms, one MRI operation room and one radioisotope operation room. Over 900 intensive care cases a year are dealt with in a ward with eight beds. Our intensivists are also responsible for advising about the management of critically ill patients at wards and resuscitation.
The Team and What We Do
Our department is comprised of 21 staff anesthetists including eight certificated anesthetists. We provide perioperative care to all patients who require general anesthesia and spinal anesthesia. Our operating section performs approximately 5,000 anesthetic procedures a year including general anesthesia with/without epidural anesthesia, spinal anesthesia, epidural anesthesia, and monitored anesthetic care (Table 1). In addition, scheduled surgery patients are seen by the perioperative management center including the Anesthesia Consulting Clinic.
Also, our intensive care unit is certificated by the Japanese Society of Intensive Care Medicine. It is managed as a closed system by some of our staff includes four certificated intensivists. About 900 intensive care cases a year are dealt with in a ward with eight beds. Patients treated in intensive care units are mainly for post-surgical indications. However, some of them are medical emergencies.
Some members of our department are actively involved in research at clinical levels and supervise post doctorate, doctorate, postgraduate and undergraduate students.
Table 1. Numbers of anesthesia classified by anesthetic methods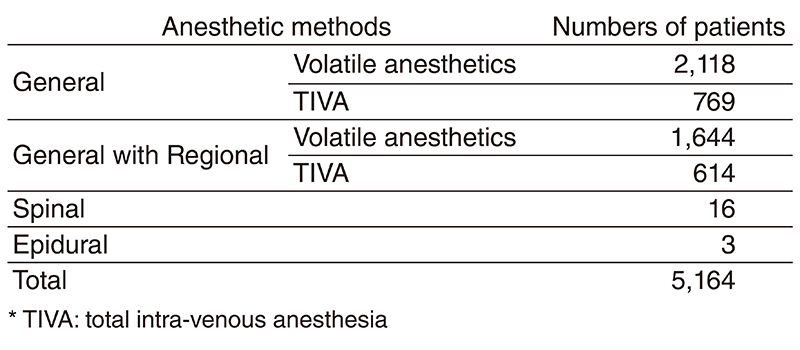 Table 2. Numbers of patient managed at intensive care unit classified by Clinical department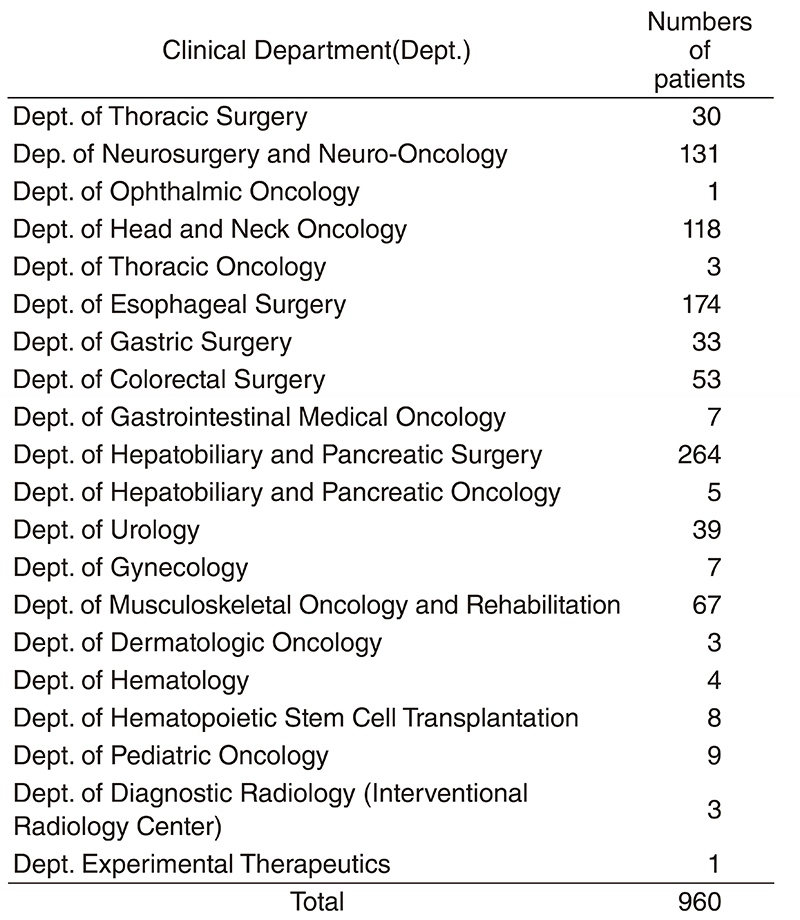 Research activities
One of our members researches into pain at the Division of Cancer Pathophysiology. To understand the risk factors and effects on prognosis of severe adverse events in postoperative patients and critically ill cancer patients, mainly epidemiological analyses were performed. To improve current care for perioperative and critically ill cancer patients, studies are being conducted.
Education
As for clinical training for non-certified anesthesiologists, their anesthetic management is supervised by certificated anesthesiologists. For clinical training for non-certified intensivists, they are supervised by certified intensivists. And, we organize academic conference presentations and scientific papers. This training is not only for clinical experiments but is also to meet the requirements for becoming certificated specialists.
Future prospects
We continually aim to achieve more effective perioperative procedures including anesthesia and critical care for cancer patients. And we continually improve perioperative management for example employing multi-departments and multi-disciplinary members for patients' safety.
List of papers published in 2018
Journal
1. Shioji N, Kanazawa T, Iwasaki T, Shimizu K, Suemori T, Kuroe Y, Morimatsu H. High-flow Nasal Cannula Versus Noninvasive ventilation for Postextubation Acute Respiratory Failure after Pediatric Cardiac Surgery. Acta Med Okayama, 73:15-20, 2019