Home > Clincal depts. > Department of Endoscopy, Gastrointestinal Endoscopy Division (the Endoscopy Center)
Department of Endoscopy, Gastrointestinal Endoscopy Division (the Endoscopy Center)
Yutaka Saito, Takahisa Matsuda, Ichiro Oda, Yasuo Kakugawa, Shigetaka Yoshinaga, Haruhisa Suzuki, Satoru Nonaka, Taku Sakamoto, Seiichiro Abe, Masayoshi Yamada, Masau Sekiguchi, Hiroyuki Takamaru, Keiko (Sogame) Nakamura, Takao Itoi, Takeshi Nakajima, Hajime Takisawa, Minori Matsumoto, Eriko (Tsuruki) So, Mai Ego, Yusaku Tanaka, Horin Cho, Takahiko Ito, Masakazu Koga, Kengo Kasuga, Yasuhiko Mizuguchi, Kazumasa Kawashima, Fumito Yanagisawa, Kaizo Kagemoto
Masako Yamada, Shoko Mituhashi (Gastrointestinal Endoscopy, National Cancer Center Hospital)
Yuji Matsumoto, Midori Tanaka, and Takaaki Tsuchida (Bronchoscopy)
Introduction
The Department of Endoscopy moved to the New Endoscopy Center on January 20, 2014 and we believe this is currently the biggest endoscopy center in Japan (15 Endoscopy Rooms [251.112m2 ] and 136.788m2 Recovery Rooms on two floors of 1,949.554m2 ).
The total number of nursing staff increased to 18, and three endoscopy engineers are working with us. The Gastrointestinal Endoscopy Division has 13 staff physicians in the National Cancer Center Hospital (NCCH), and in the Division of Screening Technology of the Center for Public Health Sciences, two chief residents, 11 residents, and several rotating residents.
The Respiratory Endoscopy Division has three staff members, and the total number of bronchoscopies and therapeutic procedures has been dramatically increased.
Table 1. Chronological Trend of Total Number of Diagnostic and Therapeutic Gastrointestinal Endoscopic Procedures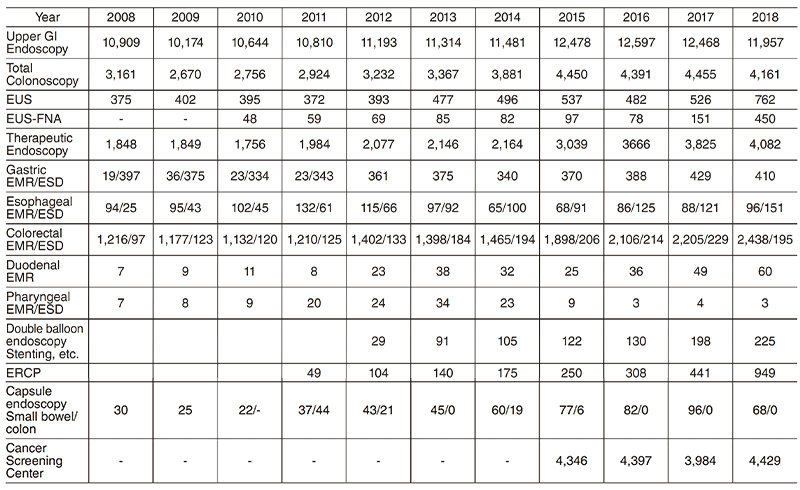 The Team and What We Do
Dramatic developments have recently changed the operational mechanism and design of endoscopes along with a variety of accessory devices and instruments, so clinical applications using the latest equipment are evolving on a continuous basis.
In the Gastrointestinal Endoscopy Division, more advanced and technically difficult endoscopic treatments such as endoscopic submucosal dissection (ESD) are being used in place of conventional endoscopic mucosal resection (EMR) not only for early gastric cancer, but also for superficial esophageal and colorectal neoplasms. In addition, educational activities are an important part of our division's activities with many Japanese medical students, residents and staff physicians as well as approximately 130 overseas post-graduate physicians attending our training courses annually.
Our Endoscopy Center was authorized as one of the WEO Centers of Excellence by the World Endoscopy Organization (WEO) and got an award during Gastro 2017 in Hyderabad. This is a prestigious award for us because there are only 17 famous international centers in the world and just two centers in Japan.
Research activities
Our efforts have been focused on new diagnostic and therapeutic strategies. For more accurate endoscopic diagnosis of gastrointestinal disease, we are utilizing the NBI and BLI systems that enable us to narrow the spectral transmittance bandwidth of the optical filters used in the light source of electronic endoscope systems. In addition, we have introduced an endocytoscopy system. This system can magnify lesions up to 500x magnification and visualize nuclear atypia.
Clinical trials
We have organized several multicenter study groups to evaluate the efficacy and clinical impact of newly developed endoscopies and medical devices prospectively.
Esophagus
We are currently enrolling our patients in several multicenter randomized controlled trials (RCTs).
First, a phase II/III study has been introduced to compare endoscopic balloon dilatation combined with steroids to radial incision and cutting combined with steroids for refractory anastomotic stricture after esophagectomy (JCOG1207: RICS study).
Second, a phase III study is ongoing to compare oral steroid administration to local steroid injection therapy for the prevention of esophageal stricture after endoscopic submucosal dissection (JCOG1217: Steroid EESD P3).
In collaboration with TWins (Tokyo Women's Medical University - Waseda University Joint Institution for Advanced Biomedical Sciences), we have conducted a clinical trial of cell sheetbased regenerative medicine, which could reduce complications such as severe stenosis and perforation related to intensive balloon dilations. This cell sheet-based regenerative medicine is an innovation in the gastrointestinal field and we believe that cell-based regenerative medicine will be useful to improve the quality of life of patients after esophageal ESD.
Endoscopic resection of esophageal cancer was widely spread and several innovations were developed to prevent post-ESD esophageal stricture as mentioned above. However, optimal additional treatment strategy of endoscopic resection for patients with T1a-MM and T1bSM1 esophageal cancer, particularly esophageal adenocarcinoma, is still under discussion and further prospective studies are warranted. A multicenter prospective observational cohort study is ongoing to investigate long-term outcomes of those patients. An RCT comparing conventional ESD versus ESD with countertraction for superficial esophageal cancer (CONNECT-E trial) has been conducted at seven institutions in Japan since January 2017 and proved the efficacy of the traction.
A non-randomized study for the usefulness of endoscopic ultrasonography is ongoing to compare with magnified endoscopy with narrow band imaging for diagnosing cancer invasion depth of clinical stage IA esophageal squamous cell carcinoma (JCOG1604: Odyssey trial).
Stomach
A nationwide cancer registry system has been developed for early gastric cancer treated with EMR/ESD. A five-year multicenter prospective cohort study has been conducted using this cancer registry system since 2010 (J-WEB/EGC) and the result was published in DEN. In addition, we have completed two multicenter RCTs. The first one is a CONNECT-G trial to investigate the usefulness of endo-clip connecting dental floss (DFC) during gastric ESD that has a potential efficacy making a better view by traction with DFC. The second one is an RCT to compare the second-generation NBI with white-light imaging (WLI) for detection of early gastric cancer (EGC Detection Trial).
Duodenum
A non-randomized confirmatory trial of cold snare polypectomy for superficial non-ampullary duodenal epithelial tumor (D-COP trial) has been conducted at more than 100 institutions in Japan since 2017. Recently, cold snare polypectomy is widely used in the colorectal region and it is expected that the same concept can be applied for a duodenal small tumor (familial adenomatous polyposis [FAP] is excluded from this trial).
Pancreas
We prospectively evaluated the efficacy and safety of endoscopic ultrasound-guided fine needle aspiration (EUS-FNA) for pancreatic solid lesions in multicenter studies in Japan. This study was designed as a prospective cohort study conducted at the following five hospitals in Japan: The NCCH, Tokyo Medical University, Aichi Cancer Center Hospital, Gifu University Hospital, and Fukushima Medical University Aizu Medical Center. Two hundred and fortynine patients were enrolled from November 2011 to June 2013. Diagnostic sensitivity of EUS-FNA in this study was 97.2%. Diagnostic specificity, accuracy, positive predictive value, and negative predictive value were 88.0%, 96.2%, 100%, 81.4%, respectively. Complication after seven days was 1.6%. We could confirm that the efficacy and safety of EUS-FNA for pancreatic solid lesions is satisfied.
Colorectum
RCTs concerning colorectal neoplasms are ongoing as well.
The Japan Polyp Study (JPS), a multicenter RCT conducted at 11 participating centers was initiated in 2003. The aim of this study was to assess whether follow-up colonoscopy using high-definition colonoscopes at three years as well as at both one and three years would detect important lesions including non-polypoid colorectal neoplasia. The JPS will provide preexisting comorbidity data, including the prevalence of both flat and depressed colorectal lesions, the quality of colonoscopy, and the risk of colorectal cancer (CRC). Furthermore, the study will clarify the long-term impact of colonoscopic removal on mortality due to CRC. The evidence will enable us to elaborate the fundamental basis for the updated Japanese surveillance guidelines (Participants of JPS: 3,926, JPS Cohort: 1,291).
We have completed a prospective cohort study for the possibility of chemo-radiotherapy (CRT) for high-risk rectal submucosal cancer after endoscopic resections. We are playing a leading part to conduct a multicenter single-arm study (JCOG1612) for the possibility of CRT for highrisk rectal submucosal cancer after endoscopic resections. When this study result shows a noninferiority of CRT compared to surgery, we can propose a new non-invasive treatment strategy for rectal T1 cancer patients.
A nationwide cancer registry system has also been developed for early CRC treated with ESD. A five-year multicenter prospective cohort study has been ongoing using this cancer registry system since 2013. A total of 2,066 patients were enrolled in this multicenter cohort study and this should be the largest cohort study in colorectal ESD in the world.
We have conducted a multicenter prospective cohort study on colorectal neuroendocrine tumors (NETs) since January 2017. This study is expected to provide new important findings on colorectal NETs.
A multicenter prospective cohort study on T1 CRC has also been performed since May 2017. This study is collecting many T1 CRC cases from over 70 institutions all over Japan and will bring important information on the management of T1 cancer.
J-CAPP Study II
To evaluate the influence of low-dose, enteric-coated aspirin tablets (100 mg/day for four years) on colorectal tumor recurrence, we have conducted a multicenter prospective study since 2015 (Chief conductor: Hideki Ishikawa, M.D, Kyoto Prefectural University of Medicine). At the moment, a total of 4,317 patients are enrolled in this study.
Molecular and fluorescence Imaging and Database Study
Molecular imaging endoscopy is one of a new era of methods for very early cancer diagnosis and detection of metastasis. We have started a collaborative study with the Departments of Endoscopy, Colorectal Surgery, Gastric Surgery, and Pathology and Clinical Laboratories, the NCC, Research Institute, the University of Tokyo, and the Jikei University School of Medicine.
Probe-based confocal laser endomicroscopy (pCLE) allows real-time, in vivo high-resolution imaging of the gastrointestinal epithelium at a cellular level. We are ready to start a multicenter prospective study using an advanced medical treatment system (type B) supported by the Japan Agency for Medical Research and Development (AMED) to evaluate the diagnostic yield of pCLE for gastric neoplasms from December 2019.
We have been collaborating with the Japan Gastroenterological Endoscopy Society (JGES) in order to build a Japan endoscopy database (JED) of gastrointestinal endoscopies including not only therapeutic but also diagnostic procedures. This all-Japan project is named JED and has the potential to construct the largest and most precise database of all endoscopic procedures. Japanese endoscopists are well known as most excellent endoscopists, therefore, we can gather a lot of evidence using this huge endoscopy database from now.
Research and development of new endoscopy using artificial intelligence (AI)
Recent development of artificial intelligence (AI) using deep learning is expected to apply in precision medicine. We have been researching and developing new endoscopic systems using AI. First, in order to support endoscopist's detection of CRC and precancerous lesions during colonoscopy by AI, we have been researching and developing a software program using convolutional neural networks based on mathematical morphology and hardware, which works in real-time. We will extend this system to genomic data and other gastrointestinal organs, such as the stomach and esophagus, in the future. Second, we started a multicenter image analyzing study to compare a new automatic diagnosis system using AI with endoscopist's diagnosis of colorectal lesions using endocytoscopy.
We are collaborating with NCCH research institute and Osaka University and performed fecal metagenomic and metabolomic studies on samples from a large cohort of 616 participants who underwent colonoscopy to assess taxonomic and functional characteristics of gut microbiota and metabolites. Our large-cohort multi-omics data indicate that shifts in the microbiome and metabolome occur from the very early stages of the development of colorectal cancer, which is of possible etiological and diagnostic importance.
Future prospects
Research and development of new endoscopy
Olympus Medical Systems Corp. has opened a laboratory at our new research center, and we are collaborating with them to develop innovative endoscopy systems and devices.
List of papers published in 2018
Journal
1. Sakamoto T, Ramaraj R, Tomizawa Y, Cho H, Matsuda T, Saito Y. Clinical significance of colorectal polyp detection on colonoscopy insertion. United European Gastroenterol J, 7時12分5-129, 2019
2. Fujimoto A, Saito Y, Abe S, Hoteya S, Nomura K, Yasuda H, Matsuo Y, Uraoka T, Kuribayashi S, Saito I, Tsuji Y, Maehata T, Ochiai Y, Nishizawa T, Yahagi N. Haemostasis treatment using dual red imaging during endoscopic submucosal dissection: a multicentre, open-label, randomised controlled trial. BMJ Open Gastroenterol, 6:e000275, 2019
3. Hashimoto T, Ogawa R, Yoshida H, Taniguchi H, Kojima M, Saito Y, Sekine S. Acquisition of WNT Pathway Gene Alterations Coincides With the Transition From Precursor Polyps to Traditional Serrated Adenomas. Am J Surg Pathol, 43:132-139, 2019
4. Yachida T, Oda I, Abe S, Sekiguchi M, Nonaka S, Suzuki H, Yoshinaga S, Taniguchi H, Sekine S, Masugata H, Masaki T, Daiko H, Saito Y. Risk of Lymph Node Metastasis in Patients with the Superficial Spreading Type of Esophageal Squamous Cell Carcinoma. Digestion, 1-6, 2019
5. Suzuki H, Takizawa K, Hirasawa T, Takeuchi Y, Ishido K, Hoteya S, Yano T, Tanaka S, Endo M, Nakagawa M, Toyonaga T, Doyama H, Hirasawa K, Matsuda M, Yamamoto H, Fujishiro M, Hashimoto S, Maeda Y, Oyama T, Takenaka R, Yamamoto Y, Naito Y, Michida T, Kobayashi N, Kawahara Y, Hirano M, Jin M, Hori S, Niwa Y, Hikichi T, Shimazu T, Ono H, Tanabe S, Kondo H, Iishi H, Ninomiya M. Short-term outcomes of multicenter prospective cohort study of gastric endoscopic resection: 'Real-world evidence' in Japan. Dig Endosc, 31:30-39, 2019
6. Inoki K, Kakugawa Y, Takamaru H, Sekiguchi M, Matsumoto M, Matsuda T, Ito A, Tanaka T, Inamoto Y, Fuji S, Kurosawa S, Kim SW, Fukuda T, Ohe Y, Saito Y. Capsule Endoscopy after Hematopoietic Stem Cell Transplantation Can Predict Transplant-Related Mortality. Digestion, 1-10, 2019
7. Oda I, Hoteya S, Fujishiro M. Status of Helicobacter pylori infection and gastric mucosal atrophy in patients with gastric cancer: Analysis based on the Japan Endoscopy Database. Dig Endosc, 31:103, 2019
8. Sakamoto T, Nakajima T, Matsuda T, Murakami Y, Ishikawa H, Yao K, Saito Y. Comparison of the diagnostic performance between magnifying chromoendoscopy and magnifying narrow-band imaging for superficial colorectal neoplasms: an online survey. Gastrointest Endosc, 87:1318-1323, 2018
9. Abe S, Martinez-Alcala A, Baig KKK, Saito Y, Monkemuller K. Oxidized cellulose as hemostatic agent to prevent bleeding after high-risk endoscopic resection of rectal laterally spreading tumor overlying hemorrhoids. Endoscopy, 50:E95-E96, 2018
10. Takahashi Y, Takeuchi T, Kojima Y, Nagami Y, Ominami M, Uedo N, Hamada K, Suzuki H, Oda I, Miyaoka Y, Yamanouchi S, Tokioka S, Tomatsuri N, Yoshida N, Naito Y, Nonaka T, Kodashima S, Ogata S, Hongo Y, Oshima T, Li Z, Shibagaki K, Oikawa T, Tominaga K, Higuchi K. Efficacy and safety of Helicobacter pylori eradication therapy immediately after endoscopic submucosal dissection. J Gastroenterol Hepatol, 33:1341-1346, 2018
11. Abe S, Oda I, Minagawa T, Sekiguchi M, Nonaka S, Suzuki H, Yoshinaga S, Bhatt A, Saito Y. Metachronous Gastric Cancer Following Curative Endoscopic Resection of Early Gastric Cancer. Clinical endoscopy, 51:253-259, 2018
12. Ishihara R, Oyama T, Abe S, Takahashi H, Ono H, Fujisaki J, Kaise M, Goda K, Kawada K, Koike T, Takeuchi M, Matsuda R, Hirasawa D, Yamada M, Kodaira J, Tanaka M, Omae M, Matsui A, Kanesaka T, Takahashi A, Hirooka S, Saito M, Tsuji Y, Maeda Y, Yamashita H, Oda I, Tomita Y, Matsunaga T, Terai S, Ozawa S, Kawano T, Seto Y. Reply to the letter to the editor: Lymph node metastasis of adenocarcinoma and different definitions of sm1 cancer in the esophagus. J Gastroenterol, 53:804-805, 2018
13. Sano Y, Hirata D, Saito Y. Japan NBI Expert Team classification: Narrow-band imaging magnifying endoscopic classification of colorectal tumors. Dig Endosc, 30:543-545, 2018
14. Aadam AA, Abe S. Endoscopic submucosal dissection for superficial esophageal cancer. Dis Esophagus, 31:2018
15. Yamada M, Saito Y, Mojtahed A. Minimally invasive endoscopic surgery for complex colorectal lesions : progress from standard treatments to full thickness resections. Ann Laparos Endosc Surg, 3時56分, 2018
16. Maeda M, Yamashita S, Shimazu T, Iida N, Takeshima H, Nakajima T, Oda I, Nanjo S, Kusano C, Mori A, Moro H, Yamada H, Tsugane S, Sugiyama T, Sakai Y, Ushijima T. Novel epigenetic markers for gastric cancer risk stratification in individuals after Helicobacter pylori eradication. Gastric Cancer, 21:745-755, 2018
17. Abe S, Saito Y, Oono Y, Tanaka Y, Sakamoto T, Yamada M, Nakajima T, Matsuda T, Ikematsu H, Yano T, Sekine S, Kojima M, Yamagishi H, Kato H. Pilot study on probe-based confocal laser endomicroscopy for colorectal neoplasms: an initial experience in Japan. Int J Colorectal Dis, 33:1071-1078, 2018
18. Inoki K, Nakajima T, Nonaka S, Abe S, Suzuki H, Yoshinaga S, Oda I, Yamada M, Takatsu M, Yoshida H, Taniguchi H, Sekine S, Ohe Y, Saito Y. Feasibility of endoscopic resection using bipolar snare for nonampullary duodenal tumours in familial adenomatous polyposis patients. Fam Cancer, 17時51分7-524, 2018
19. Iwatate M, Sano Y, Tanaka S, Kudo SE, Saito S, Matsuda T, Wada Y, Fujii T, Ikematsu H, Uraoka T, Kobayashi N, Nakamura H, Hotta K, Horimatsu T, Sakamoto N, Fu KI, Tsuruta O, Kawano H, Kashida H, Takeuchi Y, Machida H, Kusaka T, Yoshida N, Hirata I, Terai T, Yamano HO, Nakajima T, Sakamoto T, Yamaguchi Y, Tamai N, Nakano N, Hayashi N, Oka S, Ishikawa H, Murakami Y, Yoshida S, Saito Y. Validation study for development of the Japan NBI Expert Team classification of colorectal lesions. Dig Endosc, 30:642-651, 2018
20. Mori Y, Kudo SE, Misawa M, Saito Y, Ikematsu H, Hotta K, Ohtsuka K, Urushibara F, Kataoka S, Ogawa Y, Maeda Y, Takeda K, Nakamura H, Ichimasa K, Kudo T, Hayashi T, Wakamura K, Ishida F, Inoue H, Itoh H, Oda M, Mori K. Real-Time Use of Artificial Intelligence in Identification of Diminutive Polyps During Colonoscopy: A Prospective Study. Ann Intern Med, 169:357-366, 2018
21. Arantes V, Uedo N, Morita Y, Toyonaga T, Nakano Y, Pedrosa MS, Oda I, Saito Y, Suzuki H, Yamamoto K, Sato Y, Draganov PV. Polypoid nodule scar after gastric endoscopic submucosal dissection: results from a multicenter study. Endosc Int Open, 6:E1198-E1203, 2018
22. Kudo T, Saito Y, Ikematsu H, Hotta K, Takeuchi Y, Shimatani M, Kawakami K, Tamai N, Mori Y, Maeda Y, Yamada M, Sakamoto T, Matsuda T, Imai K, Ito S, Hamada K, Fukata N, Inoue T, Tajiri H, Yoshimura K, Ishikawa H, Kudo SE. New-generation full-spectrum endoscopy versus standard forward-viewing colonoscopy: a multicenter, randomized, tandem colonoscopy trial (J-FUSE Study). Gastrointest Endosc, 88:854-864, 2018
23. Hashimoto T, Tanaka Y, Ogawa R, Mori T, Yoshida H, Taniguchi H, Hiraoka N, Kojima M, Oono Y, Saito Y, Sekine S. Superficially serrated adenoma: a proposal for a novel subtype of colorectal serrated lesion. Mod Pathol, 31:1588-1598, 2018
24. Niikura R, Yamada A, Fujishiro M, Tanaka K, Matsuda K, Saito Y, Ohtsuka K, Oda I, Katada C, Kato M, Kida M, Kobayashi K, Hoteya S, Horimatsu T, Kodashima S, Matsuda T, Muto M, Yamamoto H, Ryozawa S, Iwakiri R, Kutsumi H, Miyata H, Kato M, Haruma K, Fujimoto K, Uemura N, Kaminishi M, Shinozaki T, Tajiri H, Koike K. The Effects of Direct Oral Anticoagulants, Warfarin, Aspirin and Thienopyridine on the Performance of Immunochemical, Faecal, Occult Blood Tests. Digestion, 1-10, 2018
25. Sugizaki K, Tari A, Kitadai Y, Oda I, Nakamura S, Yoshino T, Sugiyama T. Anti-Helicobacter pylori therapy in localized gastric mucosa-associated lymphoid tissue lymphoma: A prospective, nationwide, multicenter study in Japan. Helicobacter, 23:e12474, 2018
26. Hijioka S, Sakamoto Y, Ohba A, Maruki Y, Chan JCY, Okusaka T, Saito Y. Novel simultaneous endoscopic ultrasound-guided hepaticoduodenostomy and hepaticogastrostomy for recurrent hepatic hilar obstruction. Endoscopy, 50:E320-E322, 2018
27. Hijioka S, Arai Y, Sone M, Yoshinaga S, Chan J, Sakamoto Y, Okusaka T, Saito Y. Novel forward-viewing EUS-guided ileoureterostomy technique for recurrent pyelonephritis caused by ureteral stenosis. VideoGIE, 3時28分1-283, 2018
Book
1. Abe S, Catalano F, Saito Y. Endoscopic Resections:EMR and ESD. In: Galloro G (ed), Revisiting Barrett's Esophagus, Switzerland, Springer International Publishing, pp 147-158, 2019
2. Yamada M, Saito Y, Sansone S, Takamaru H, Sakamoto T. Endoscopic Resection of Early Colorectal Cancer. In: Ishida H, Koda K (eds), Recent Advances in the Treatment of Colorectal Cancer, Singapore, Springer Singapore, pp 3-15, 2019