Home > Clincal depts. > Department of Gastric Surgery
Department of Gastric Surgery
Takaki Yoshikawa, Shinji Morita, Yukinori Yamagata, Sho Otsuki, Masahiro Yura, Hitoshi Katai, Toshirou Nishida
Introduction
Our division surgically treats patients with gastric cancer and gastrointestinal stromal tumors (GIST) and also aims to contribute to people through the treatment we provide and the research we perform in this field. Our policies to achieve this goal are:
(1) To provide high-quality treatment for patients,
(2) To perform clinical tasks efficiently and
(3) To help refine treatment through clinical trials and research and provide high-quality education.
The Team and What We Do
(1) To provide high-quality treatment, we introduced a daily morning conference to determine the optimal treatment strategy for new patients. All staff members check endoscopy and CT elements, determine the stage of the tumor based on uniform criteria, then discuss the treatment strategy for each patient, including any issues when applying standard treatment and whether the patient is a viable candidate for any clinical trial. As a special topic this year, we discussed the current status and applicability of the Enhanced Recovery After-Surgery program (ERAS) and introduced ERAS for perioperative care. During this process, we published a review article on ERAS, focusing on applicability to Japanese hospitals above all.
(2) To streamline clinical tasks, we prepared medical documents for patients to ensure uniform explanation and a printed protocol at the conference room and outpatient clinic to check applicability to the clinical trial. We also ease the burden on physicians and residents by eliminating the need for them to prepare the database.
(3) Our division operated a total of 397 cases of gastric cancer and GIST this year (Table 1) and the proportion of laparoscopic surgery increased from 49 to 65% (2017-18) for distal/ pylorus-preserving gastrectomy and from 12 to 21% (2017-18) of total/proximal gastrectomy. Conversely, there were many extended surgeries. We experienced numerous cases of D2 plus para-aortic nodal dissection following neoadjuvant chemotherapy for bulky nodal disease or para-aortic nodal metastasis and several cases of left upper abdominal exenteration for bulky GIST invading adjacent organs and lower mediastinal dissection through a trans-hiatal approach for gastric cancer invading the lower esophagus. We can provide any types of surgery for local control if applicable.
Table 1. Number of each type of surgery in 2018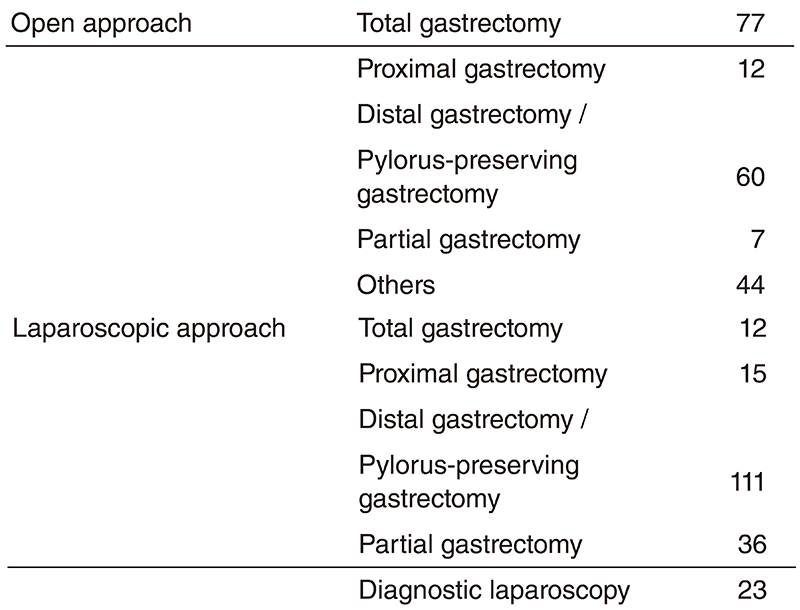 Table 1. Number of each type of surgery in 2018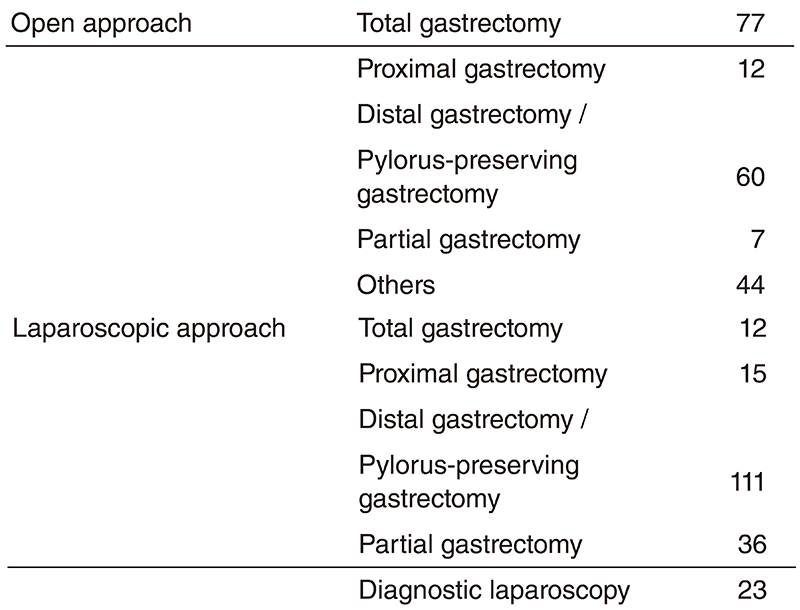 Research activities
We publish many English quality papers - more than 12 in the capacity of corresponding author and co-authoring more than 22.
Clinical trials
We conducted and initiated JCOG1711; a phase-III study to confirm the non-inferiority of omentum preservation to omentectomy combined with standard D2 gastrectomy in patients with T3-4 gastric cancer. The primary results of JCOG1104, a phase-III study to confirm the non-inferiority of 4-course S-1 to 8-course S-1 as adjuvant chemotherapy for stage-II gastric cancer, was published in the Gastroenterology and Hepatology section of The Lancet. The primary results of JCOG1001, a phase-III study to confirm the superiority of bursectomy over nonbursectomy in D2 gastrectomy for patients with T3-4 gastric cancer, were also published in the same section of The Lancet.
Education
Through an open conference to determine the tumor staging and treatment strategy, trainees could study the nature of standard treatment, issues regarding the applicability of standard therapy and the nature of investigational treatment. They also could experience first/ second assistance of surgery by experienced staff members, scopists conducting laparoscopic surgery and even operators instructed by experienced staff members. To obtain certification from an endoscopic surgeon, trainees could experience animal training and receive video reviews from experienced staff members.
All three trainees having studied for more than one year covered several clinical research topics. The scope also included publishing of a paper in the Annals of Surgical Oncology (IF: 3.587) this year as well as four papers accepted in Gastric Cancer (IF: 5.554).
Future prospects
We will continue providing high-quality treatment, streamlining clinical tasks and trials and conducting clinical research and education in the field of gastric surgery to contribute to people.
List of papers published in 2018
Journal
1. Hashimoto T, Ogawa R, Tang TY, Yoshida H, Taniguchi H, Katai H, Oda I, Sekine S. RHOA mutations and CLDN18-ARHGAP fusions in intestinal-type adenocarcinoma with anastomosing glands of the stomach. Mod Pathol, 32:568-575, 2019
2. Tanahashi T, Yoshida K, Yamaguchi K, Okumura N, Takeno A, Fujitani K, Fukushima N, Takiguchi N, Nishida Y, Boku N, Yoshikawa T, Terashima M. Questionnaire survey on adjuvant chemotherapy for elderly patients after gastrectomy indicates their vulnelabilities. Gastric Cancer, 22時13分0-137, 2019
3. Terashima M, Iwasaki Y, Mizusawa J, Katayama H, Nakamura K, Katai H, Yoshikawa T, Ito Y, Kaji M, Kimura Y, Hirao M, Yamada M, Kurita A, Takagi M, Boku N, Sano T, Sasako M. Randomized phase III trial of gastrectomy with or without neoadjuvant S-1 plus cisplatin for type 4 or large type 3 gastric cancer, the shortterm safety and surgical results: Japan Clinical Oncology Group Study (JCOG0501). Gastric Cancer, 2019
4. Kato K, Satoh T, Muro K, Yoshikawa T, Tamura T, Hamamoto Y, Chin K, Minashi K, Tsuda M, Yamaguchi K, Machida N, Esaki T, Goto M, Komatsu Y, Nakajima TE, Sugimoto N, Yoshida K, Oki E, Nishina T, Tsuji A, Fujii H, Kunieda K, Saitoh S, Omuro Y, Azuma M, Iwamoto Y, Taku K, Fushida S, Chen LT, Kang YK, Boku N. A subanalysis of Japanese patients in a randomized, double-blind, placebo-controlled, phase 3 trial of nivolumab for patients with advanced gastric or gastro-esophageal junction cancer refractory to, or intolerant of, at least two previous chemotherapy regimens (ONO-4538-12, ATTRACTION-2). Gastric Cancer, 22時34分4- 354, 2019
5. Yoshikawa T, Terashima M, Mizusawa J, Nunobe S, Nishida Y, Yamada T, Kaji M, Fukushima N, Hato S, Choda Y, Yabusaki H, Yoshida K, Ito S, Takeno A, Yasuda T, Kawachi Y, Katayama H, Fukuda H, Boku N, Sano T, Sasako M. Four courses versus eight courses of adjuvant S-1 for patients with stage II gastric cancer (JCOG1104 [OPAS-1]): an open-label, phase 3, non-inferiority, randomised trial. Lancet Gastroenterol Hepatol, 4時20分8-216, 2019
6. Nakamura Y, Yamanaka T, Chin K, Cho H, Katai H, Terashima M, Misawa K, Hirao M, Yoshida K, Oki E, Sasako M, Emi Y, Bando H, Kawashima Y, Fukunaga T, Gotoh M, Ishibashi T, Shitara K. Survival Outcomes of Two Phase 2 Studies of Adjuvant Chemotherapy with S-1 Plus Oxaliplatin or Capecitabine Plus Oxaliplatin for Patients with Gastric Cancer After D2 Gastrectomy. Ann Surg Oncol, 26:465-472, 2019
7. Yura M, Yoshikawa T, Otsuki S, Yamagata Y, Morita S, Katai H, Nishida T, Yoshiaki T. Oncological safety of proximal gastrectomy for T2/T3 proximal gastric cancer. Gastric Cancer, 2019
8. Yura M, Yoshikawa T, Otsuki S, Yamagata Y, Morita S, Katai H, Nishida T. The Therapeutic Survival Benefit of Splenic Hilar Nodal Dissection for Advanced Proximal Gastric Cancer Invading the Greater Curvature. Ann Surg Oncol, 26:829-835, 2019
9. Hayashi M, Yoshikawa T, Yura M, Otsuki S, Yamagata Y, Morita S, Katai H, Nishida T. Does neoadjuvant chemotherapy cancel out the negative survival impact induced by surgical complications after gastrectomy? Gastric Cancer, 2019
10. Yamagata Y, Yoshikawa T, Yura M, Otsuki S, Morita S, Katai H, Nishida T. Current status of the "enhanced recovery after surgery" program in gastric cancer surgery. Ann Gastroenterol Surg, 3時23分1-238, 2019
11. Yamagata Y, Saito K, Hirano K, Oya M. Laparoscopic Transhiatal Thoracic Duct Ligation for Chylothorax after Esophagectomy. Thorac Cardiovasc Surg, 2019
12. Yamagata Y, Saito K, Ban S, Fujii A, Oya M. The origin of p40-negative and CDX2-positive primary squamous cell carcinoma of the stomach: case report. World J Surg Oncol, 17時53分, 2019
13. Katai H, Mizusawa J, Katayama H, Kunisaki C, Sakuramoto S, Inaki N, Kinoshita T, Iwasaki Y, Misawa K, Takiguchi N, Kaji M, Okitsu H, Yoshikawa T, Terashima M. Single-arm confirmatory trial of laparoscopy-assisted total or proximal gastrectomy with nodal dissection for clinical stage I gastric cancer: Japan Clinical Oncology Group study JCOG1401. Gastric Cancer, 2019
14. Nishida T, Holmebakk T, Raut CP, Rutkowski P. Defining Tumor Rupture in Gastrointestinal Stromal Tumor. Ann Surg Oncol, 26:1669-1675, 2019
15. .Aoyama T, Yoshikawa T, Ida S, Cho H, Sakamaki K, Ito Y, Fujitani K, Takiguchi N, Kawashima Y, Nishikawa K, Oshima T, Nunobe S, Hiki N. Effects of perioperative Eicosapentaenoic acid-enriched oral nutritional supplement on lean body mass after total gastrectomy for gastric cancer. J Cancer, 10時10分70-1076, 2019
16. Aoyama T, Yoshikawa T, Sato T, Hayashi T, Yamada T, Ogata T, Cho H. Equivalent feasibility and safety of perioperative care by ERAS in open and laparoscopy-assisted distal gastrectomy for gastric cancer: a single-institution ancillary study using the patient cohort enrolled in the JCOG0912 phase III trial. Gastric Cancer, 22:617-623, 2019
17. Misawa K, Yoshikawa T, Ito S, Cho H, Ito Y, Ogata T. Safety and Feasibility of Linear Stapling Device with Bioabsorbable Polyglycolic Acid Sheet for Duodenal Closure in Gastric Cancer Surgery: A Multi-institutional Phase II Study. World J Surg, 43:192- 198, 2019
18. Bang YJ, Van Cutsem E, Fuchs CS, Ohtsu A, Tabernero J, Ilson DH, Hyung WJ, Strong VE, Goetze TO, Yoshikawa T, Tang LH, Hwang PMT, Webb N, Adelberg D, Shitara K. KEYNOTE-585: Phase III study of perioperative chemotherapy with or without pembrolizumab for gastric cancer. Future Oncol, 15:943-952, 2019
19. Watanabe M, Kinoshita T, Morita S, Yura M, Tokunaga M, Otsuki S, Yamagata Y, Kaito A, Yoshikawa T, Katai H. Clinical impact of splenic hilar dissection with splenectomy for gastric stump cancer. Eur J Surg Oncol, 2019
20. Yoshida K, Kodera Y, Kochi M, Ichikawa W, Kakeji Y, Sano T, Nagao N, Takahashi M, Takagane A, Watanabe T, Kaji M, Okitsu H, Nomura T, Matsui T, Yoshikawa T, Matsuyama J, Yamada M, Ito S, Takeuchi M, Fujii M. Addition of Docetaxel to Oral Fluoropyrimidine Improves Efficacy in Patients With Stage III Gastric Cancer: Interim Analysis of JACCRO GC-07, a Randomized Controlled Trial. J Clin Oncol, 37:1296-1304, 2019
21. Nishikawa K, Murotani K, Fujitani K, Inagaki H, Akamaru Y, Tokunaga S, Takagi M, Tamura S, Sugimoto N, Shigematsu T, Yoshikawa T, Ishiguro T, Nakamura M, Hasegawa H, Morita S, Miyashita Y, Tsuburaya A, Sakamoto J, Tsujinaka T. A study of second-line irinotecan plus cisplatin vs irinotecan alone in platinum-naive patients with early relapse of gastric cancer refractory to adjuvant S-1 monotherapy: exploratory subgroup analysis of the randomized phase III TRICS trial. Cancer Chemother Pharmacol, 83:867-874, 2019
22. Aoyama T, Yoshikawa T, Maezawa Y, Segami K, Kano K, Numata M, Yamada T, Tamagawa H, Fujikawa H, Komori K, Hayashi T, Sato T, Yukawa N, Rino Y, Masuda M, Ogata T, Cho H, Oshima T. Influence of Postoperative Surgical Complications After Gastrectomy on Body Weight and Body Composition Changes in Patients With Gastric Cancer. Anticancer Res, 39:1073-1078, 2019
23. Aoyama T, Maezawa Y, Yoshikawa T, Segami K, Kano K, Hayashi T, Yamada T, Numata M, Goda M, Tamagawa H, Sato T, Yukawa N, Rino Y, Masuda M, Ogata T, Cho H, Oshima T. Comparison of Weight and Body Composition After Gastrectomy Between Elderly and Non-elderly Patients With Gastric Cancer. In Vivo, 33:221-227, 2019
24. Tanaka C, Kanda M, Murotani K, Yoshikawa T, Cho H, Ito Y, Matsui T, Nakayama H, Yamada T, Kobayashi D, Fujiwara M, Kodera Y. Long-term quality of life and nutrition status of the aboral pouch reconstruction after total gastrectomy for gastric cancer: a prospective multicenter observational study (CCOG1505). Gastric Cancer, 22:607-616, 2019
25. Atsumi Y, Rino Y, Wada H, Kitani Y, Ozawa Y, Aoyama T, Oshima T, Yukawa N, Yoshikawa T, Masuda M. Changes in bone metabolism after gastric cancer surgery in male patients: a prospective observational study. Gastric Cancer, 22時23分7-243, 2019
26. Yamaguchi K, Komatsu Y, Satoh T, Uetake H, Yoshino T, Nishida T, Yamazaki N, Takikawa H, Morimoto T, Chosa M, Sunaya T, Hamada Y, Muro K, Sugihara K. Large-Scale, Prospective Observational Study of Regorafenib in Japanese Patients with Metastatic Colorectal Cancer in a Real-World Clinical Setting. Oncologist, 2019
27. Aoyama T, Atsumi Y, Kazama K, Murakawa M, Shiozawa M, Kobayashi S, Ueno M, Morimoto M, Yukawa N, Oshima T, Yoshikawa T, Rino Y, Masuda M, Morinaga S. Survival and the prognosticators of peritoneal cytology-positive pancreatic cancer patients undergoing curative resection followed by adjuvant chemotherapy. J Cancer Res Ther, 14:S1129-S1134, 2018
28. Kusano M, Aoyama T, Okabayashi K, Hirata K, Tsuji Y, Nakamori S, Asahara T, Ohashi Y, Yoshikawa T, Sakamoto J, Oba K, Saji S. A randomized phase III study of hepatic arterial infusion chemotherapy with 5-fluorouracil and subsequent systemic chemotherapy versus systemic chemotherapy alone for colorectal cancer patients with curatively resected liver metastases(Japanese Foundation for Multidisciplinary Treatment of Cancer 32). J Cancer Res Ther, 14:S761-S766, 2018
29. Aoyama T, Yamamoto N, Kamiya M, Murakawa M, Tamagawa H, Sawazaki S, Numata M, Shiozawa M, Kobayashi S, Ueno M, Morimoto M, Yukawa N, Oshima T, Yoshikawa T, Rino Y, Masuda M, Morinaga S. The Lymph Node Ratio Is an Independent Prognostic Factor in Pancreatic Cancer Patients Who Receive Curative Resection Followed by Adjuvant Chemotherapy. Anticancer Res, 38:4877-4882, 2018
30. Namikawa T, Maeda H, Kitagawa H, Oba K, Tsuji A, Yoshikawa T, Kobayashi M, Hanazaki K. Treatment using oxaliplatin and S-1 adjuvant chemotherapy for pathological stage III gastric cancer: a multicenter phase II study (TOSA trial) protocol. BMC Cancer, 18時18分6, 2018
31. Silva ANS, Coffa J, Menon V, Hewitt LC, Das K, Miyagi Y, Bottomley D, Slaney H, Aoyama T, Mueller W, Arai T, Tan IB, Deng N, Chan XB, Tan P, Tsuburaya A, Sakamaki K, Hayden JD, Yoshikawa T, Zondervan I, Savola S, Grabsch HI. Frequent Coamplification of Receptor Tyrosine Kinase and Downstream Signaling Genes in Japanese Primary Gastric Cancer and Conversion in Matched Lymph Node Metastasis. Ann Surg, 267:114-121, 2018
32. Nishida T. ASO Author Reflections: Diagnosis and Features of Ruptured GISTs in Clinical Practice. Ann Surg Oncol, 25:922- 923, 2018
33. Yasunaga M, Manabe S, Furuta M, Ogata K, Koga Y, Takashima H, Nishida T, Matsumura Y. Mass spectrometry imaging for early discovery and development of cancer drugs. AIMS Medical Science, 5時16分2-180, 2018
34. Mizutani T, Yamaguchi K, Mizusawa J, Ito S, Nishida Y, Yabusaki H, Boku N, Sano T, Yoshida K, Sasako M, Yoshikawa T, Terashima M. A phase III trial to confirm modified S-1 adjuvant chemotherapy for pathological stage II/III vulnerable elderly gastric cancer patients who underwent gastric resection (JCOG1507, BIRDIE). Jpn J Clin Oncol, 48:1101-1104, 2018
35. Kamei R, Yoshimura K, Yoshino S, Inoue M, Asao T, Fuse M, Wada S, Kuramasu A, Furuya-Kondo T, Oga A, Iizuka N, Suzuki N, Maeda N, Watanabe Y, Matsukuma S, Iida M, Takeda S, Ueno T, Yamamoto N, Fukagawa T, Katai H, Sasaki H, Hazama S, Oka M, Nagano H. Expression levels of UL16 binding protein 1 and natural killer group 2 member D affect overall survival in patients with gastric cancer following gastrectomy. Oncol Lett, 15:747-754, 2018
36. Yura M, Takeuchi H, Fukuda K, Nakamura R, Suda K, Wada N, Kawakubo H, Kitagawa Y. High-risk group of upper and middle mediastinal lymph node metastasis in patients with esophagogastric junction carcinoma. Ann Gastroenterol Surg, 2時41分9-427, 2018
37. Yura M, Takahashi T, Fukuda K, Nakamura R, Wada N, Fukada J, Kawakubo H, Takeuchi H, Shigematsu N, Kitagawa Y. A Highly Advanced Gastric Cancer Maintaining a Clinical Complete Response after Chemoradiotherapy Comprising S-1 and Cisplatin. Case Rep Gastroenterol, 12時57分8-585, 2018
38. Sato Y, Katai H, Ito M, Yura M, Otsuki S, Yamagata Y, Morita S. Can proximal Gastrectomy Be Justified for Advanced Adenocarcinoma of the Esophagogastric Junction? J Gastric Cancer, 18時33分9-347, 2018
39. Nishida T. Asian consensus guidelines for gastrointestinal stromal tumor: what is the same and what is different from global guidelines. Transl Gastroenterol Hepatol, 3時11分, 2018
40. Nishida T, Cho H, Hirota S, Masuzawa T, Chiguchi G, Tsujinaka T. Clinicopathological Features and Prognosis of Primary GISTs with Tumor Rupture in the Real World. Ann Surg Oncol, 25:1961- 1969, 2018
41. Obata Y, Horikawa K, Shiina I, Takahashi T, Murata T, Tasaki Y, Suzuki K, Yonekura K, Esumi H, Nishida T, Abe R. Oncogenic Kit signalling on the Golgi is suppressed by blocking secretory trafficking with M-COPA in gastrointestinal stromal tumours. Cancer Lett, 415時1分-10, 2018
42. Aoyama T, Hutchins G, Arai T, Sakamaki K, Miyagi Y, Tsuburaya A, Ogata T, Oshima T, Earle S, Yoshikawa T, Grabsch HI. Identification of a high-risk subtype of intestinal-type Japanese gastric cancer by quantitative measurement of the luminal tumor proportion. Cancer Med, 7時49分14-4923, 2018
43. Maezawa Y, Aoyama T, Yamada T, Kano K, Hayashi T, Sato T, Oshima T, Rino Y, Masuda M, Ogata T, Cho H, Yoshikawa T. Priority of lymph node dissection for proximal gastric cancer invading the greater curvature. Gastric Cancer, 21時56分9-572, 2018
44. Kano K, Aoyama T, Yoshikawa T, Maezawa Y, Nakajima T, Hayashi T, Yamada T, Sato T, Oshima T, Rino Y, Masuda M, Cho H, Ogata T. The Negative Survival Impact of Infectious Complications After Surgery is Canceled Out by the Response of Neoadjuvant Chemotherapy in Patients with Esophageal Cancer. Ann Surg Oncol, 25:2034-2043, 2018
45. Kanda M, Oba K, Aoyama T, Kashiwabara K, Mayanagi S, Maeda H, Honda M, Hamada C, Sadahiro S, Sakamoto J, Saji S, Yoshikawa T. Clinical Signatures of Mucinous and Poorly Differentiated Subtypes of Colorectal Adenocarcinomas by a Propensity Score Analysis of an Independent Patient Database from Three Phase III Trials. Dis Colon Rectum, 61:461-471, 2018
46. Mayanagi S, Kashiwabara K, Honda M, Oba K, Aoyama T, Kanda M, Maeda H, Hamada C, Sadahiro S, Sakamoto J, Saji S, Yoshikawa T. Risk Factors for Peritoneal Recurrence in Stage II to III Colon Cancer. Dis Colon Rectum, 61:803-808, 2018
47. Segami K, Aoyama T, Kano K, Maezawa Y, Nakajima T, Ikeda K, Sato T, Fujikawa H, Hayashi T, Yamada T, Oshima T, Yukawa N, Rino Y, Masuda M, Ogata T, Cho H, Yoshikawa T. Risk factors for severe weight loss at 1 month after gastrectomy for gastric cancer. Asian J Surg, 41:349-355, 2018
48. Kurokawa Y, Doki Y, Mizusawa J, Terashima M, Katai H, Yoshikawa T, Kimura Y, Takiguchi S, Nishida Y, Fukushima N, Iwasaki Y, Kaji M, Hirao M, Katayama H, Sasako M. Bursectomy versus omentectomy alone for resectable gastric cancer (JCOG1001): a phase 3, open-label, randomised controlled trial. Lancet Gastroenterol Hepatol, 3時46分0-468, 2018
49. Hewitt LC, Inam IZ, Saito Y, Yoshikawa T, Quaas A, Hoelscher A, Bollschweiler E, Fazzi GE, Melotte V, Langley RE, Nankivell M, Cunningham D, Allum W, Hutchins GG, Grabsch HI. Epstein-Barr virus and mismatch repair deficiency status differ between oesophageal and gastric cancer: A large multi-centre study. Eur J Cancer, 94:104-114, 2018
50. Tack J, Aberle J, Arts J, Laville M, Oppert JM, Bender G, Bhoyrul S, McLaughlin T, Yoshikawa T, Vella A, Zhou J, Passos VQ, O'Connell P, Van Beek AP. Safety and efficacy of pasireotide in dumping syndrome-results from a phase 2, multicentre study. Aliment Pharmacol Ther, 47:1661-1672, 2018
51. Nishikawa K, Tsuburaya A, Yoshikawa T, Kobayashi M, Kawada J, Fukushima R, Matsui T, Tanabe K, Yamaguchi K, Yoshino S, Takahashi M, Hirabayashi N, Sato S, Nemoto H, Rino Y, Nakajima J, Aoyama T, Miyagi Y, Oriuchi N, Yamaguchi K, Miyashita Y, Morita S, Sakamoto J. A randomised phase II trial of capecitabine plus cisplatin versus S-1 plus cisplatin as a first-line treatment for advanced gastric cancer: Capecitabine plus cisplatin ascertainment versus S-1 plus cisplatin randomised PII trial (XParTS II). Eur J Cancer, 11時22分0-228, 2018
52. Nishikawa K, Aoyama T, Oba MS, Yoshikawa T, Matsuda C, Munemoto Y, Takiguchi N, Tanabe K, Nagata N, Imano M, Oshiro M, Fukushima R, Kataoka M, Morita S, Tsuburaya A, Mishima H, Kono T, Sakamoto J. The clinical impact of Hangeshashinto (TJ14) in the treatment of chemotherapy-induced oral mucositis in gastric cancer and colorectal cancer: Analyses of pooled data from two phase II randomized clinical trials (HANGESHA-G and HANGESHA-C). J Cancer, 9時17分25-1730, 2018
53. Aoyama T, Yoshikawa T, Maezawa Y, Kano K, Hara K, Sato T, Hayashi T, Yamada T, Cho H, Ogata T, Tamagawa H, Yukawa N, Rino Y, Masuda M, Oshima T. A Comparison of the Body Composition Changes Between Laparoscopy-assisted and Open Total Gastrectomy for Gastric Cancer. In Vivo, 32:1513-1518, 2018
54. Rino Y, Yukawa N, Kano K, Sato T, Yamada T, Aoyama T, Maezawa Y, Oshima T, Shiozawa M, Morinaga S, Cho H, Yoshikawa T, Masuda M. Our connection procedure for an EEA XL stapler and anvil head using EEA OrVil for laparoscopic total or proximal gastrectomy. Asian J Endosc Surg, 11時28分0-283, 2018
55. Suzuki Y, Oshima T, Yoshihara K, Sakamaki K, Aoyama T, Cho H, Shiozawa M, Yoshikawa T, Rino Y, Imada T, Masuda M. Clinical significance of secreted protein, acidic and cysteine-rich gene expression in patients with stage II/III gastric cancer following curative resection and adjuvant chemotherapy with S-1. Oncol Lett, 15:7335-7343, 2018
56. Takahashi N, Kanda M, Yoshikawa T, Takiguchi N, Fujitani K, Miyamoto K, Ito Y, Takayama O, Imano M, Mitsumori N, Sakamoto J, Morita S, Kodera Y. A randomized phase II multicenter trial to explore efficacy of weekly intraperitoneal in comparison with intravenous paclitaxel administered immediately after gastrectomy to the patients with high risk of peritoneal recurrence: final results of the INPACT trial. Gastric Cancer, 21時10分14-1023, 2018
57. Nishikawa K, Tsuburaya A, Yoshikawa T, Takahashi M, Tanabe K, Yamaguchi K, Yoshino S, Namikawa T, Aoyama T, Rino Y, Kawada J, Tsuji A, Taira K, Kimura Y, Kodera Y, Hirashima Y, Yabusaki H, Hirabayashi N, Fujitani K, Miyashita Y, Morita S, Sakamoto J. A phase II trial of capecitabine plus cisplatin (XP) for patients with advanced gastric cancer with early relapse after S-1 adjuvant therapy: XParTS-I trial. Gastric Cancer, 21:811-818, 2018
58. Yoshimura S, Mori K, Yamagata Y, Aikou S, Yagi K, Nishida M, Yamashita H, Nomura S, Seto Y. Quality of life after robot-assisted transmediastinal radical surgery for esophageal cancer. Surg Endosc, 32:2249-2254, 2018
59. Okuyama T, Sameshima S, Takeshita E, Yoshioka R, Yamagata Y, Ono Y, Tagaya N, Noie T, Oya M. Therapeutic effects of oxaliplatin-based neoadjuvant chemotherapy and chemoradiotherapy in patients with locally advanced rectal cancer: a single-center, retrospective cohort study. World J Surg Oncol, 16時10分5, 2018
60. Mori K, Ino K, Yoshimura S, Aikou S, Yagi K, Nishida M, Mitsui T, Okumura Y, Yamagata Y, Yamashita H, Nomura S, Seto Y. Mediastinoscopic view of the bronchial arteries in a series of surgical cases evaluated with three-dimensional computed tomography. Esophagus, 15時17分3-179, 2018
61. Noie T, Harihara Y, Akahane M, Kazaoka J, Nagao A, Sato S, Watanabe K, Nara S, Furushima K, Yoshioka R, Yamagata Y, Takeshita E, Okuyama T, Sameshima S, Oya M. Portal encasement: Significant CT findings to diagnose local recurrence after pancreaticoduodenectomy for pancreatic cancer. Pancreatology, 18時10分05-1011, 2018
62. Ito S, Fukagawa T, Noda M, Hu Q, Nambara S, Shimizu D, Kuroda Y, Eguchi H, Masuda T, Sato T, Katai H, Sasako M, Mimori K. Prognostic Impact of Immune-Related Gene Expression in Preoperative Peripheral Blood from Gastric Cancer Patients. Ann Surg Oncol, 25:3755-3763, 2018
63. Sugase T, Takahashi T, Serada S, Fujimoto M, Ohkawara T, Hiramatsu K, Nishida T, Hirota S, Saito Y, Tanaka K, Miyazaki Y, Makino T, Kurokawa Y, Yamasaki M, Nakajima K, Hanasaki K, Kishimoto T, Mori M, Doki Y, Naka T. SOCS1 gene therapy has antitumor effects in imatinib-resistant gastrointestinal stromal tumor cells through FAK/PI3 K signaling. Gastric Cancer, 21:968- 976, 2018
64. Fujitani K, Ando M, Sakamaki K, Terashima M, Kawabata R, Ito Y, Yoshikawa T, Kondo M, Kodera Y, Yoshida K. Multicentre observational study of quality of life after surgical palliation of malignant gastric outlet obstruction for gastric cancer. BJS Open, 1時16分5-174, 2017