Home > Clincal depts. > Department of Gastrointestinal Medical Oncology
Department of Gastrointestinal Medical Oncology
Narikazu Boku, Ken Kato, Atsuo Takashima, Satoru Iwasa, Yoshitaka Honma, Hirokazu Shoji, Hidekazu Hirano, Natsuko Okita, Takahiro Miyamoto, Masahiko Aoki, Hiroshi Imazeki
Introduction
The Gastrointestinal Medical Oncology Division focuses on treatment, development of new drugs and establishment of standard chemotherapy regimens including multi-modality treatment with surgery and/or radiotherapy for advanced Esophageal/ Gastric/ Colorectal/ gastrointestinal stromal tumor (GIST), and other gastrointestinal (GI) malignancies.
The Team and What We Do
The staff of our division consists of eight medical oncologists, two chief residents, and three or four residents. We have a daily case conference every evening and also have a weekly research conference for sharing and discussing the progress of clinical studies and in-house research. Multi-disciplinary meetings with the surgical division (Colorectal, Gastric and Esophageal Surgery Divisions) and the Radiation Oncology Division are held weekly to decide optimal treatment strategies for each patient and to discuss treatment consensus for each disease.
We treated a total of 21,339 hospitalized patients and a total of 22,795 outpatients (919 of whom were newly diagnosed) in 2018.
Research activities
We are putting a lot of work in to developing clinical research to establish new treatments. As for the late phase studies, our division is playing a leading role in JCOG (Japan Clinical Oncology Group) and WJOG (West Japan Oncology Group), which is the largest cooperative group in Japan. To develop new treatment, we make early phase clinical trials. Moreover, we collaborate with the National Cancer Center Research Institute for translational research to finde new biomarkers and make a new concept of early phase studies. We published 51 English articles in 2018.
Clinical trials
We are conducting many clinical trials in collaboration with the Surgery and Radiation Oncology Divisions in our hospital or other institutes. Details of clinical trials are summarized in Table 1, including JCOG trials, WJOG trials, company-initiated trials, and other collaborative investigator-initiated trials. A total of 201 patients were enrolled to these trials in 2018.
Education
The staff doctors teach residents and chief residents both in daily practice and in clinical research. As for daily practice, we organize teams consisting of staff doctors, residents and chief residents to treat the patients. As for clinical research, the staff doctors present the residents and chief residents with clinical research themes, and teach them how to write the protocols, make conference presentations and complete manuscripts.
In 2018, our residents and chief residents presented 11 clinical research projects including five clinical research projects at conferences overseas and they published seven English papers as a first author.
Future prospects
Our division focuses on "clinical practice", "education" and "clinical research" for the development of gastrointestinal cancer treatment. For daily practice, we give the patients the standard treatment; moreover, we will always pay attention to improving patient care to satisfy unmet clinical needs. For education, we will keep educating the residents and chief residents; the staff doctors also strive to keep improving themselves. For the clinical research, we will strive toward next step of clinical development to establish new global standard treatments.
Table 1. Clinical trials conducted in 2018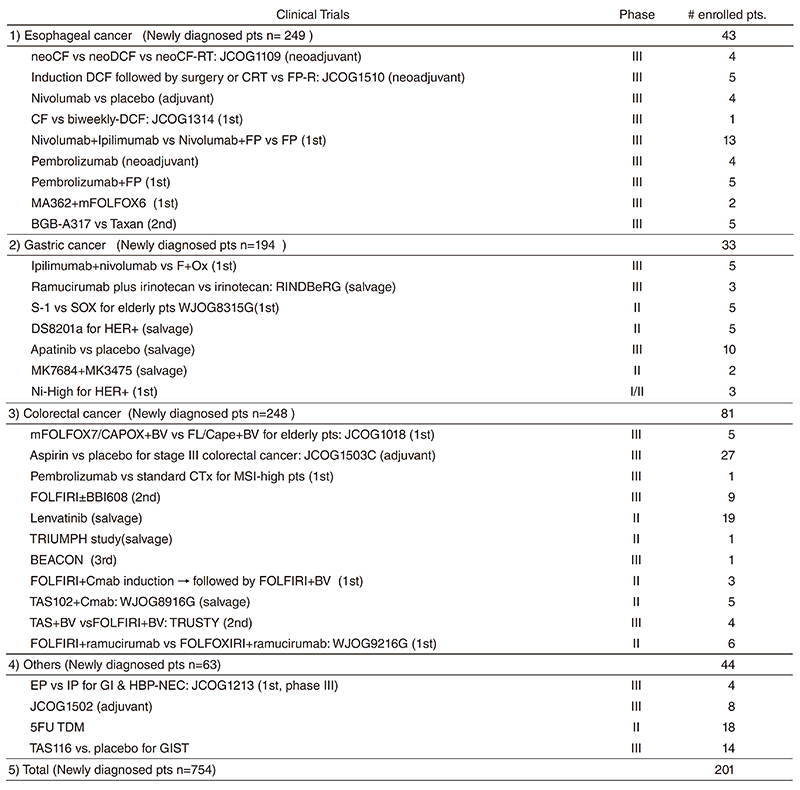 List of papers published in 2018
Journal
1.Ioka T, Ueno M, Ueno H, Park JO, Chang HM, Sasahira N, Kanai M, Chung IJ, Ikeda M, Nakamori S, Mizuno N, Omuro Y, Yamaguchi T, Hara H, Sugimori K, Furuse J, Maguchi H, Furukawa M, Fukuzawa K, Kim JS, Yukisawa S, Takeuchi M, Okusaka T, Boku N, Hyodo I. TAS-118 (S-1 plus leucovorin) versus S-1 in patients with gemcitabine-refractory advanced pancreatic cancer: a randomised, open-label, phase 3 study (GRAPE trial). Eur J Cancer, 106:78-88, 2019
2.Ida H, Honma Y, Hirano H, Shoji H, Iwasa S, Okita N, Takashima A, Kato K, Fukuda T, Boku N. Clinical outcomes of patients with G1/G2 neuroendocrine tumors arising from foregut or hindgut treated with somatostatin analogs: a retrospective study. Invest New Drugs, 37:573-578, 2019
3.Hashimoto J, Kato K, Ito Y, Kojima T, Akimoto T, Daiko H, Hamamoto Y, Matsushita H, Katano S, Hara H, Tanaka Y, Saito Y, Nagashima K, Igaki H. Phase II feasibility study of preoperative concurrent chemoradiotherapy with cisplatin plus 5-fluorouracil and elective lymph node irradiation for clinical stage II/III esophageal squamous cell carcinoma. Int J Clin Oncol, 24:60-67, 2019
4.Muro K, Van Cutsem E, Narita Y, Pentheroudakis G, Baba E, Li J, Ryu MH, Zamaniah WIW, Yong WP, Yeh KH, Kato K, Lu Z, Cho BC, Nor IM, Ng M, Chen LT, Nakajima TE, Shitara K, Kawakami H, Tsushima T, Yoshino T, Lordick F, Martinelli E, Smyth EC, Arnold D, Minami H, Tabernero J, Douillard JY. Pan-Asian adapted ESMO Clinical Practice Guidelines for the management of patients with metastatic gastric cancer: a JSMO-ESMO initiative endorsed by CSCO, KSMO, MOS, SSO and TOS. Ann Oncol, 30:19-33, 2019
5.Tanahashi T, Yoshida K, Yamaguchi K, Okumura N, Takeno A, Fujitani K, Fukushima N, Takiguchi N, Nishida Y, Boku N, Yoshikawa T, Terashima M. Questionnaire survey on adjuvant chemotherapy for elderly patients after gastrectomy indicates their vulnelabilities. Gastric Cancer, 22時13分0-137, 2019
6.Takashima A, Shitara K, Fujitani K, Koeda K, Hara H, Nakayama N, Hironaka S, Nishikawa K, Kimura Y, Amagai K, Fujii H, Muro K, Esaki T, Choda Y, Takano T, Chin K, Sato A, Goto M, Fukushima N, Hara T, Machida N, Ohta M, Boku N, Shimura M, Morita S, Koizumi W. Peritoneal metastasis as a predictive factor for nab-paclitaxel in patients with pretreated advanced gastric cancer: an exploratory analysis of the phase III ABSOLUTE trial. Gastric Cancer, 22時15分5-163, 2019
7.Kikuchi K, Nozawa K, Yamazaki N, Nakai Y, Higashiyama A, Asano M, Fujiwara Y, Kanda S, Ohe Y, Takashima A, Boku N, Inoue A, Takahashi M, Mori T, Taguchi O, Inoue Y, Mizutani H. Instrumental evaluation sensitively detects subclinical skin changes by the epidermal growth factor receptor inhibitors and risk factors for severe acneiform eruption. J Dermatol, 46:18-25, 2019
8.Imanishi M, Yamamoto Y, Hamano Y, Yamada T, Moriwaki T, Gosho M, Okumura T, Boku N, Kondo H, Hyodo I. Efficacy of adjuvant chemotherapy after resection of pulmonary metastasis from colorectal cancer: a propensity score-matched analysis. Eur J Cancer, 106:69-77, 2019
9.Yamaguchi T, Iwasa S, Shoji H, Honma Y, Takashima A, Kato K, Hamaguchi T, Higuchi K, Boku N. Association between UGT1A1 gene polymorphism and safety and efficacy of irinotecan monotherapy as the third-line treatment for advanced gastric cancer. Gastric Cancer, 2019
10.Shimizu K, Ohtaki Y, Okumura T, Boku N, Horio H, Takenoyama M, Yamashita M, Hyodo I, Mori K, Kondo H. Outcomes and prognostic factors after pulmonary metastasectomy in patients with colorectal cancer with previously resected hepatic metastases. J Thorac Cardiovasc Surg, 2019
11.Kitagawa Y, Uno T, Oyama T, Kato K, Kato H, Kawakubo H, Kawamura O, Kusano M, Kuwano H, Takeuchi H, Toh Y, Doki Y, Naomoto Y, Nemoto K, Booka E, Matsubara H, Miyazaki T, Muto M, Yanagisawa A, Yoshida M. Esophageal cancer practice guidelines 2017 edited by the Japan Esophageal Society: part 1. Esophagus, 16時1分-24, 2019
12.Kitagawa Y, Uno T, Oyama T, Kato K, Kato H, Kawakubo H, Kawamura O, Kusano M, Kuwano H, Takeuchi H, Toh Y, Doki Y, Naomoto Y, Nemoto K, Booka E, Matsubara H, Miyazaki T, Muto M, Yanagisawa A, Yoshida M. Esophageal cancer practice guidelines 2017 edited by the Japan esophageal society: part 2. Esophagus, 16時25分-43, 2019
13.Moehler M, Ryu MH, Dvorkin M, Lee KW, Coskun HS, Wong R, Chung HC, Poltoratsky A, Tsuji A, Yen CJ, Muntean AS, Le Sourd S, Vaccaro GM, Overton L, Boku N, Wainberg ZA, Patel M, Sharma M, Xiong H, Conti I, Taieb J, Bang YJ. Maintenance avelumab versus continuation of first-line chemotherapy in gastric cancer: JAVELIN Gastric 100 study design. Future Oncol, 15時56分7-577, 2019
14.Boku N, Ryu MH, Kato K, Chung HC, Minashi K, Lee KW, Cho H, Kang WK, Komatsu Y, Tsuda M, Yamaguchi K, Hara H, Fumita S, Azuma M, Chen LT, Kang YK. Safety and efficacy of nivolumab in combination with S-1/capecitabine plus oxaliplatin in patients with previously untreated, unresectable, advanced, or recurrent gastric/gastroesophageal junction cancer: interim results of a randomized, phase II trial (ATTRACTION-4). Ann Oncol, 30:250- 258, 2019
15.Kato K, Shah MA, Enzinger P, Bennouna J, Shen L, Adenis A, Sun JM, Cho BC, Ozguroglu M, Kojima T, Kostorov V, Hierro C, Zhu Y, McLean LA, Shah S, Doi T. KEYNOTE-590: Phase III study of first-line chemotherapy with or without pembrolizumab for advanced esophageal cancer. Future Oncol, 15時10分57-1066, 2019
16.Shida D, Tanabe T, Boku N, Takashima A, Yoshida T, Tsukamoto S, Kanemitsu Y. Prognostic Value of Primary Tumor Sidedness for Unresectable Stage IV Colorectal Cancer: A Retrospective Study. Ann Surg Oncol, 26:1358-1365, 2019
17.van den Boorn HG, Abu-Hanna A, Ter Veer E, van Kleef JJ, Lordick F, Stahl M, Ajani JA, Guimbaud R, Park SH, Dutton SJ, Bang YJ, Boku N, Mohammad NH, Sprangers MAG, Verhoeven RHA, Zwinderman AH, van Oijen MGH, van Laarhoven HWM. SOURCE: A Registry-Based Prediction Model for Overall Survival in Patients with Metastatic Oesophageal or Gastric Cancer. Cancers (Basel), 11時20分19
18.Terashima M, Iwasaki Y, Mizusawa J, Katayama H, Nakamura K, Katai H, Yoshikawa T, Ito Y, Kaji M, Kimura Y, Hirao M, Yamada M, Kurita A, Takagi M, Boku N, Sano T, Sasako M. Randomized phase III trial of gastrectomy with or without neoadjuvant S-1 plus cisplatin for type 4 or large type 3 gastric cancer, the shortterm safety and surgical results: Japan Clinical Oncology Group Study (JCOG0501). Gastric Cancer, 2019
19.Kato K, Satoh T, Muro K, Yoshikawa T, Tamura T, Hamamoto Y, Chin K, Minashi K, Tsuda M, Yamaguchi K, Machida N, Esaki T, Goto M, Komatsu Y, Nakajima TE, Sugimoto N, Yoshida K, Oki E, Nishina T, Tsuji A, Fujii H, Kunieda K, Saitoh S, Omuro Y, Azuma M, Iwamoto Y, Taku K, Fushida S, Chen LT, Kang YK, Boku N. A subanalysis of Japanese patients in a randomized, double-blind, placebo-controlled, phase 3 trial of nivolumab for patients with advanced gastric or gastro-esophageal junction cancer refractory to, or intolerant of, at least two previous chemotherapy regimens (ONO-4538-12, ATTRACTION-2). Gastric Cancer, 22時34分4- 354, 2019
20.Fujita Y, Taguri M, Yamazaki K, Tsurutani J, Sakai K, Tsushima T, Nagase M, Tamagawa H, Ueda S, Tamura T, Tsuji Y, Murata K, Taira K, Denda T, Moriwaki T, Funai S, Nakajima TE, Muro K, Tsuji A, Yoshida M, Suyama K, Kurimoto T, Sugimoto N, Baba E, Seki N, Sato M, Shimura T, Boku N, Hyodo I, Yamanaka T, Nishio K. aCGH Analysis of Predictive Biomarkers for Response to Bevacizumab plus Oxaliplatin- or Irinotecan-Based Chemotherapy in Patients with Metastatic Colorectal Cancer. Oncologist, 24:327- 337, 2019
21.Yoshikawa T, Terashima M, Mizusawa J, Nunobe S, Nishida Y, Yamada T, Kaji M, Fukushima N, Hato S, Choda Y, Yabusaki H, Yoshida K, Ito S, Takeno A, Yasuda T, Kawachi Y, Katayama H, Fukuda H, Boku N, Sano T, Sasako M. Four courses versus eight courses of adjuvant S-1 for patients with stage II gastric cancer (JCOG1104 [OPAS-1]): an open-label, phase 3, non-inferiority, randomised trial. Lancet Gastroenterol Hepatol, 4時20分8-216, 2019
22.Kojima Y, Yoshie R, Kawamoto H, Shimo A, Uejima T, Iwatani T, Motoyoshi A, Kanemaki Y, Boku N, Tsugawa K. Trastuzumab Emtansine (T-DM1) Plus S-1 in Patients with Trastuzumab-Pretreated HER2-Positive Advanced or Metastatic Breast Cancer: A Phase Ib Study. Oncology, 1-9, 2019
23.Watanabe S, Honma Y, Murakami N, Igaki H, Mori T, Hirano H, Okita N, Shoji H, Iwasa S, Takashima A, Kato K, Kobayashi K, Matsumoto F, Yoshimoto S, Itami J, Boku N. Induction chemotherapy with docetaxel, cisplatin and fluorouracil followed by concurrent chemoradiotherapy for unresectable sinonasal undifferentiated carcinoma: Two cases of report. World J Clin Cases, 7:765-772, 2019
24.Shiino S, Matsuzaki J, Shimomura A, Kawauchi J, Takizawa S, Sakamoto H, Aoki Y, Yoshida M, Tamura K, Kato K, Kinoshita T, Kitagawa Y, Ochiya T. Serum miRNA-based Prediction of Axillary Lymph Node Metastasis in Breast Cancer. Clin Cancer Res, 25:1817-1827, 2019
25.Abouleila Y, Onidani K, Ali A, Shoji H, Kawai T, Lim CT, Kumar V, Okaya S, Kato K, Hiyama E, Yanagida T, Masujima T, Shimizu Y, Honda K. Live single cell mass spectrometry reveals cancer-specific metabolic profiles of circulating tumor cells. Cancer Sci, 110:697-706, 2019
26.Nishiumi S, Fujigaki S, Kobayashi T, Kojima T, Ito Y, Daiko H, Kato K, Shoji H, Kodama Y, Honda K, Yoshida M. Metabolomics-based Discovery of Serum Biomarkers to Predict the Side-effects of Neoadjuvant Chemoradiotherapy for Esophageal Squamous Cell Carcinoma. Anticancer Res, 39:519-526, 2019
27.Iemoto T, Nishiumi S, Kobayashi T, Fujigaki S, Hamaguchi T, Kato K, Shoji H, Matsumura Y, Honda K, Yoshida M. Serum level of octanoic acid predicts the efficacy of chemotherapy for colorectal cancer. Oncol Lett, 17:831-842, 2019
28.Usuba W, Urabe F, Yamamoto Y, Matsuzaki J, Sasaki H, Ichikawa M, Takizawa S, Aoki Y, Niida S, Kato K, Egawa S, Chikaraishi T, Fujimoto H, Ochiya T. Circulating miRNA panels for specific and early detection in bladder cancer. Cancer Sci, 110時40分8-419, 2019
29.Yanai T, Iwasa S, Hashimoto H, Ohyanagi F, Takiguchi T, Takeda K, Nakao M, Sakai H, Nakayama T, Minato K, Arai T, Suzuki K, Shimada Y, Nagashima K, Terakado H, Yamamoto N. A double-blind randomized phase II dose-finding study of olanzapine 10 mg or 5 mg for the prophylaxis of emesis induced by highly emetogenic cisplatin-based chemotherapy. Int J Clin Oncol, 23時38分2-388, 2018
30.Katakami N, Harada T, Murata T, Shinozaki K, Tsutsumi M, Yokota T, Arai M, Tada Y, Narabayashi M, Boku N. Randomized phase 3 and extension studies: Efficacy and impacts on quality of life of naldemedine in subjects with opioid-induced constipation and cancer. Ann Oncol, 2018
31.Singh S, Carnaghi C, Buzzoni R, Pommier RF, Raderer M, Tomasek J, Lahner H, Valle JW, Voi M, Bubuteishvili-Pacaud L, Lincy J, Wolin E, Okita N, Libutti SK, Oh DY, Kulke M, Strosberg J, Yao JC, Pavel ME, Fazio N. Everolimus in Neuroendocrine Tumors of the Gastrointestinal Tract and Unknown Primary. Neuroendocrinology, 16時21分1-220, 2018
32.Sasaki Y, Iwasa S, Okazaki S, Goto M, Kojima Y, Naganuma A, Nagashima K, Nagai Y, Hirano H, Honma Y, Takashima A, Kato K, Hamaguchi T. A phase II study of combination therapy with oral S-1 and cisplatin in elderly patients with advanced gastric cancer. Gastric Cancer, 21時43分9-445, 2018
33.Sawaki A, Yamada Y, Yamaguchi K, Nishina T, Doi T, Satoh T, Chin K, Boku N, Omuro Y, Komatsu Y, Hamamoto Y, Koizumi W, Saji S, Shah MA, Van Cutsem E, Kang YK, Iwasaki J, Kuriki H, Ohtsuka W, Ohtsu A. Regional differences in advanced gastric cancer: exploratory analyses of the AVAGAST placebo arm. Gastric Cancer, 21時42分9-438, 2018
34.Todaka A, Mizuno N, Ozaka M, Ueno H, Kobayashi S, Uesugi K, Kobayashi N, Hayashi H, Sudo K, Okano N, Horita Y, Kamei K, Yukisawa S, Nakamori S, Yachi Y, Henmi T, Kobayashi M, Boku N, Mori K, Fukutomi A. Nationwide Multicenter Observational Study of FOLFIRINOX Chemotherapy in 399 Patients With Unresectable or Recurrent Pancreatic Cancer in Japan. Pancreas, 47:631- 636, 2018
35.Taieb J, Moehler M, Boku N, Ajani JA, Yanez Ruiz E, Ryu MH, Guenther S, Chand V, Bang YJ. Evolution of checkpoint inhibitors for the treatment of metastatic gastric cancers: Current status and future perspectives. Cancer Treat Rev, 66:104-113, 2018
36.Kusumoto T, Sunami E, Ota M, Yoshida K, Sakamoto Y, Tomita N, Maeda A, Mochizuki I, Okabe M, Kunieda K, Yamauchi J, Itabashi M, Kotake K, Takahashi K, Baba H, Boku N, Aiba K, Ishiguro M, Morita S, Sugihara K. Planned Safety Analysis of the ACTS-CC 02 Trial: A Randomized Phase III Trial of S-1 With Oxaliplatin Versus Tegafur and Uracil With Leucovorin as Adjuvant Chemotherapy for High-Risk Stage III Colon Cancer. Clin Colorectal Cancer, 17:e153-e161, 2018
37.Iizumi S, Takashima A, Sakamaki K, Morita S, Boku N. Survival impact of post-progression chemotherapy in advanced gastric cancer: systematic review and meta-analysis. Cancer Chemother Pharmacol, 81:981-989, 2018
38.Fujigaki S, Nishiumi S, Kobayashi T, Suzuki M, Iemoto T, Kojima T, Ito Y, Daiko H, Kato K, Shouji H, Honda K, Azuma T, Yoshida M. Identification of serum biomarkers of chemoradiosensitivity in esophageal cancer via the targeted metabolomics approach. Biomark Med, 12:827-840, 2018
39.Honma Y, Terauchi T, Tateishi U, Kano D, Nagashima K, Shoji H, Iwasa S, Takashima A, Kato K, Hamaguchi T, Boku N, Shimada Y, Yamada Y. Imaging peritoneal metastasis of gastric cancer with 18F-fluorothymidine positron emission tomography/computed tomography: a proof-of-concept study. Br J Radiol, 91:20180259, 2018
40.Bang YJ, Ruiz EY, Van Cutsem E, Lee KW, Wyrwicz L, Schenker M, Alsina M, Ryu MH, Chung HC, Evesque L, Al-Batran SE, Park SH, Lichinitser M, Boku N, Moehler MH, Hong J, Xiong H, Hallwachs R, Conti I, Taieb J. Phase III, randomised trial of avelumab versus physician's choice of chemotherapy as third-line treatment of patients with advanced gastric or gastro-oesophageal junction cancer: primary analysis of JAVELIN Gastric 300. Ann Oncol, 29:2052-2060, 2018
41.Kojima T, Yamazaki K, Kato K, Muro K, Hara H, Chin K, Goddemeier T, Kuffel S, Watanabe M, Doi T. Phase I dose-escalation trial of Sym004, an anti-EGFR antibody mixture, in Japanese patients with advanced solid tumors. Cancer Sci, 19時32分53-3262, 2018
42.Toriyama K, Hijioka S, Komoto I, Kobayashi N, Okusaka T, Ku Y, Sudo K, Furukawa M, Tachibana Y, Takahashi M, Yasuda H, Nakamori S, Honma Y, Kida M, Fujimori N, Kashiwada T, Masui T, Ishii H, Tsuchiya Y, Isaji S, Mizuno N, Hara K, Sakamine M, Imamura M, Kagimura T, Ito T. Study Protocol for Prospective Observational Study 1 on the Prognosis of Patients with Unresectable Advanced Gastrointestinal and Pancreatic Neuroendocrine Tumors (PROP-UP 1 Study) in Japan. J Clin Trials, 8時20分18
43.Yokoi A, Matsuzaki J, Yamamoto Y, Yoneoka Y, Takahashi K, Shimizu H, Uehara T, Ishikawa M, Ikeda SI, Sonoda T, Kawauchi J, Takizawa S, Aoki Y, Niida S, Sakamoto H, Kato K, Kato T, Ochiya T. Integrated extracellular microRNA profiling for ovarian cancer screening. Clin Chem Lab Med, 2018
44.Shida D, Boku N, Tanabe T, Yoshida T, Tsukamoto S, Takashima A, Kanemitsu Y. Primary Tumor Resection for Stage IV Colorectal Cancer in the Era of Targeted Chemotherapy. J Gastrointest Surg, 2018
45.Tsuchihashi K, Ito M, Moriwaki T, Fukuoka S, Taniguchi H, Takashima A, Kumekawa Y, Kajiwara T, Yamazaki K, Esaki T, Makiyama A, Denda T, Satake H, Suto T, Sugimoto N, Katsumata K, Ishikawa T, Kashiwada T, Oki E, Komatsu Y, Okuyama H, Sakai D, Ueno H, Tamura T, Yamashita K, Kishimoto J, Shimada Y, Baba E. Role of Predictive Value of the Modified Glasgow Prognostic Score for Later-line Chemotherapy in Patients With Metastatic Colorectal Cancer. Clin Colorectal Cancer, 17:e687-e697, 2018
46.Boku N, Yamamoto S. Selection of Second-line Anti-angiogenic Agents After Failure of Bevacizumab-containing First-line Chemotherapy in Metastatic Colorectal Cancer. Clin Colorectal Cancer, 17時25分1-254, 2018
47.Mizutani T, Yamaguchi K, Mizusawa J, Ito S, Nishida Y, Yabusaki H, Boku N, Sano T, Yoshida K, Sasako M, Yoshikawa T, Terashima M. A phase III trial to confirm modified S-1 adjuvant chemotherapy for pathological stage II/III vulnerable elderly gastric cancer patients who underwent gastric resection (JCOG1507, BIRDIE). Jpn J Clin Oncol, 48:1101-1104, 2018
48.Shah MA, Kojima T, Hochhauser D, Enzinger P, Raimbourg J, Hollebecque A, Lordick F, Kim SB, Tajika M, Kim HT, Lockhart AC, Arkenau HT, El-Hajbi F, Gupta M, Pfeiffer P, Liu Q, Lunceford J, Kang SP, Bhagia P, Kato K. Efficacy and Safety of Pembrolizumab for Heavily Pretreated Patients With Advanced, Metastatic Adenocarcinoma or Squamous Cell Carcinoma of the Esophagus: The Phase 2 KEYNOTE-180 Study. JAMA Oncol, 2018
49.Kitahara H, Honma Y, Ueno M, Kanemitsu Y, Ohkawa S, Mizusawa J, Furuse J, Shimada Y. Randomized phase III trial of post-operative chemotherapy for patients with stage I/II/III small bowel adenocarcinoma (JCOG1502C, J-BALLAD). Jpn J Clin Oncol, 2018
50.Ueno H, Sekine S, Oshiro T, Kanemitsu Y, Hamaguchi T, Shida D, Takashima A, Ishiguro M, Ito E, Hashiguchi Y, Kondo F, Shimazaki H, Mochizuki S, Kajiwara Y, Shinto E, Yamamoto J, Shimada Y. Disentangling the prognostic heterogeneity of stage III colorectal cancer through histologic stromal categorization. Surgery, 163:777-783, 2018
51.Sekine K, Hamaguchi T, Shoji H, Takashima A, Honma Y, Iwasa S, Kato K, Takahashi K, Kato T, Kanemitsu Y, Boku N. Retrospective Analyses of Systemic Chemotherapy and Cytoreductive Surgery for Patients with Ovarian Metastases from Colorectal Cancer: A Single-Center Experience. Oncology, 95:220-228, 2018