Home > Clincal depts. > Department of Hematology
Department of Hematology
Koji Izutsu, Dai Maruyama, Tatsuya Suzuki, Wataru Munakata, Suguru Fukuhara, Shinichi Makita, Yuta Ito, Shunsuke Hatta, Takahiro Fujino, Yo Saito
Introduction
The Department of Hematology of National Cancer Center Hospital is dedicated to support patients with hematologic malignancies including leukemia, lymphoma, and myeloma by offering state-of-the art diagnosis and treatment options and to develop novel treatment and diagnostic methods through clinical trials and translational research. Our Lymphoma Program has a history of pioneering clinical research of adult T-cell leukemia/lymphoma and other lymphoid malignancies, and has been leading the development of novel agents or cell therapies for lymphoid malignancies in Japan.
The Team and What We Do
We offer the most advanced diagnostic procedures and care for patients with hematologic malignancies including leukemia, lymphoma, myelodysplastic syndrome, and multiple myeloma both on an outpatient basis and an inpatient basis (Table 1). Medical treatment that we offer includes chemotherapy, immunotherapy, radioimmunotherapy, and chimeric antigen receptor (CAR) T-cell therapy. We treat patients in collaboration with experts at the Department of Hematopoietic Stem Cell Transplantation, Department of Radiation Oncology and Department of Experimental Therapeutics at our center. Moreover, experts at the Department of Pathology or Department of Clinical Laboratories at our center offer state-of-the-art diagnosis to guide treatment.
Six staff physicians and clinical fellows at our department are in charge of specialized care for patients with hematologic malignancies.
Table 1. The number of patients with newly diagnosed hematologic malignancies who were managed in the Department of Hematology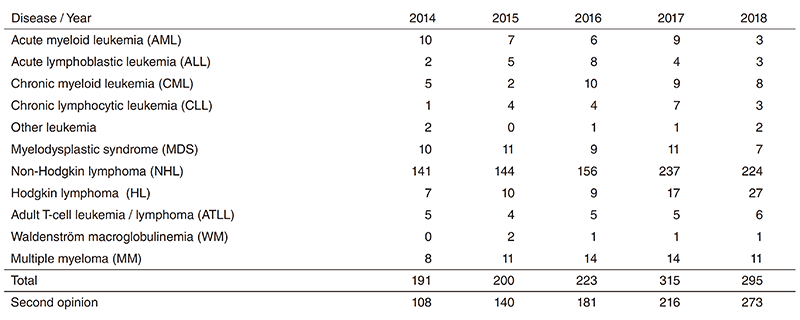 Research activities
We have launched a tumor sample banking system for hematological malignancies for future research use. These samples include tumor DNA derived from bone marrow, peripheral blood, and other tumor tissue obtained through core needle biopsies. We are doing clinical and clinicopathological research for hematological malignancies, especially for malignant lymphoma. In 2018, we launched the MASTER KEY HEM registration study in collaboration with other departments. This is a registration study for rare hematologic malignancies incorporating biomarkers. Our department is devoted to activities of the leading clinical study groups on hematological malignancies in Japan; namely, the Japan Clinical Oncology Group, Lymphoma Study Group (JCOG LSG) and the Japan Adult Leukemia Study Group (JALSG). This year, we authored or coauthored 44 articles related to hematological malignancies.
Clinical trials
In 2018, we conducted 62 corporatesponsored clinical trials, including many global studies, one first-in-human study, and 13 new studies which started from April 2018 to March 2019. We also conducted several investigatorinitiated clinical trials of JCOG and JALSG.
Education
We have been offering a training program for young hematologists and/or oncologists. Many graduates from our programs are actively engaged in hematology and oncology societies.
Future prospects
The Department of Hematology will continue to address unmet needs in the treatment of hematological malignancies. We are focusing on developing treatment for rare hematologic malignancies including rare subtypes of lymphoma. In addition, genome-based medicine is in our future plans. Information obtained from genomic tests has become imperative in diagnosis according to the current WHO classification of hematologic malignancies, prognosis prediction, and to guide selection of molecular-targeted agents.
List of papers published in 2018
Journal
1. Leonard JP, Trneny M, Izutsu K, Fowler NH, Hong X, Zhu J, Zhang H, Offner F, Scheliga A, Nowakowski GS, Pinto A, Re F, Fogliatto LM, Scheinberg P, Flinn IW, Moreira C, Cabecadas J, Liu D, Kalambakas S, Fustier P, Wu C, Gribben JG. AUGMENT: A Phase III Study of Lenalidomide Plus Rituximab Versus Placebo Plus Rituximab in Relapsed or Refractory Indolent Lymphoma. J Clin Oncol, 37:1188-1199, 2019
2. Maruyama D, Tsukasaki K, Uchida T, Maeda Y, Shibayama H, Nagai H, Kurosawa M, Suehiro Y, Hatake K, Ando K, Yoshida I, Hidaka M, Murayama T, Okitsu Y, Tsukamoto N, Taniwaki M, Suzumiya J, Tamura K, Yamauchi T, Ueda R, Tobinai K. Multicenter phase 01月02日 study of forodesine in patients with relapsed peripheral T cell lymphoma. Ann Hematol, 98:131-142, 2019
3. Kondo E, Ikeda T, Izutsu K, Chihara D, Shimizu-Koresawa R, Fujii N, Sakai T, Kondo T, Kubo K, Kato Y, Akasaka T, Fukuda T, Ichinohe T, Atsuta Y, Suzumiya J, Suzuki R. High-Dose Chemotherapy with Autologous Stem Cell Transplantation in Primary Central Nervous System Lymphoma: Data From the Japan Society for Hematopoietic Cell Transplantation Registry. Biol Blood Marrow Transplant, 25:899-905, 2019
4. Munakata W, Ando K, Hatake K, Fukuhara N, Kinoshita T, Fukuhara S, Shirasugi Y, Yokoyama M, Ichikawa S, Ohmachi K, Gion N, Aoi A, Tobinai K. Phase I study of tirabrutinib (ONO-4059/GS4059) in patients with relapsed or refractory B-cell malignancies in Japan. Cancer Sci, 110時16分86-1694, 2019
5. Makita S, Imaizumi K, Kurosawa S, Tobinai K. Chimeric antigen receptor T-cell therapy for B-cell non-Hodgkin lymphoma: opportunities and challenges. Drugs Context, 8時21分2567, 2019
6. Ishitsuka K, Yurimoto S, Tsuji Y, Iwabuchi M, Takahashi T, Tobinai K. Safety and effectiveness of mogamulizumab in relapsed or refractory adult T-cell leukemia-lymphoma. Eur J Haematol, 12時40分7-415, 2019
7. Ito Y, Makita S, Tobinai K. Development of new agents for peripheral T-cell lymphoma. Expert Opin Biol Ther, 19時19分7-209, 2019
8. Tobinai K, Uchida T, Fukuhara N, Nishikawa T. Ibrutinib in Japanese patients with relapsed/refractory B-cell malignancies: final analysis of phase I study. Int J Hematol, 19時36分6-368, 2019
9. Munakata W, Tobinai K. Adult T-Cell Leukemia-Lymphoma. Cancer Treat Re, 176:145-161, 2019
10. Horwitz S, O'Connor OA, Pro B, Illidge T, Fanale M, Advani R, Bartlett NL, Christensen JH, Morschhauser F, Domingo-Domenech E, Rossi G, Kim WS, Feldman T, Lennard A, Belada D, Illes A, Tobinai K, Tsukasaki K, Yeh SP, Shustov A, Huttmann A, Savage KJ, Yuen S, Iyer S, Zinzani PL, Hua Z, Little M, Rao S, Woolery J, Manley T, Trumper L. Brentuximab vedotin with chemotherapy for CD30-positive peripheral T-cell lymphoma (ECHELON-2): a global, double-blind, randomised, phase 3 trial. Lancet, 393:229-240, 2019
11. Kusumoto S, Arcaini L, Hong X, Jin J, Kim WS, Kwong YL, Peters MG, Tanaka Y, Zelenetz AD, Kuriki H, Fingerle-Rowson G, Nielsen T, Ueda E, Piper-Lepoutre H, Sellam G, Tobinai K. Risk of HBV reactivation in patients with B-cell lymphomas receiving obinutuzumab or rituximab immunochemotherapy. Blood, 133:137-146, 2019
12. Fukano H, Yoshida M, Shouji M, Hatta S, Maruyama D, Izutsu K, Shiotsuka M, Ogura Y, Hayashi T, Hasegawa N, Iwata S, Hoshino Y. Draft Genome Sequence of Mycolicibacterium sp Strain NCC-Tsukiji, Isolated from Blood Culture of a Patient with Malignant Lymphoma. Microbiol Resour Announc, 8時20分19
13. Toyoda K, Maeshima AM, Nomoto J, Suzuki T, Yuda S, Yamauchi N, Taniguchi H, Makita S, Fukuhara S, Munakata W, Maruyama D, Tobinai K, Kobayashi Y. Mucosa-associated lymphoid tissue lymphoma with t(11;18)(q21;q21) translocation: long-term follow-up results. Ann Hematol, 2019
14. Toyoda K, Tsukasaki K, Machida R, Kadota T, Fukushima T, Ishitsuka K, Maruyama D, Nagai H. Possibility of a risk-adapted treatment strategy for untreated aggressive adult T-cell leukemia-lymphoma (ATL) based on the ATL prognostic index: a supplementary analysis of the JCOG9801. Br J Haematol, 2019
15. Ishida T, Jo T, Takemoto S, Suzushima H, Suehiro Y, Choi I, Yoshimitsu M, Saburi Y, Nosaka K, Utsunomiya A, Kobayashi Y, Yamamoto K, Fujiwara H, Ishitsuka K, Yoshida S, Taira N, Imada K, Kato K, Moriuchi Y, Yoshimura K, Takahashi T, Tobinai K, Ueda R. Follow-up of a randomised phase II study of chemotherapy alone or in combination with mogamulizumab in newly diagnosed aggressive adult T-cell leukaemia-lymphoma: impact on allogeneic haematopoietic stem cell transplantation. Br J Haematol, 184:479-483, 2019
16. Kataoka K, Miyoshi H, Sakata S, Dobashi A, Couronne L, Kogure Y, Sato Y, Nishida K, Gion Y, Shiraishi Y, Tanaka H, Chiba K, Watatani Y, Kakiuchi N, Shiozawa Y, Yoshizato T, Yoshida K, Makishima H, Sanada M, Onozawa M, Teshima T, Yoshiki Y, Ishida T, Suzuki K, Shimada K, Tomita A, Kato M, Ota Y, Izutsu K, Demachi-Okamura A, Akatsuka Y, Miyano S, Yoshino T, Gaulard P, Hermine O, Takeuchi K, Ohshima K, Ogawa S. Frequent structural variations involving programmed death ligands in Epstein-Barr virus-associated lymphomas. Leukemia; 33; 1687-1699, 2019
17. Ando Y, Maeshima AM, Fukuhara S, Makita S, Munakata W, Suzuki T, Maruyama D, Taniguchi H, Izutsu K. CD3+ CD56+ EBER1+ atypical extraosseous plasmacytoma of the nasal cavity. Int J Hematol, 18時34分4-347, 2018
18. Ohmachi K, Ando K, Kinoshita T, Kumagai K, Hatake K, Ishikawa T, Teshima T, Kato K, Izutsu K, Ueda E, Nakai K, Kuriki H, Tobinai K. Safety, tolerability and pharmacokinetics of shorter duration of infusion of obinutuzumab in Japanese patients with B-cell non-Hodgkin lymphoma: final results of the phase II GATS study. Jpn J Clin Oncol, 48:736-742, 2018
19. Ohmachi K, Tobinai K, Kinoshita T, Ishikawa T, Hatake K, Ichikawa S, Ohmine K, Kamitsuji Y, Choi I, Chou T, Tsukasaki K, Kumagai K, Taniwaki M, Uchida T, Kikukawa Y, Kubo K, Mihara K, Tsukamoto N, Izutsu K, Yoshida I, Ishida F, Usui N, Iida S, Murayama T, Ueda E, Kuriki H, Ando K. Efficacy and safety of obinutuzumab in patients with previously untreated follicular lymphoma: a subgroup analysis of patients enrolled in Japan in the randomized phase III GALLIUM trial. Int J Hematol, 18時49分9- 509, 2018
20. Sakamoto K, Katayama R, Asaka R, Sakata S, Baba S, Nakasone H, Koike S, Tsuyama N, Dobashi A, Sasaki M, Ichinohasama R, Takakuwa E, Yamazaki R, Takizawa J, Maeda T, Narita M, Izutsu K, Kanda Y, Ohshima K, Takeuchi K. Recurrent 8q24 rearrangement in blastic plasmacytoid dendritic cell neoplasm: association with immunoblastoid cytomorphology, MYC expression, and drug response. Leukemia, 32:2590-2603, 2018
21. Makita S, Maeshima AM, Maruyama D, Izutsu K, Tobinai K. Forodesine in the treatment of relapsed/refractory peripheral T-cell lymphoma: an evidence-based review. Onco Targets Ther, 11時22分87-2293, 2018
22. Watanabe J, Makita S, Ito Y, Hatta S, Suzuki T, Yuda S, Maeshima AM, Fukuhara S, Munakata W, Suzuki T, Maruyama D, Kim SW, Izutsu K. Successful full-dose DeVIC therapy in a patient with advanced-stage extranodal natural killer/T-cell lymphoma refractory to L-asparaginase. Ann Hematol, 97:1739-1740, 2018
23. Yamasaki S, Chihara D, Kim SW, Izutsu K, Iwato K, Fukuda T, Uchida N, Amano I, Nakazawa H, Kuroda J, Hashimoto H, Ichinohe T, Kanda Y, Atsuta Y, Suzumiya J, Suzuki R. Impact of hematopoietic stem cell transplantation in patients with relapsed or refractory mantle cell lymphoma. Ann Hematol, 97:1445-1452, 2018
24. Ito Y, Makita S, Maeshima AM, Hatta S, Suzuki T, Yuda S, Fukuhara S, Munakata W, Suzuki T, Maruyama D, Izutsu K. Paraneoplastic Pemphigus Associated with B-cell Chronic Lymphocytic Leukemia Treated with Ibrutinib and Rituximab. Intern Med, 57:2395-2398, 2018
25. Moriguchi S, Abe M, Kimura M, Yoshino C, Baba M, Okada C, Izutsu K, Taniguchi S, Araoka H, Yoneyama A. The Diagnosis of Legionella pneumophila Serogroup 5 Bacteremic Pneumonia during Severe Neutropenia Using Loop-mediated Isothermal Amplification. Intern Med, 57:1045-1048, 2018
26. Watanabe T, Tobinai K, Wakabayashi M, Morishima Y, Kobayashi H, Kinoshita T, Suzuki T, Yamaguchi M, Ando K, Ogura M, Taniwaki M, Uike N, Yoshino T, Nawano S, Terauchi T, Hotta T, Nagai H, Tsukasaki K. Outcomes after R-CHOP in patients with newly diagnosed advanced follicular lymphoma: a 10-year follow-up analysis of the JCOG0203 trial. Lancet Haematol, 5:e520-e531, 2018
27. Kim YH, Bagot M, Pinter-Brown L, Rook AH, Porcu P, Horwitz SM, Whittaker S, Tokura Y, Vermeer M, Zinzani PL, Sokol L, Morris S, Kim EJ, Ortiz-Romero PL, Eradat H, Scarisbrick J, Tsianakas A, Elmets C, Dalle S, Fisher DC, Halwani A, Poligone B, Greer J, Fierro MT, Khot A, Moskowitz AJ, Musiek A, Shustov A, Pro B, Geskin LJ, Dwyer K, Moriya J, Leoni M, Humphrey JS, Hudgens S, Grebennik DO, Tobinai K, Duvic M. Mogamulizumab versus vorinostat in previously treated cutaneous T-cell lymphoma (MAVORIC): an international, open-label, randomised, controlled phase 3 trial. Lancet Oncol, 19時11分92-1204, 2018
28. Maruyama D, Tobinai K, Chou T, Taniwaki M, Shumiya Y, Iida S. Weekly carfilzomib and dexamethasone in Japanese patients with relapsed or refractory multiple myeloma: A phase 1 and PK/ PD trial. Cancer Sci, 19時32分45-3252, 2018
29. Maruyama D, Tsukasaki K, Uchida T, Maeda Y, Shibayama H, Nagai H, Kurosawa M, Suehiro Y, Hatake K, Ando K, Yoshida I, Hidaka M, Murayama T, Okitsu Y, Tsukamoto N, Taniwaki M, Suzumiya J, Tamura K, Yamauchi T, Ueda R, Tobinai K. Correction to: Multicenter phase 01月02日 study of forodesine in patients with relapsed peripheral T cell lymphoma. Ann Hematol, 97:2529-2530, 2018
30. Ogura M, Yamamoto K, Morishima Y, Wakabayashi M, Tobinai K, Ando K, Uike N, Kurosawa M, Gomyo H, Taniwaki M, Nosaka K, Tsukamoto N, Shimoyama T, Fukuhara N, Yakushijin Y, Ohnishi K, Miyazaki K, Sawada K, Takayama N, Hanamura I, Nagai H, Kobayashi H, Usuki K, Kobayashi N, Ohyashiki K, Utsumi T, Kumagai K, Maruyama D, Ohmachi K, Matsuno Y, Nakamura S, Hotta T, Tsukasaki K. R-High-CHOP/CHASER/LEED with autologous stem cell transplantation in newly diagnosed mantle cell lymphoma: JCOG0406 STUDY. Cancer Sci, 19時28分30-2840, 2018
31. Hiddemann W, Barbui AM, Canales MA, Cannell PK, Collins GP, Durig J, Forstpointner R, Herold M, Hertzberg M, Klanova M, Radford J, Seymour JF, Tobinai K, Trotman J, Burciu A, Fingerle-Rowson G, Wolbers M, Nielsen T, Marcus RE. Immunochemotherapy With Obinutuzumab or Rituximab for Previously Untreated Follicular Lymphoma in the GALLIUM Study: Influence of Chemotherapy on Efficacy and Safety. J Clin Oncol, 36:2395- 2404, 2018
32. Makita S, Tobinai K. Targeting EZH2 with tazemetostat. Lancet Oncol, 19時58分6-587, 2018
33. Makita S, Tobinai K. Antibody therapy targeting CD19 for B-cell non-Hodgkin's lymphoma. Ann Oncol, 29:1086-1089, 2018
34. Munakata W, Tobinai K. Clinical development of voxtalisib: a panPI3K/mTOR inhibitor. Lancet Haematol, 5:e134-e135, 2018
35. Hermine O, Ramos JC, Tobinai K. A Review of New Findings in Adult T-cell Leukemia-Lymphoma: A Focus on Current and Emerging Treatment Strategies. Adv Ther, 35:135-152, 2018
36. Tanaka Y, Maeshima AM, Nomoto J, Makita S, Fukuhara S, Munakata W, Maruyama D, Tobinai K, Kobayashi Y. Expression pattern of PD-L1 and PD-L2 in classical Hodgkin lymphoma, primary mediastinal large B-cell lymphoma, and gray zone lymphoma. Eur J Haematol, 10時51分1-517, 2018
37. Miyamoto K, Fukuhara N, Maruyama D, Shibata T, Nakamura K, Ishizawa K, Tsukasaki K, Nagai H. Phase III study of watchful waiting vs rituximab as first-line treatment in advanced stage follicular lymphoma with low tumour burden (JCOG1411, FLORA study). Jpn J Clin Oncol, 48:777-780, 2018
38. Iida S, Wakabayashi M, Tsukasaki K, Miyamoto K, Maruyama D, Yamamoto K, Takatsuka Y, Kusumoto S, Kuroda J, Ando K, Kikukawa Y, Masaki Y, Kobayashi M, Hanamura I, Asai H, Nagai H, Shimada K, Tsukamoto N, Inoue Y, Tobinai K. Bortezomib plus dexamethasone vs thalidomide plus dexamethasone for relapsed or refractory multiple myeloma. Cancer Sci, 19時15分52- 1561, 2018
39. Sunami K, Takahashi H, Tsuchihara K, Takeda M, Suzuki T, Naito Y, Sakai K, Dosaka-Akita H, Ishioka C, Kodera Y, Muto M, Wakai T, Yamazaki K, Yasui W, Bando H, Fujimoto Y, Fukuoka S, Harano K, Kawazoe A, Kimura G, Koganemaru S, Kogawa T, Kotani D, Kuboki Y, Matsumoto H, Matsumoto S, Mishima S, Nakamura Y, Sawada K, Shingaki S, Shitara K, Umemoto K, Umemura S, Yasuda K, Yoshino T, Yamamoto N, Nishio K. Clinical practice guidance for next-generation sequencing in cancer diagnosis and treatment (Edition 10). Cancer Sci, 19時29分80-2985, 2018