Home > Clincal depts. > Department of Hepatobiliary and Pancreatic Oncology
Department of Hepatobiliary and Pancreatic Oncology
Takuji Okusaka, Hideki Ueno Chigusa Morizane, Susumu Hijioka, Shunsuke Kondo, Yoshikuni Nagashio, Akihiro Ohba, Yuta Maruki,
Introduction
The Department of Hepatobiliary and Pancreatic Oncology treats tumors originating from the liver, biliary system or pancreas, which include hepatocellular carcinoma (HCC), biliary tract cancer and pancreatic cancer. As part of the multi-disciplinary care given at the National Cancer Center Hospital (NCCH), we work closely with surgeons and radiologists who have special expertise in these areas. We also conduct research into the pathophysiology of hepatobiliary and pancreatic tumors and seek to develop new and more effective diagnostic methods and treatments.
The Team and What We Do
The Department consists of five staff oncologists and several residents. We have used percutaneous ablation therapy as a valuable alternative to surgery for most patients with three or fewer HCC nodules, all of which are smaller than 3 cm in diameter. We also perform transcatheter arterial chemoembolization (TACE), mainly in patients with multiple HCC nodules. Systemic or intra-arterial chemotherapeutic regimens are indicated in advanced HCC patients for whom locoregional intervention and surgery are unsuitable or had been unsuccessful. In patients with unresectable pancreatic cancer or biliary tract cancer, chemotherapy is performed in clinical practice or as a clinical trial to develop active treatment. We have actively introduced endoscopic procedures for imaging diagnosis (endoscopic ultrasonography: EUS, endoscopic retrograde cholangiopancreatography: ERCP), tumor biopsy (EUS-guided fine needle aspiration: EUS-FNA), and biliary drainage including EUSguided hepaticogastrostomy (EUS-HGS) and EUS-guided choledochoduodenostomy (EUSCDS) (Tables 1 & 2).
Table 1. Number of patients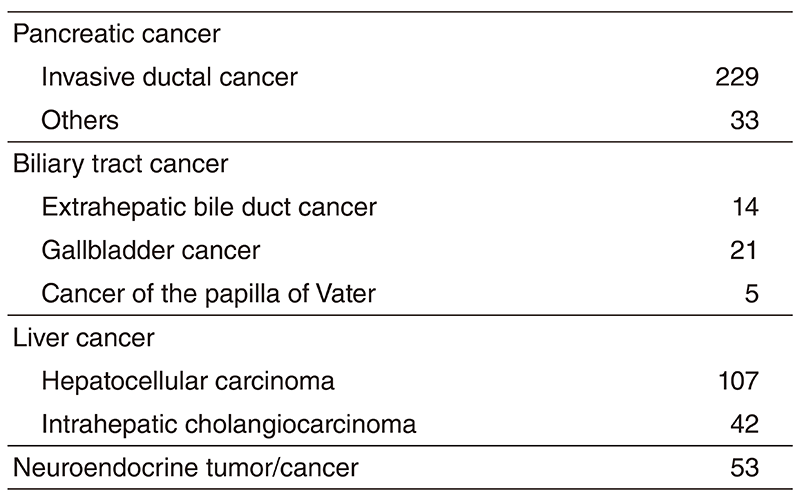 Table 2. Type of procedure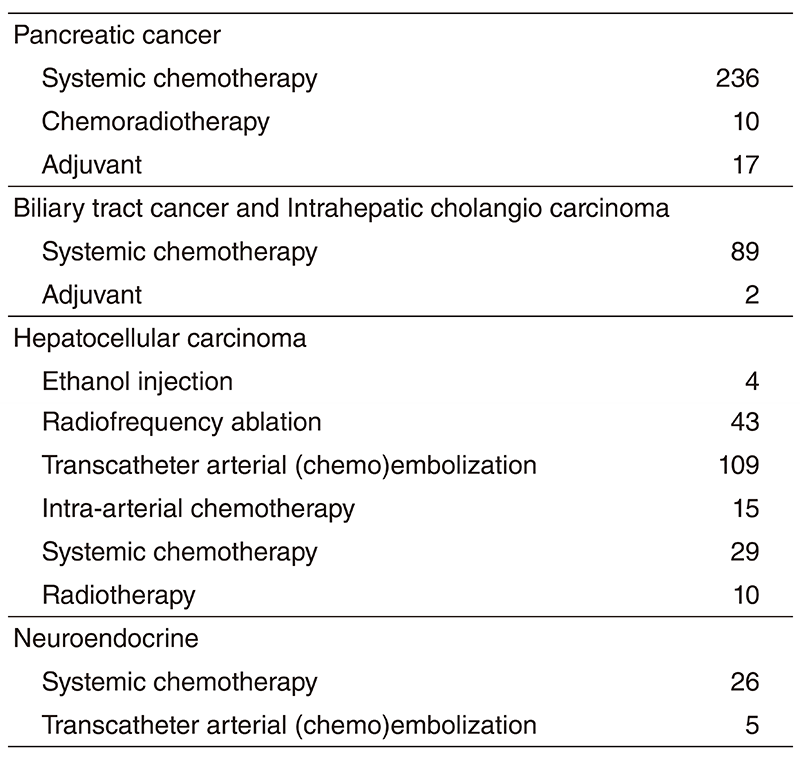 Research activities
We published 12 papers as a first author in peer-reviewed journals in 2018.
The precise proportion of PC patients harboring DNA mismatch repair genes (MMR genes) remains unclear. Among 304 Japanese patients with pathologically proven pancreatic ductal adenocarcinoma, Ohmoto et al. selected 20 (6.6%) patients with a personal or family history involving first- or second-degree relatives fulfilling the revised Bethesda guidelines (RBG), defined as RBG-compatible cases. We analyzed germline variants in 21 genes related to a hereditary predisposition for cancer as well as clinical features in all 20 cases. The RBGcompatible cases did not show any unique clinicopathological features. Targeted sequencing data revealed three patients carrying deleterious or likely deleterious variants. Specifically, these three patients harbored a nonsense variant in ATM, a frameshift variant in ATM, and a concurrent nonsense variant in PMS2 and missense variant in CHEK2 (double-mutation carrier), respectively. Although an MMR gene mutation was identified in only one of the 20 patients, up to 15% of the RBG-compatible PC cases were associated with germline deleterious or likely deleterious variants.
Biliary tract carcinoma (BTC) is an extremely malignant tumor, but available treatment options are limited. Despite of needs for novel therapies, few BTC-related resources are currently available for evaluation of candidate drugs. To address this issue, Sakamoto et al. have recently established 13 cell lines from surgical specimens from Japanese BTC patients. Four new molecular targeting agents were evaluated using our BTC cell-based assay panel with 17 BTC cell lines. PI3K/mTOR dual inhibitor LY3023414 showed activity at submicromolar concentration ranges against 13 of the 17 cell lines tested, including the ones with gemcitabine insensitivity. In conclusion, we demonstrated that in vitro study with the BTC cell line panel would be an efficient approach to screen for novel therapeutic strategies. Although this is a preliminary result and further investigations are required for confirmation, PI3K/mTOR inhibitor might be a potential target for BTC drug development.
Clinical trials
26 clinical trials are ongoing, including one phase I trial, twelve phase II trials, ten phase III trials such as adjuvant chemotherapy after resection versus resection alone for patients with resectable tumors, and chemotherapy with a new regimen versus standard therapy for patients with advanced tumors, and 4 registration trials. Our studies are supported by the National Cancer Center Research and Development Fund (Grant No. 29-A-3), Project for Development of Innovative Research on Cancer Therapeutics 17ck0106350h0001, 17ck0106355h0001, 17ck0106354h0001) from the Japan Agency for Medical Research and Development.
Education
Our staff members are working closely with residents to support their skill development and knowledge expansion in both clinical and research fields. We are conducting conferences daily for clinical practice and weekly for research development. The residents in our department published five papers as a first author in peerreviewed journals in 2018, and are performing 18 ongoing studies as a leading researcher, with assistance from staff members.
Future prospects
Our department keeps providing best and latest diagnosis, treatment and supportive care, and developing their more effective methods and techniques for all patients with hepatobiliary and pancreatic cancer in this country and all over the world. Among them, conducting clinical trials with novel promising agents for this disease is considered one of the most important tasks, and establishment of cutting-edge endoscopic procedures in this field is the most significant mission for us.
List of papers published in 2018
Journal
1.Nakachi K, Konishi M, Ikeda M, Mizusawa J, Eba J, Okusaka T, Ishii H, Fukuda H, Furuse J. A randomized Phase III trial of adjuvant S-1 therapy vs observation alone in resected biliary tract cancer: Japan Clinical Oncology Group Study (JCOG1202, ASCOT). Jpn J Clin Oncol, 48:392-395, 2018
2.Hijioka S, Sakuma K, Aoki M, Mizuno N, Kuwahara T, Okuno N, Hara K, Yatabe Y. Clinical and in vitro studies of the correlation between MGMT and the effect of streptozocin in pancreatic NET. Cancer Chemother Pharmacol, 83:43-52, 2019
3.Ioka T, Ueno M, Ueno H, Park JO, Chang HM, Sasahira N, Kanai M, Chung IJ, Ikeda M, Nakamori S, Mizuno N, Omuro Y, Yamaguchi T, Hara H, Sugimori K, Furuse J, Maguchi H, Furukawa M, Fukuzawa K, Kim JS, Yukisawa S, Takeuchi M, Okusaka T, Boku N, Hyodo I. TAS-118 (S-1 plus leucovorin) versus S-1 in patients with gemcitabine-refractory advanced pancreatic cancer: a randomised, open-label, phase 3 study (GRAPE trial). Eur J Cancer, 106:78-88, 2019
4.Zhu AX, Kang YK, Yen CJ, Finn RS, Galle PR, Llovet JM, Assenat E, Brandi G, Pracht M, Lim HY, Rau KM, Motomura K, Ohno I, Merle P, Daniele B, Shin DB, Gerken G, Borg C, Hiriart JB, Okusaka T, Morimoto M, Hsu Y, Abada PB, Kudo M. Ramucirumab after sorafenib in patients with advanced hepatocellular carcinoma and increased alpha-fetoprotein concentrations (REACH-2): a randomised, double-blind, placebo-controlled, phase 3 trial. Lancet Oncol, 20時28分2-296, 2019
5.Ohmoto A, Yachida S, Morizane C. Genomic Features and Clinical Management of Patients with Hereditary Pancreatic Cancer Syndromes and Familial Pancreatic Cancer. Int J Mol Sci, 20時20分19
6.Nakachi K, Konishi M, Ikeda M, Shimada K, Okusaka T, Saiura A, Ishii H, Sugiyama M, Furuse J, Sakamoto H, Shimamura T, Ohta T. Feasibility study of postoperative adjuvant chemotherapy with S-1 in patients with biliary tract cancer. Int J Clin Oncol, 23:894- 899, 2018
7.Suzuki E, Kaneko S, Okusaka T, Ikeda M, Yamaguchi K, Sugimoto R, Aramaki T, Asagi A, Yasui K, Sano K, Hosokawa A, Kato N, Ishii H, Sato T, Furuse J. A multicenter Phase II study of sorafenib in Japanese patients with advanced hepatocellular carcinoma and Child Pugh A and B class. Jpn J Clin Oncol, 48:317- 321, 2018
8.Kudo M, Ueshima K, Yokosuka O, Ogasawara S, Obi S, Izumi N, Aikata H, Nagano H, Hatano E, Sasaki Y, Hino K, Kumada T, Yamamoto K, Imai Y, Iwadou S, Ogawa C, Okusaka T, Kanai F, Akazawa K, Yoshimura KI, Johnson P, Arai Y. Sorafenib plus lowdose cisplatin and fluorouracil hepatic arterial infusion chemotherapy versus sorafenib alone in patients with advanced hepa tocellular carcinoma (SILIUS): a randomised, open label, phase 3 trial. Lancet Gastroenterol Hepatol, 3時42分4-432, 2018
9.Ohmoto A, Morizane C, Kubo E, Takai E, Hosoi H, Sakamoto Y, Kondo S, Ueno H, Shimada K, Yachida S, Okusaka T. Germline variants in pancreatic cancer patients with a personal or family history of cancer fulfilling the revised Bethesda guidelines. J Gastroenterol, 53:1159-1167, 2018
10.Ozaka M, Ishii H, Sato T, Ueno M, Ikeda M, Uesugi K, Sata N, Miyashita K, Mizuno N, Tsuji K, Okusaka T, Furuse J. A phase II study of modified FOLFIRINOX for chemotherapy-naive patients with metastatic pancreatic cancer. Cancer Chemother Pharmacol, 81:1017-1023, 2018
11.Ohashi Y, Ikeda M, Kunitoh H, Sasako M, Okusaka T, Mukai H, Fujiwara K, Nakamura M, Kimura T, Ibusuki K, Sakon M. Venous thromboembolism in patients with cancer: design and rationale of a multicentre, prospective registry (Cancer-VTE Registry). BMJ Open, 8:e018910, 2018
12.Sato Y, Ueno H, Ioka T, Ohkawa S, Ikeda M, Shimamura T, Tsuji A, Tsuchiya Y, Furuse J, Ishii H, Furuya K, Iguchi H, Saito Y, Kaniwa N, Sawada JI, Sakamoto H, Sekine A, Okusaka T, Yoshida T. SLCO1B1 Polymorphism Is a Drug Response Predictive Marker for Advanced Pancreatic Cancer Patients Treated With Gemcitabine, S-1, or Gemcitabine Plus S-1. Pancreas, 47:637-642, 2018
13.Chau I, Park JO, Ryoo BY, Yen CJ, Poon R, Pastorelli D, Blanc JF, Kudo M, Pfiffer T, Hatano E, Chung HC, Kopeckova K, Phelip JM, Brandi G, Ohkawa S, Li CP, Okusaka T, Hsu Y, Abada PB, Zhu AX. Alpha-fetoprotein kinetics in patients with hepatocellular carcinoma receiving ramucirumab or placebo: an analysis of the phase 3 REACH study. Br J Cancer, 119時19分-26, 2018
14.Chau I, Peck-Radosavljevic M, Borg C, Malfertheiner P, Seitz JF, Park JO, Ryoo BY, Yen CJ, Kudo M, Poon R, Pastorelli D, Blanc JF, Chung HC, Baron AD, Okusaka T, Bowman L, Cui ZL, Girvan AC, Abada PB, Yang L, Zhu AX. Corrigendum to 'Ramucirumab as second-line treatment in patients with advanced hepatocellular carcinoma following first-line therapy with sorafenib: Patient-focused outcome results from the randomised phase III REACH study' [Eur J Canc 81 (2017) 17-25]. Eur J Cancer, 10時13分5-136, 2018
15.Shibuya H, Hijioka S, Sakamoto Y, Ito T, Ueda K, Komoto I, Kobayashi N, Kudo A, Yasuda H, Miyake H, Arita J, Kiritani S, Ikeda M, Imaoka H, Ueno M, Kobayashi S, Furuta M, Nagashio Y, Murohisa G, Aoki T, Matsumoto S, Motoya M, Azemoto N, Itakura J, Horiguchi S, Yogi T, Kawagoe T, Miyaoka Y, Imamura F, Senju M, Arioka H, Hara K, Imamura M, Okusaka T. Multi-center clinical evaluation of streptozocin-based chemotherapy for advanced pancreatic neuroendocrine tumors in Japan: focus on weekly regimens and monotherapy. Cancer Chemother Pharmacol, 82:661-668, 2018
16.Mizusawa J, Fukutomi A, Katayama H, Ishii H, Ioka T, Okusaka T, Ueno H, Ueno M, Ikeda M, Mizuno N, Ozaka M, Fukuda H, Furuse J. Protocol digest of randomized phase II study of modified FOLFIRINOX versus gemcitabine plus nab-paclitaxel combination therapy for locally advanced pancreatic cancer: Japan clinical oncology group study (JCOG1407). Pancreatology, 18:841- 845, 2018
17.Ohmoto A, Suzuki M, Takai E, Rokutan H, Fujiwara Y, Morizane C, Yanagihara K, Shibata T, Yachida S. Establishment of preclinical chemotherapy models for gastroenteropancreatic neuroendocrine carcinoma. Oncotarget, 9時21分086-21099, 2018
18.Kobayashi S, Terashima T, Shiba S, Yoshida Y, Yamada I, Iwadou S, Horiguchi S, Takahashi H, Suzuki E, Moriguchi M, Tsuji K, Otsuka T, Asagi A, Kojima Y, Takada R, Morizane C, Mizuno N, Ikeda M, Ueno M, Furuse J. Multicenter retrospective analysis of systemic chemotherapy for unresectable combined hepatocellular and cholangiocarcinoma. Cancer Sci, 19時25分49-2557, 2018
19.Raymond E, Kulke MH, Qin S, Yu X, Schenker M, Cubillo A, Lou W, Tomasek J, Thiis-Evensen E, Xu JM, Croitoru AE, Khasraw M, Sedlackova E, Borbath I, Ruff P, Oberstein PE, Ito T, Jia L, Hammel P, Shen L, Shrikhande SV, Shen Y, Sufliarsky J, Khan GN, Morizane C, Galdy S, Khosravan R, Fernandez KC, Rosbrook B, Fazio N. Efficacy and Safety of Sunitinib in Patients with Well-Differentiated Pancreatic Neuroendocrine Tumours. Neuroendocrinology, 17時23分7-245, 2018
20.Tak WY, Ryoo BY, Lim HY, Kim DY, Okusaka T, Ikeda M, Hidaka H, Yeon JE, Mizukoshi E, Morimoto M, Lee MA, Yasui K, Kawaguchi Y, Heo J, Morita S, Kim TY, Furuse J, Katayama K, Aramaki T, Hara R, Kimura T, Nakamura O, Kudo M. Phase I/II study of firstline combination therapy with sorafenib plus resminostat, an oral HDAC inhibitor, versus sorafenib monotherapy for advanced hepatocellular carcinoma in east Asian patients. Invest New Drugs, 36:1072-1084, 2018
21.Tanaka H, Hijioka S, Iwaya H, Mizuno N, Kuwahara T, Okuno N, Ito A, Kuraoka N, Matsumoto S, Obata M, Kurita Y, Yasuda M, Shimizu Y, Kuroda H, Sato Y, Haneda M, Sasaki E, Yatabe Y, Hara K. Fibrolamellar Hepatocellular Carcinoma with Multiple Lung Metastases Treated with Multidisciplinary Therapy. Intern Med, 57:3537-3543, 2018
22.Shibuya H, Hijioka S, Mizuno N, Kuwahara T, Okuno N, Tanaka T, Ishihara M, Hirayama Y, Oonishi S, Murakami Y, Yatabe Y, Tajika M, Niwa Y, Hara K. A Rare Case of Ampullary Goblet Cell Carcinoid. Intern Med, 57:2489-2496, 2018
23.Shiba S, Imaoka H, Shioji K, Suzuki E, Horiguchi S, Terashima T, Kojima Y, Okuno T, Sukawa Y, Tsuji K, Umemoto K, Asagi A, Todaka A, Ueno M, Ikeda M, Morizane C, Furuse J. Clinical characteristics of Japanese patients with epithelioid hemangioendothelioma: a multicenter retrospective study. BMC Cancer, 18:993, 2018
24.Okusaka T, Ikeda M. Immunotherapy for hepatocellular carcinoma: current status and future perspectives. ESMO Open, 3:e000455, 2018
25.Morizane C, Ueno M, Ikeda M, Okusaka T, Ishii H, Furuse J. New developments in systemic therapy for advanced biliary tract cancer. Jpn J Clin Oncol, 48:703-711, 2018
26.Hijioka S, Sakamoto Y, Ohba A, Maruki Y, Chan JCY, Okusaka T, Saito Y. Novel simultaneous endoscopic ultrasound-guided hepaticoduodenostomy and hepaticogastrostomy for recurrent hepatic hilar obstruction. Endoscopy, 50:E320-E322, 2018
27.Hijioka S, Arai Y, Sone M, Yoshinaga S, Chan J, Sakamoto Y, Okusaka T, Saito Y. Novel forward-viewing EUS-guided ileoureterostomy technique for recurrent pyelonephritis caused by ureteral stenosis. VideoGIE, 3時28分1-283, 2018
28.Sakamoto Y, Yamagishi S, Tanizawa Y, Tajimi M, Okusaka T, Ojima H. PI3K-mTOR pathway identified as a potential therapeutic target in biliary tract cancer using a newly established patient-derived cell panel assay. Jpn J Clin Oncol, 48:396-399, 2018
29.Yamamoto S, Kondo S. Oral chemotherapy for the treatment of hepatocellular carcinoma. Expert Opin Pharmacother, 19:993- 1001, 2018
Book
1.Hijioka S, Hara K, Mizuno N, Kuwahara T, Okuno N. EUS-BD and EUS-GBD. In: Mine T, Fujita R (ed), Advanced Therapeutic Endscopy for Pancreatico-Biliary Disease, Japan, Springer Japan, pp 109-123, 2019