Home > Clincal depts. > Department of Hepatobiliary and Pancreatic Surgery
Department of Hepatobiliary and Pancreatic Surgery
Kazuaki Shimada, Minoru Esaki, Yoji Kishi (to February/2019), Satoshi Nara, Takeshi Takamoto (From March/2019), Keiichi Akahoshi
Introduction
The Department of Hepatobiliary and Pancreatic (HBP) Surgery deals with malignant neoplasms arising from the liver, biliary tract including the gallbladder, and pancreas. We conduct aggressive surgical treatment and multidisciplinary treatment in cooperation with the Department of Diagnostic Radiology, Department of Hepatobiliary and Pancreatic (HBP) Oncology and Pathology Division.
The Team and What We Do
The HBP Surgery Department consists of four staff surgeons. We perform more than 300 surgical procedures each year, with one chief resident and three or four residents. Occasionally, trainees from both Japan and overseas join our group.
1. Operation and perioperative care
One staff surgeon and one resident are in charge of each patient and conduct the operation and provide postoperative care. The chief resident attends all the operations, supervises the residents and manages the care of all patients in the ward.
2. Conferences
Clinical and educational conferences on the diagnosis and treatment of HBP malignancies are held every morning. At the "Ward Conference", the clinical conditions of perioperative patients and surgical strategies in detail for preoperative patients are discussed twice a week. At the multidisciplinary team conference, the so-called "Cherry Conference," surgeons, physicians, endoscopists, oncologists, radiologists and medical sonographers discuss imaging studies of the patients who are scheduled for HBP surgery. An "HBP Case Conference" is held by HBP surgeons, endoscopists and oncologists to discuss the treatment strategies mainly for new patients. In a pathological conference, so called "Micro conference", instructive postoperative cases are discussed, where surgeons, physicians, radiologists, and pathologists participate.
3. Surgical strategies for HBP malignancies
Hepatocellular carcinoma (HCC): Surgical resection is usually indicated in patients with solitary or only a few tumors and with favorable hepatic function. A large tumor or HCC with macroscopic vasculobiliary tumor thrombosis are also indicated for resection as long as sufficient hepatic function and remnant liver volume can be expected. Alternative treatments to hepatectomy, such as radiofrequency ablation, microwave ablation and trans-arterial chemoembolizaion, are always available in cooperation with medical oncologists and radiologists.
Pancreatic cancer: Multidisciplinary treatments with curative resection followed by adjuvant chemotherapy is the standard strategy. According to the recent advancement of systemic chemotherapy with improved response, the opportunity of conversion surgical resection for initially unresectable cancer due to locally advanced disease status has been increasing.
Biliary cancer, cholangiocarcinoma and gall bladder cancer: Based on careful imaging evaluations of cancer extension, a wide variety of surgical resections can be applied to biliary cancer. Major resection including pancreatoduodenectomy or extended hemihepatectomy with extrahepatic bile duct resection with or without vascular reconstruction is frequently indicated. A safe and curative resection with careful perioperative management is mandatory.
Laparoscopic surgery: For the liver tumors located in the peripheral site, laparoscopic lateral bisegmentectomy or partial resection is considered as a choice of treatment. Laparoscopic distal pancreatectomy and laparoscopic spleenpreserving distal pancreatectomy are also performed for patients with low-grade malignant pancreatic tumors.
Research activities
Dr. Shimada et al. conducts two multiinstitutional randomized trials. One is to evaluate the safety of drain tube free hepatectomy (ND-trial), in which the patients' registration and data analyses have finished. The other is to evaluate the efficacy of administrating digestive enzymes to prevent postoperative hepatic steatosis in the patients who underwent pancreaticoduodenectomy (ESOP Trial), in which patients' recruitment is on-going.
Dr. Kishi attends an international collaboration project by the European Organization for Research and Treatment of Cancer (EORTC) and the Japan Clinical Oncology Group (JCOG) as a Japanese side manager. The project is to evaluate the accuracy of Diffusionweighted Magnetic Resonance Imaging for the assessment of diminishing colorectal liver metastases by chemotherapy (DREAM study).
Dr. Nara conducts a multi-institutional questionnaire study to evaluate the feasibility of preoperative CT to estimate TNM stage of biliary cancer in order to prepare for the future phase III study of preoperative chemotherapy for advanced biliary cancer.
Each staff attend three to four domestic or international academic meetings per year. Residents and Chief residents also have opportunities to make a presentation with the assistance of staff surgeons.
Clinical trials
In addition to the above-mentioned two RCTs (ND-trial and ESOP trial) and DREAM study, a single institutional clinical trial to evaluate the R0 resection rate following preoperative SIROX therapy for borderline resectable pancreatic cancer was initiated in June 2018.
Education
Each resident attends one to two major HBP surgeries mainly as a first assistant. They also have the chance to be an operator depending on their skill. For each case, they learn how to decide the indication and type of procedure based on preoperative images. In the operation room, the residents learn not only each step of HBP surgery, but also tips on how to help safely proceed with the surgery. The chief resident trains them in a two-year program. In the first year, they devote themselves to the management of all inpatients and attend basically every surgery. Depending on the development of their skills, they have the opportunity to be an operating surgeon for major HBP surgery. In the second year, the chief resident works on research studies and publishes several English papers. Motivated residents also have the opportunity to make presentations in academic meetings and write English papers.
Visitors from both domestic and foreign institutions are welcome anytime.
Future prospects
HBP malignancy often requires technically demanding and invasive surgical procedures; however, the long-term prognosis is not satisfactory yet. Our most important mission is establishing more safe and feasible surgical techniques including perioperative patient management, and to promote survival outcomes by multidisciplinary approaches. Due to the recent advances of chemotherapy, we have had a few patients who achieved curative surgical resection for initially unresectable pancreatic cancer due to local advancement. So the feasibility of conversion therapy should be assessed prospectively. We will continue to strive to create new skills and treatment strategies. In addition, clinical trials to explore unclarified clinical questions are expected.
Table 1. Diagnosis for surgical treatment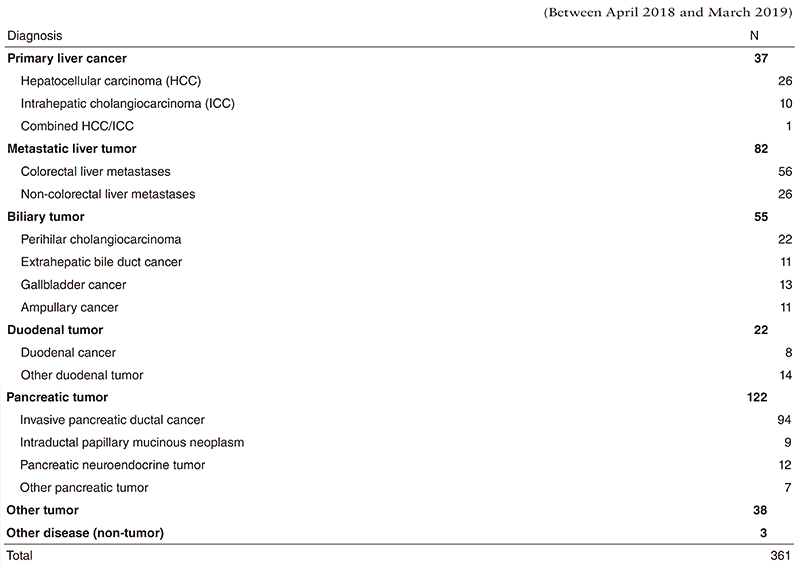 Table 2. Surgical procedures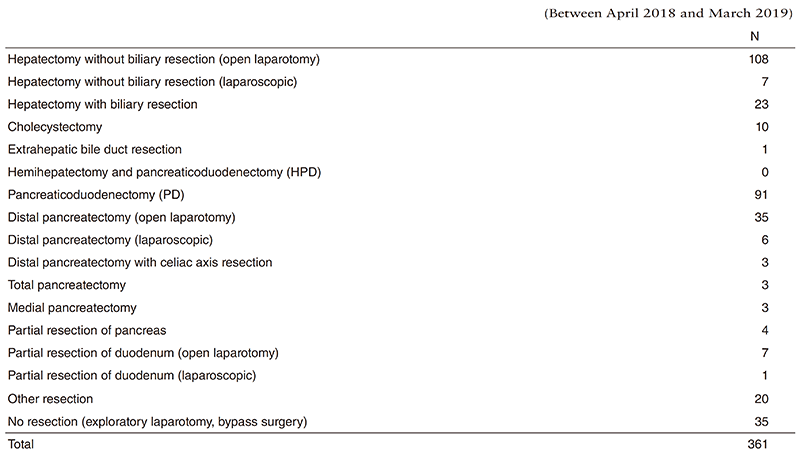 Table 3. Postoperative survival rates of the patients with a) pancreatic invasive ductal cancer, b) hepatocellular carcinoma and c) gallbladder cancer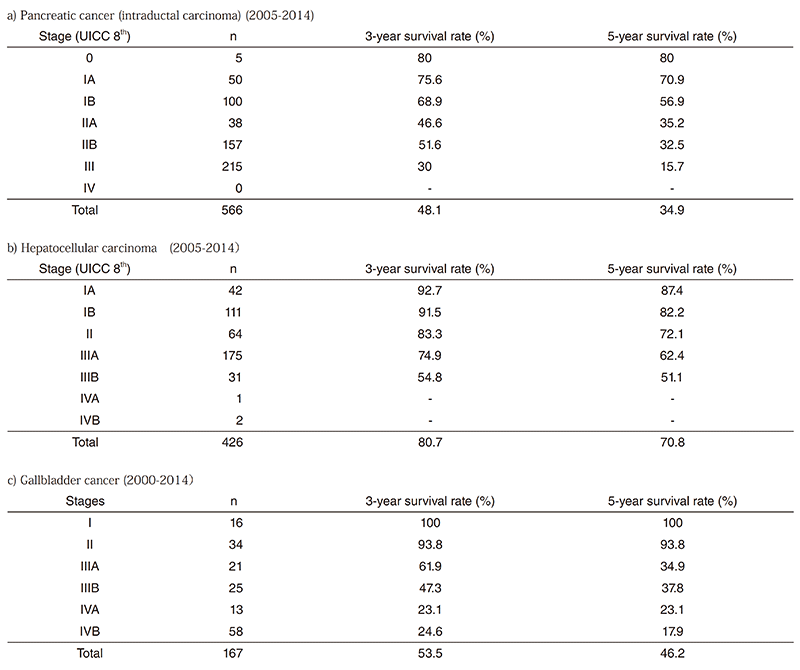 List of papers published in 2018
Journal
1. Kishi Y, Nara S, Esaki M, Shimada K. Feasibility of "Watch-andWait" Management before Repeat Hepatectomy for Colorectal Liver Metastases. Dig Surg, 36:233-240, 2019
2. Wada S, Inoguchi H, Sadahiro R, Matsuoka YJ, Uchitomi Y, Sato T, Shimada K, Yoshimoto S, Daiko H, Shimizu K. Preoperative Anxiety as a Predictor of Delirium in Cancer Patients: A Prospective Observational Cohort Study. World J Surg, 43:134-142, 2019
3. Iwasaki T, Hiraoka N, Ino Y, Nakajima K, Kishi Y, Nara S, Esaki M, Shimada K, Katai H. Reduction of intrapancreatic neural density in cancer tissue predicts poorer outcome in pancreatic ductal carcinoma. Cancer Sci, 110時14分91-1502, 2019
4. Kishi Y, Nara S, Esaki M, Hiraoka N, Shimada K. Feasibility of resecting the portal vein only when necessary during pancreatoduodenectomy for pancreatic cancer. BJS Open, 20:S540-S554, 2019
5. Sekiguchi M, Igarashi A, Sakamoto T, Saito Y, Esaki M, Matsuda T. Cost-effectiveness analysis of postpolypectomy colonoscopy surveillance using Japanese data. Dig Endosc, 31:40-50, 2019
6. Nakachi K, Konishi M, Ikeda M, Shimada K, Okusaka T, Saiura A, Ishii H, Sugiyama M, Furuse J, Sakamoto H, Shimamura T, Ohta T. Feasibility study of postoperative adjuvant chemotherapy with S-1 in patients with biliary tract cancer. Int J Clin Oncol, 23:894- 899, 2018
7. Wen T, Jin C, Facciorusso A, Donadon M, Han HS, Mao Y, Dai C, Cheng S, Zhang B, Peng B, Du S, Jia C, Xu F, Shi J, Sun J, Zhu P, Nara S, Millis JM. Multidisciplinary management of recurrent and metastatic hepatocellular carcinoma after resection: an international expert consensus. Hepatobiliary Surg Nutr, 7時35分3-371, 2018
8. Kishi Y, Nara S, Esaki M, Hiraoka N, Shimada K. Extent of lymph node dissection in patients with gallbladder cancer. Br J Surg, 15時16分58-1664, 2018