Home > Clincal depts. > Department of Plastic and Reconstructive Surgery
Department of Plastic and Reconstructive Surgery
Satoshi Akazawa, Masaki Arikawa, Yu Kagaya
Introduction
The Department of Plastic and Reconstructive Surgery has mainly focused on surgical reconstruction after cancer ablation. In our institution, reconstructive procedures using free flap transfer with microvascular anastomosis are the most important operations. In addition, several methods such as tissue transfer with pedicled flaps, local flaps, skin grafts, and so forth, are used for reconstructive surgery. The objectives of reconstructive surgery are not only morphological reconstruction, but also restoration of postoperative functions after ablative surgery. The quality of life (QOL) of the patient can be improved by functional and morphological reconstruction.
The Team and What We Do
Five plastic surgeons cover reconstructive operations. Every week, five to ten reconstructive operations are performed. These reconstructive surgeries are performed in cooperation with surgeons from other departments of the hospital, such as Head and Neck Oncology, Breast Surgery, Musculoskeletal Oncology and Rehabilitation, Esophageal Surgery, and Dermatologic Oncology. The number of patients who receive immediate breast reconstruction is increasing. Most patients undergo breast reconstruction with a silicone implant. Limb reconstruction after limb preservation surgery has increased.
Research activities
Multi-institutional analysis of postoperative functions after microvascular tongue reconstruction is ongoing. Also, clinical research of flow-through anastomosis is ongoing.
Table 1. Reconstructive procedure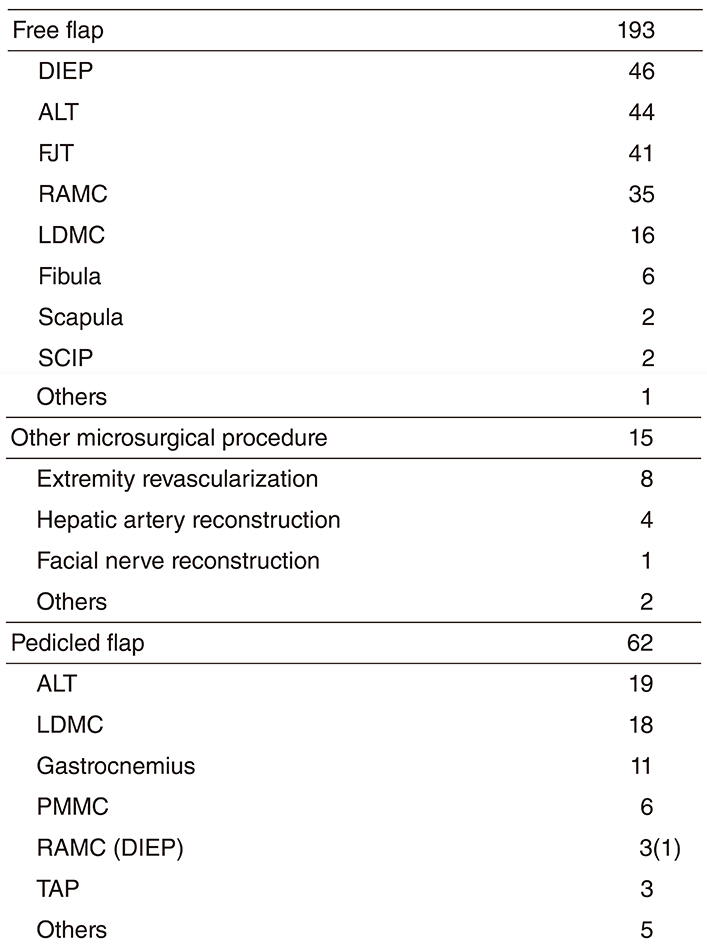 Table 2. Breast reconstruction

List of papers published in 2018
Journal
1. Miyamoto S, Arikawa M, Kagaya Y, Fukunaga Y. Septocutaneous thoracodorsal artery perforator flaps: a retrospective cohort study. J Plast Reconstr Aesthet Surg, 72:78-84, 2019
2. Kagaya Y, Miyamoto S. A systematic review of near-infrared spectroscopy in flap monitoring: Current basic and clinical evidence and prospects. J Plast Reconstr Aesthet Surg, 71:246-257, 2018
3. Kagaya Y, Arikawa M, Kobayashi E, Kawai A, Miyamoto S. Successful Pregnancy and Delivery after Autologous Abdominal Wall Reconstruction using Anterolateral-Thigh and Iliotibial-Tract Flap. Plast Reconstr Surg Glob Open, 6:e1819, 2018
4. Kagaya Y, Arikawa M, Kageyama D, Sekiyama T, Akazawa S. Simple-safe-sure Fluid Drainage Just above Breast Tissue Expander using 18-Gauge Blunt Cannula. Plast Reconstr Surg Glob Open, 6:e1983, 2018