Home > Specialist ctrs & depts. > Outpatient Treatment Center
Outpatient Treatment Center
Shunsuke Kondo, Kazuki Sudo, Ohkuma Yusuke, Shinichi Makita, Yasuji Miyakita, Hidekazu Hirano, Miho Nakajima, Aiko Maejima, Dai Ogata, Toru Akagi, Ryoko Udagawa, Kimihiko Kawamura, Fumiko Mori, Mihoko Asanabe, Saori Takiyama, Mayu Harada, Noriko Mori
Introduction
The Outpatients Treatment Center deals with all kinds of cancer patients who have received chemotherapy as outpatients. Our mission is to provide safe, comfortable and high-quality chemotherapy. Several groups collaborate to ensure the best chemotherapy, consisting of medical oncologists, nurses, pharmacists, medical social workers (MSWs) and clinical research coordinators (CRCs). Our visions are: 1) to provide evidence-based medicine (EBM) and develop novel anti-cancer drugs; 2) to provide safe and efficient treatments, and manage adverse events; and 3) to create a comfortable environment, and to maintain the quality of life of the patients.
The team and what we do
Setup
Our division consists of one managing director (S.K.), and another eight medical doctors, one deputy nurse director, one nurse manager, three deputy nurse managers, one deputy drug director, one chief pharmacist, one dispensing chief, one chief engineer from the Dept. of Clinical Laboratories, 29 nurses, two pharmacists, and two to three reception staff.
Performance
We set up a second Outpatients Treatment Center at the beginning of 2015. There are 34 beds in the 1st Outpatients Treatment Center and 34 in the 2nd Outpatients Treatment Center (total: 68).
In 2021, the Outpatients Treatment Center supported 49,129 patients who received anti-cancer drugs (Figure 1). The departments using the Outpatients Treatment Center included Breast and Medical Oncology, Gastrointestinal Medical Oncology, Hepatobiliary and Pancreatic Oncology, Thoracic Oncology, Hematology, Dermatologic Oncology, and Experimental Therapeutics. General infusions, general intramuscular or subcutaneous injections, blood transfusions, bone marrow puncture, lumbar puncture, intraperitoneal or chest drainage, and blood gas analyses were conducted in the center.
Figure 1. Cumulative number of patients who were intravenously administered anticancer drugs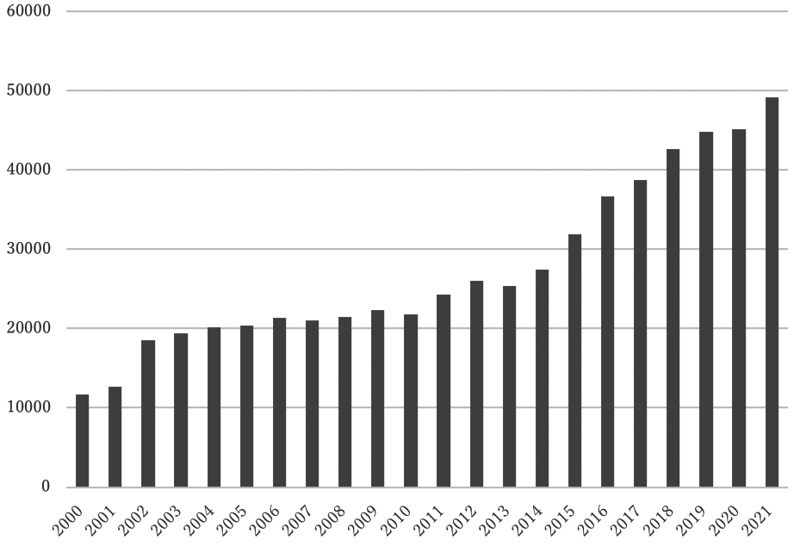 Staff meeting
The monthly staff meeting is held on the second Thursday, 16時30分-17時30分, every month with the participation of physicians and nurses who are the main members in the center. The steering committee is held on the third Thursday every month.
Hot line and conference
We have a telephone consultation service (hotline) for outpatients who have received chemotherapy. We have around 120 hotline cases per month. A case conference especially about the hotline is held one on a Tuesday with the participation of multidisciplinary specialists, including medical oncologists, nurses, and pharmacists.
Research activities
Operation of early morning frames
Support for working in investigational drugs including PK/PD studies
Safety management of allergic reactions and infusion reactions
Telephone hotline for emergencies for outpatients who receive chemotherapy
Monitoring adverse events of immunotherapy and molecular agents.
Communication with other departments
Education
We provide educational opportunities for multidisciplinary specialists, including medical oncologists, nurses, and pharmacists. We also provide an educational program for institutions outside the NCC, for medical oncologists, nurses, pharmacists, and MSWs in designated hospitals for cancer treatment in each prefecture.
Future prospects
The Outpatient Treatment Center will continue proposing models for more outpatient clinical trials in. We aim to shorten waiting times, to achieve smooth administration of novel molecular targeted drugs for outpatients, to put into practice multidisciplinary care, and to create a comfortable environment for cancer patients who receive chemotherapy in the Outpatients Treatment Center. Moreover, we strive to work with higher labor productivity and to create a rewarding workplace in the Outpatient Treatment Center of the National Cancer Center Hospital.
List of papers published
Journal
1. Sato J, Shimizu T, Koyama T, Iwasa S, Shimomura A, Kondo S, Kitano S, Yonemori K, Fujiwara Y, Tamura K, Suzuki T, Takase T, Nagai R, Yamaguchi K, Semba T, Zhao ZM, Ren M, Yamamoto N. Dose Escalation Data from the Phase 1 Study of the Liposomal Formulation of Eribulin (E7389-LF) in Japanese Patients with Advanced Solid Tumors. Clinical cancer research: an official journal of the American Association for Cancer Research, 28:1783-1791, 2022
2. Hibino Y, Ito M, Satake T, Kondo S. Clinical benefits of precision medicine in treating solid cancers: European Society of Medical Oncology-Magnitude of Clinical Benefit Scale score-based analysis. ESMO open, 6時10分0187, 2021
3. Lin CC, Doi T, Muro K, Hou MM, Esaki T, Hara H, Chung HC, Helwig C, Dussault I, Osada M, Kondo S. Bintrafusp Alfa, a Bifunctional Fusion Protein Targeting TGFβ and PD-L1, in Patients with Esophageal Squamous Cell Carcinoma: Results from a Phase 1 Cohort in Asia. Targeted oncology, 16時44分7-459, 2021
4. Yap TA, Vieito M, Baldini C, Sepúlveda-Sánchez JM, Kondo S, Simonelli M, Cosman R, van der Westhuizen A, Atkinson V, Carpentier AF, LÖhr M, Redman R, Mason W, Cervantes A, Le Rhun E, Ochsenreither S, Warren L, Zhao Y, Callies S, Estrem ST, Man M, Gandhi L, Avsar E, Melisi D . First-In-Human Phase I Study of a Next-Generation, Oral, TGFβ Receptor 1 Inhibitor, LY3200882, in Patients with Advanced Cancer. Clinical cancer research: an official journal of the American Association for Cancer Research, 27:6666-6676, 2021
5. Doi T, Yamamoto N, Naito Y, Kuboki Y, Koyama T, Piao Y, Tsujimoto N, Asou H, Inoue K, Kondo S. Merestinib monotherapy or in combination for japanese patients with advanced and/or metastatic cancer: A phase 1 study. Cancer medicine, 10:6579-6589, 2021
6. Calvo E, Spira A, Miguel M, Kondo S, Gazzah A, Millward M, Prenen H, Rottey S, Warburton L, Alanko T, Cassier PA, Yoh K, Italiano A, Moreno V, Peltola K, Seto T, Toyozawa R, Afar DE, Englert S, Komarnitsky P, Lambert S, Parikh A, Vosganian G, Gao B . Safety, pharmacokinetics, and efficacy of budigalimab with rovalpituzumab tesirine in patients with small cell lung cancer. Cancer treatment and research communications, 28:100405, 2021
7. Ikeda M, Okusaka T, Ohno I, Mitsunaga S, Kondo S, Ueno H, Morizane C, Gemmoto K, Suna H, Ushida Y, Furuse J. Phase I studies of peptide vaccine cocktails derived from GPC3, WDRPUH and NEIL3 for advanced hepatocellular carcinoma. Immunotherapy, 13時37分1-385, 2021
8. Yamamoto N, Shimizu T, Yonemori K, Kitano S, Kondo S, Iwasa S, Koyama T, Sudo K, Sato J, Tamura K, Tomomatsu J, Ono M, Fukuda N, Takahashi S. A first-in-human, phase 1 study of the NEDD8 activating enzyme E1 inhibitor TAS4464 in patients with advanced solid tumors. Investigational new drugs, 39:1036-1046, 2021
9. Kondo S, Shimizu T, Koyama T, Sato J, Iwasa S, Yonemori K, Fujiwara Y, Shimomura A, Kitano S, Tamura K, Yamamoto N. First-in-human study of the cancer peptide vaccine TAS0313 in patients with advanced solid tumors. Cancer science, 112時15分14-1523, 2021
10. Yonemori K, Shimizu T, Kondo S, Iwasa S, Koyama T, Kitano S, Sato J, Shimomura A, Shibaki R, Suri A, Kase Y, Sumino S, Tamura K, Yamamoto N. The safety, tolerability and pharmacokinetics of niraparib in Japanese patients with solid tumours: results of a phase I dose-escalation study. Japanese journal of clinical oncology, 51:693-699, 2021