Home > Divisions & Departments > Division of Medical Support and Partnership
Division of Medical Support and Partnership
Members
Chief
Masashi Kato
Section Head
Outreach Radiation Oncology and Physics Section
Jun Itami
Pathology Consultation Section
Nobuyoshi Hiraoka
Cancer Screening Management Section
Hirokazu Takahashi
Specialist
Rie Yamamoto, Hironobu Hashimoto, Yoichi Shimizu
Researcher
Toshiyuki Minemura, Yoko Nakazawa, Kumiko Saika, Ryoko Machii, Takashi Hanada, Emi Takeuchi, Risa Yamazaki, Kazuko Matsuda
Doctor
Kaishi Satomi
Radiological Technologist
Chieko Nagashima, Takatsugu Magara, Naoya Ikeno
Visiting Researcher
Hiroshi Saito, Hiroaki Onaya, Hidenori Ojima, Manami Fujishita, Saran Yoshida, Miki Takahashi
Assisting Staff
Taeko Aiko, Tokiko Iguchi, Nao Ida, Hiroyo Ohchi, Mayumi Kobayashi, Ritsuko Chinda, Hiromi Nakamura, Shiho Hirai, Mamiko Maeshima, Mika Mizumoto, Yuri Yamauchi
Introduction
The Division builds partnerships with Designated Cancer Care Hospitals to support all health-allied professionals concerned with cancer control in Japan. The Medical Support and Partnership Section (MSPS) plays a unique role in supporting Designated Cancer Care Hospitals in Japan. The Pathology Consultation Section (PCS) makes efforts to perform human pathology research based on the histology of tumor cells and tumor-stromal cells to improve diagnostic pathology of the tumors. The Radiology Consultation Section (RCS) provides a consultation service and a cancer image reference database (NCC-CIR). A radiology consultation service aims at the improvement of the quality of diagnosis based on medical images. The NCC-CIR is a web-based reference database system of images of neoplasms for physicians, radiologists, and pathologists, providing medical diagnostic images and information together with pathology. The Outreach Radiation Oncology and Physics Section (ORPS) provides the following support programs for designated regional cancer centers and institutions participating in clinical trials. The Cancer Control Education and Training Section (CCET) plays a central role in the planning, management and evaluation of specialized and multidisciplinary training programs for physicians and other health professionals as trainers of each designated cancer care hospital, to promote a comprehensive and systematic cancer control program in Japan.
Routine activities
Networking among Designated Cancer Care Hospitals
The MSPS held the Designated Cancer Care Hospitals Liaison-council and the Palliative Care Committee (a subsidiary organization) to enhance partnerships for cancer control, and the PDCA cycle Forum to improve the quality of cancer care in Japan. The designated cancer care hospitals are important partners with the National Cancer Center (NCC) to promote comprehensive cancer control in Japan.
Pathology consultation service
The PCS received 466 cases requesting a specialist's second opinion regarding histopathological diagnosis in 2015. There are 86 consultants registered, many of them highly recognized experts in specialty disciplines. One of them assigned as a consultant examines the slides and quickly sends back their opinion report to each client. Most of the clients expressed satisfaction with the contents of the report and this consultation system. We also selected typical or educational cases from accumulated archives and constructed a referential database.
Radiology consultation service
Twenty-nine consultation reports have been put together for requests mainly from the Kanto and Kyushu regions. Hepato-biliary-pancreatic and musculoskeletal lesions were the common subjects. Consultation with a specialist was the most frequent reason (37.9%) for consultation. The client radiologists have evaluated 451 (91.1%) of the 570 consultation reports as being useful for the presence of a clinical impact on the final radiological diagnoses.
NCC-CIR
The average number of effective accesses to this site was almost the same as that in 2014, about 100,000 per month. Cases with cancers who underwent urological malignancies (n=1) have been published, resulting in the total provision of 301 cases.
Radiotherapy case service
Mailed dosimetry and on-site dosimetry were performed in 116 institutions and 17 institutions, respectively, at the ORPS. All data of the institutions were within the permissible limit.
Research activities
Develop a method to implement a PDCA cycle among the Designated Cancer Care Hospitals
The MSPS developed a method for carrying out a peer review about palliative care and examined how to implement the PDCA cycle continuously.
Develop the IMRT quality control support program
The ORPS were developing enforcement of the mailed dosimetry regarding the output dose of Intensity Modulated Radiotherapy (IMRT) in two institutions (designated regional cancer centers).
Clinical trials
The on-site dosimetry regarding the output dose of IMRT
In the Japan Clinical Oncology Group (JCOG1008, JCOG1208, JCOG1303) and the Japanese Radiation Oncology Study Group (JROSG12-1), the ORPS performed on-site dosimetry regarding the output dose of IMRT in 14 institutions.
Support for clinical trials
To support a central radiological review in clinical trials, we have provided a system for receiving and sending DICOM imaging data between participating multi-centers and the review board since September 2014. It has been already used by some clinical trials.
Education
The CCET provides and evaluates various oncology professional training programs about up-to-date information on early detection, diagnosis, treatment, nursing care, clinical trials and cancer statistics for physicians, nurses, pharmacists, cancer information (CI) specialists and cancer registrars. The CCET provides multidisciplinary training programs for Palliative Care Teams and Chemotherapy Teams. In order to develop leaders in each prefecture, CCET holds leadership training programs for skilled physicians, nurses, pharmacists and CI specialists. (Table 1, 2)
Future prospects
The MSPS searches a support system to meet the needs of the Designated Cancer Care hospitals. All sections will continue to be involved in our routine activities and education.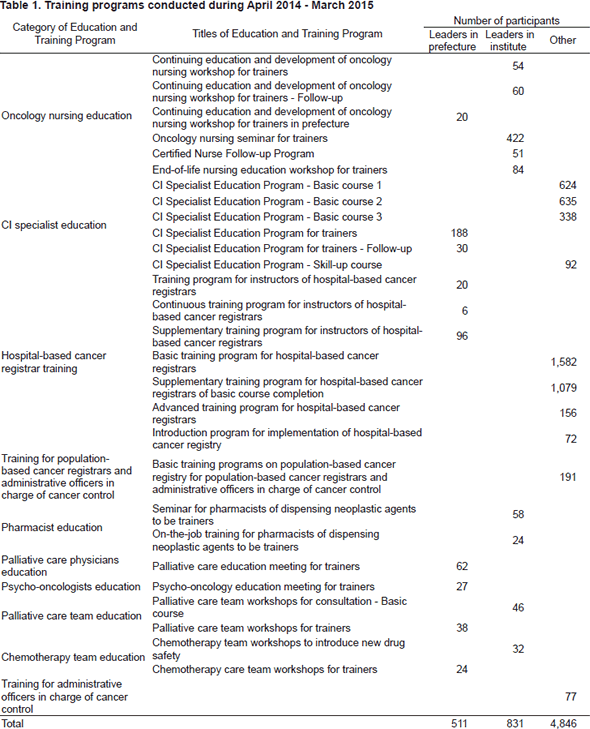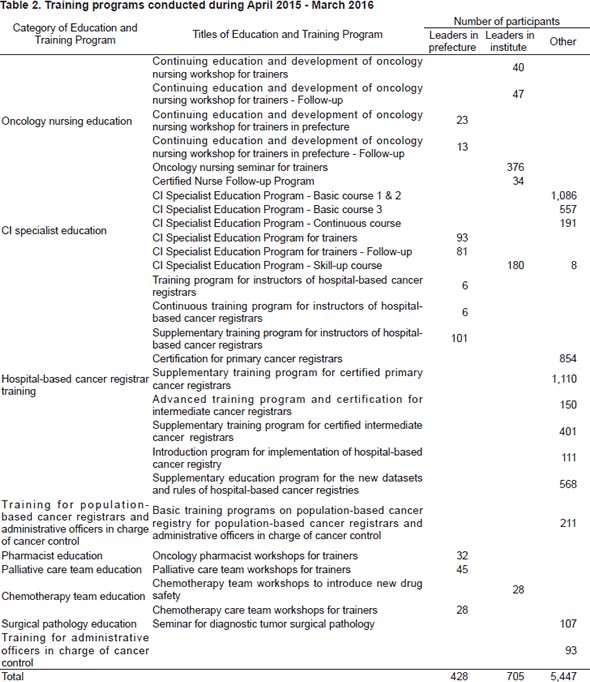 List of papers published in 2015
Journal
Mori M, Shimizu C, Ogawa A, Okusaka T, Yoshida S, Morita T. A National Survey to Systematically Identify Factors Associated With Oncologists' Attitudes Toward End-of-Life Discussions: What Determines Timing of End-of-Life Discussions? Oncologist, 20:1304-1311, 2015 [PubMed]