Home > Izumi O. Umeda, PhD
Izumi O. Umeda, PhD
Izumi O. Umeda, PhD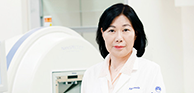 Molecular imaging is a technique that images living movements of molecules such as genes or proteins in the body dynamically. It may be referred to as "an image of the life". Our final goal is optimization and individualization of cancer treatment, and for this purpose, we are developing novel molecular imaging probes and techniques for non-invasive detection of cancer and its metastasis, by depicting molecular, metabolic and physiological characteristics of cancers.
Official title
Unit Head, Division of Functional imaging
Area of research
Molecular imaging
Nuclear medicine
Radiopharmaceutical scienc
Keywords
Molecular imaging
Radionuclide therapy
Radiotheranostics
Hypoxia imaging
Imaging biomarker
Current main research theme
Imaging of intractable area in the cancer legion
Hypoxia is a feature of most solid tumors, and it is a negative and predictive factor of chemoresitance and radioresistance. In addition, in the hypoxic region, hypoxia inducible factor (HIF) is activated and promotes angiogenesis, vasculogenesis, invasiveness and metastasis. Therefore, hypoxic region is highly malignant region in the tumor. We are developing various hypoxia imaging probes which depict tumor hypoxia or HIF positive region. Hypoxia imaging will contribute to not only optimization of radiotherapy and chemotherapy, but also development of new drugs targeting hypoxia.
Radiotheranostics for solid tumors
Radionuclide therapy involves certain types of radioisotopes bound to a specific carrier molecule that allows the radiopharmaceuticals to selectively be delivered to the target region. For the success of the radionuclide therapy for solid tumors, accumulation of large amounts of nuclides in the tumor is needed because solid tumors are generally less radiosensitive. At the same time, it is also necessary to minimalize radiation exposure of normal tissues. We devised a new strategy; i.e., to quickly expel radionuclides just from these normal tissues after accumulation, keeping high level in the tumor by combination of liposomes and radionuclide-ligand complexes. Now we are advancing our research on radionuclide therapy and radiotheranostics that enable to fight solid tumors.
Prediction and evaluation of drug efficacy by using molecular imaging technique
Molecular imaging allows visualization of drug behavior in the body, such as distribution, target accumulation, and target interaction. It also visualizes resultant response of drugs, such as inhibition of cell proliferation or apoptosis. We aim at prediction and evaluation of drug efficacy by using molecular imaging technique. Development of imaging biomarker is included.
Multimodal imaging
Molecular imaging has some modality, such as MR imaging and optical imaging besides nuclear medicine imaging. We also wrestle for development of the new diagnostic imaging beyond the limit of the single modality by combining them
Collaborative research themes
Development of new imaging probes, TR
Radionuclide therapy, Radiotheranostics
Development of bioimaging marker for prediction and evaluation of drug efficacy
In vivo imaging using small animals
Email
ioumeda●east.ncc.go.jp(● replace to @)
Brief History
1981 B.S. in Pharmaceutical Science, Chiba University
1983 M.S. in Pharmaceutical Science, Chiba University
1989 Ph.D. in Pharmaceutical Science, Chiba University
1983-2007 Assistant Professor, Associate Professor, Department of Pharmaceutical Science, Teikyo University
2007-2012 Section Head, Radionuclide Imaging Section, Functional Imaging Division, Research Center for Innovative Oncology, National Cancer Center Hospital East
2012-2016 Unit Head, Division of Functional Imaging, Research Center for Innovative Oncology, National Cancer Center Hospital East
2016 Unit Head, Division of Functional Imaging, Exploratory Oncology Research and Clinical Trail Center, National Cancer Center
Major affiliated societies
American Association for Cancer Research
Society of Nuclear Medicine and Molecular Imaging
Japanese Cancer Association (councilor)
Japanese Society of Nuclear Medicine (councilor)
The pharmaceutical Society of Japan
Japanese Society of Molecular imaging
The Japan Society of Drug Delivery System
Publications
Ito K, Hamamichi S, Asano M, Hori Y, Matsui J, Iwata M, Funahashi Y, Umeda IO, Fujii H. Radiolabeled liposome imaging determines an indication for liposomal anticancer agent in ovarian cancer mouse xenograft models. Cancer Sci, 107:60-67, 2016
Araki K, Mizokami D, Tomifuji M, Yamashita T, Ohnuki K, Umeda IO, Fujii H, Kosuda S, Shiotani A. Novel Indocyanine Green-Phytate Colloid Technique for Sentinel Node Detection in Head and Neck: Mouse Study. Otolaryngol Head Neck Surg, 151:279-285, 2014
Ogawa M, Umeda IO, Kosugi M, Kawai A, Hamaya Y, Takashima M, Yin H, Kudoh T, Seno M, Magata Y. Development of 111In-labeled liposomes for vulnerable atherosclerotic plaque imaging. J Nucl Med, 55:115-120, 2014
Yoshimoto M, Hayakawa T, Mutoh M, Imai T, Tsuda K, Kimura S, Umeda IO, Fujii H, Wakabayashi K. In vivo SPECT imaging with 111In-DOTA-c(RGDfK) to detect early pancreatic cancer in a hamster pancreatic carcinogenesis model. J Nucl Med, 53:765-771, 2012
Umeda IO, Tani K, Tsuda K, Kobayashi M, Ogata M, Kimura S, Yoshimoto M, Kojima S, Moribe K, Yamamoto K, Moriyama N, Fujii H. High resolution SPECT imaging for visualization of intratumoral heterogeneity using a SPECT/CT scanner dedicated for small animal imaging. Ann Nucl Med, 26:67-76, 2012