Home > Masayuki Yamaguchi, MD, PhD
Masayuki Yamaguchi, MD, PhD
Masayuki Yamaguchi, MD, PhD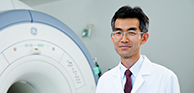 We are intensively studying MR imaging techniques to visualize the morphological changes of cancer lesions by using various animal models and a 9.4 tesla ultra-high field MR scanner. The MR scanner can acquire very high-resolution MR images (approximately 70 micron in pixel size), thereby detecting tiny changes in cancer lesions. Moreover, MR imaging is definitely non-invasive technique, so you can actually observe the interior of experimental cancer lesions non-destructively and longitudinally during a long period.
Official title
Section Head, Division of Functional Imaging
Area of research
Diagnostic Radiology, Magnetic Resonance Imaging & Spectroscopy
Keywords
MRI (Magnetic Resonance Imaging)
Artificial Intelligence
Current main research theme
In vivo MRI and MRS of cancer animal models by using a 9.4 tesla Bruker scanner
MR imaging of the seminiferous tubules
Computer-assisted radiological diagnosis by using CARTA (Clustering Aided Rapid Training Agent)
*CARTA; AI technology developed by LPixel, Inc. (https://lpixel.net/)
Collaborative research themes
Scientists who are interested in MR imaging and spectroscopy
Email
masyamag●east.ncc.go.jp(● repalce to @)
略歴
Education
1996 University of Tsukuba, School of Medicine (Medical Doctor)
2006 University of Tsukuba, Graduate School of Comprehensive Human Sciences (PhD, Medical Science)
Supervisors; Dr. Mitsumori (National Institute for Environmental Studies, Tsukuba, Japan), Professors Itai and Minami (Dept. of Radiology, University of Tsukuba)
Dissertation (in Japanese): In vivo assessment of spermatogenesis by using magnetic resonance imaging and spectroscopy.
Work history
National Cancer Center, Kashiwa, Japan
2007-Present: Section head, Division of Functional Imaging
Tsukuba Gakuen Hospital, Tsukuba, Japan
2006-2007, Department of Clinical Radiology
University of Tsukuba Hospital, Tsukuba, Japan
1996-2002, Department of Radiology (Residency)
Major affiliated societies
Japanese Society for Magnetic Resonance in Medicine (JSMRM)
Japan Radiological Society (JRS)
International Society for Magnetic Resonance in Medicine (ISMRM)
Publications
Nagai M, Yamaguchi M, Mori K, Furuta T, Ashino H, Kurosawa H, Kasahara H, Minami M, Fujii H Magnetic resonance-based visualization of thermal ablative margins around hepatic tumors by means of systemic ferucarbotran administration before radiofrequency ablation: animal study to reveal the connection between excess iron deposition and T2*-weighted hypointensity in ablative margins. Invest Radiol. 2015 Jun;50(6):376-83.
Yamaguchi M, Mitsuda M, Ezawa K, Nakagami R, Furuta T, Sekine N, Niitsu M, Fujii H. Artifact-reduced simultaneous MRI of multiple rats with liver cancer using PROPELLER. J Magn Reson Imaging, 2013 Jul;38(1):225-30
Kutsuna N, Higaki T, Matsunaga S, Otsuki T, Yamaguchi M, Fujii H, Hasezawa S. Active learning framework with iterative clustering for bioimage classification. Nat Commun, 3:1032, 2012
Yamaguchi M, Mitsumori F, Watanabe H, Takaya N, Minami M. Visualization of seminiferous tubules in rat testes in normal and diseased conditions by high-resolution MRI. Magn Reson Med. 62:637-644, 2009
Yamaguchi M, Mitsumori F, Watanabe H, Takaya N, Minami M. In vivo localized 1H MR spectroscopy of rat testes: stimulated echo acquisition mode (STEAM) combined with short TI inversion recovery (STIR) improves the detection of metabolite signals. Magn Reson Med. 55: 749-754, 2006