Home > About NCC ICC > Message from the Director
Message from the Director
Institute for Cancer Control – Mission Statement

A performance driven, reinforced unit, addressing complex and highly technological needs of society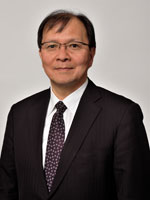 Public health and social medicine at the National Cancer Center of Japan have been the responsibility of two units, Center for Public Health Sciences (C-Pub), and Center for Cancer Control and Information Services (CIS). The former, previously established in 2004 as the Research Center for Cancer Prevention and Screening, was transformed in 2016, with a focus on public health, leading epidemiology in Japan establishing and running population-based cohorts such as Japan Public Health Center-based prospective study (JPHC) and JPHC study for the next generation (JPHC NEXT), implementing and extending prevention and screening underpinned by scientific evidence across all corners of the nation, supporting cancer patients past and present, and developing and enhancing supportive care. The CIS was established in 2007 as a medium to serve the Basic Plan to Promote Cancer Control Programs, formulated under the Cancer Control Act, which was passed in 2006. Its role has been to support the nation's cancer care network as its nucleus, providing verified scientific information, managing the national and hospital cancer registries, setting evaluation frameworks to raise cancer medicine standards throughout the nation, and supporting cancer survivors.
Profound transitions in society brought with the acute superannuation of the population, and innovation in medical technology call for a diverse array of technologically sophisticated cancer control solutions and cancer information. To address these societal needs, multidisciplinary teams, silos removed, are ever more important in social medicine and public health. These dynamic teams comprising diverse specialists will integrate social medicine research with policy development and advocacy, delivering solutions with maximum impact. To deliver the full fruit of latest innovations in cancer medicine, such as genomic medicine and immunotherapy to patients, it is imperative to ensure full use of the state-of-the-art technologies and efficient and expedient dissemination and social implementation of verified evidence. The Institute for Cancer Control (ICC) is established to address these issues strategically and efficiently, integrating former units within the Center, consolidating our expertise and accumulated knowledge.
The vision of the new unit, ICC is 'Health and dignity for all.' The mission is 'Work with the public, derive evidence to drive cancer control, deliver to all,' specifically (a) glean, examine and present scientific evidence, transforming the world, (b) make the most of scientific insight, give momentum to cancer control, serving society, (c) deliver accurate information to all, implementing and supporting cancer control. The ICC will deploy all its resources towards establishing a society where cancer is best prevented, and patients can live with cancer in peace. We cordially invite the public to get involved in our initiatives.
Hitoshi Nakagama
President
Director – Institute for Cancer Control