Home > Information > National Cancer Center – IARC Seminar 3
National Cancer Center – IARC Seminar 3
April 23, 2018
National Cancer Center
in Japanese
The National Cancer Center (NCC), together with the International Agency for Research on Cancer (IARC), co-organized its third seminar on April 9th 2018.
After Dr Hitoshi Nakagama, the president of NCC opened the seminar with a warm welcome, the seminar kick-started with speaker Dr Isabelle Soerjomataram (Deputy Section Head, Section of Cancer Surveillance, IARC) with a presentation on "International Survival Collaborations: from population-based to cohort studies". The seminar continued with further presentations by Dr Tomohiro Matsuda on "RARECARENet in Asia: Development of PBCR through IARC/GICR and international collaborative study", Dr Norie Sawada on "International Collaboration: Participation in SURVPOOL" and Dr Shuhei Nomura on "The Global Burden of Disease: Generating Evidence, Guiding Policy". An active discussion ensued, also involving the second venue of the seminar at NCC Kashiwa campus, where the seminar was transmitted live. A total of approximately 100 participants gathered for the seminar.
NCC, having concluded a comprehensive agreement with IARC on cooperation in cancer registration, looks forward to opening avenues for further collaboration.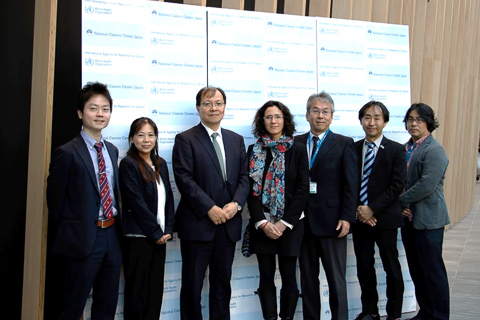 From left; Doctors Nomura, Sawada, Nakagama, Soerjomataram, Ochiai, Matsuda and Yamamoto