Home > NCC Leadership Courtesy Visit to His Excellency the Ambassador of France
NCC Leadership Courtesy Visit to His Excellency the Ambassador of France
On 4 February 2021, NCC leadership visited His Excellency the Ambassador of France Mr Philippe Setton, to discuss further collaboration.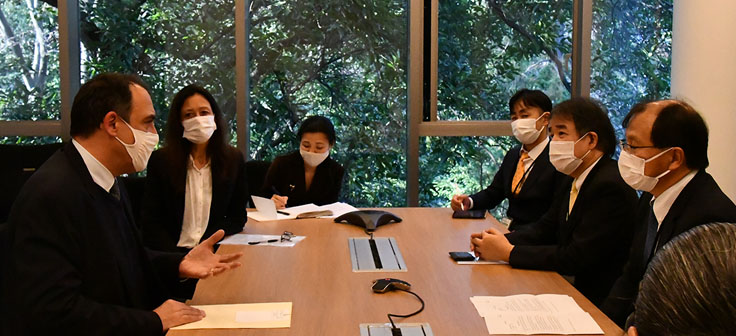 (from left) HE Ambassador Setton, Dr Baratin, Ms Saito, Drs Matsuda, Mano and Nakagama
Dr Myriam Baratin, the Scientific Attaché, and Ms Saito, of the Science and Technology Office of the embassy joined the meeting. The visitors were led by Hitoshi Nakagama, the President, joined by Hiroyuki Mano, Director, Research Institute, Tatsuya Suzuki, Deputy Director of the Strategic Planning Bureau, and Tomohiro Matsuda, Head, Office of International Affairs.
With the French embassy, the Center coorganized a pediatric cancer workshop in 2019, and keeps close contact.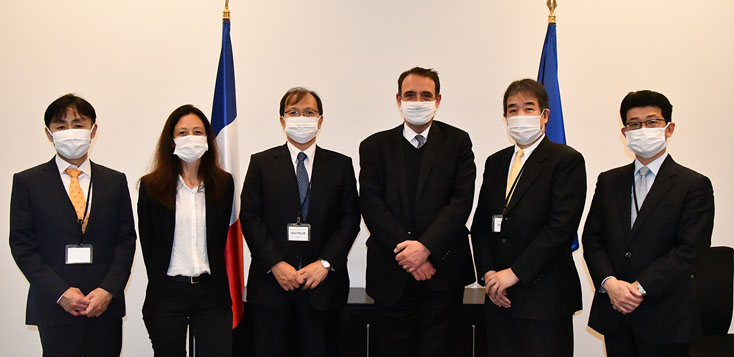 (from left) Drs Matsuda,Baratin, Nakagama, HE Ambassador Setton, Drs Mano and Suzuki