Home > The 8th NCC-IARC Seminar on Childhood Cancer
The 8th NCC-IARC Seminar on Childhood Cancer
26 October 2020
On 13 October, the National Cancer Center (NCC), together with the International Agency for Research on Cancer (IARC) jointly organized its eighth seminar on Childhood Cancer.
The seminar was opened up by a welcome speech from Dr Ako Hosono (Head Physician - Dept of Pediatric Oncology, NCC Hospital East), followed by presentations from guest speakers, Dr Eva Steliarova-Foucher (Senior Scientist - Section of Cancer Surveillance, IARC) on "Global Surveillance of Cancer in Children" and Dr Joanne Aitken (President - International Association of Cancer Registries (IACR) / General Manager, Research - Cancer Council Queensland) on "The Toronto Childhood Cancer Stage Guidelines".
During the QA session, Dr Kayo Nakata (Associate Section Chief - Dept of Cancer Strategy, Osaka Cancer Registry, Cancer Control Center, Osaka International Cancer Institute) shared her abundant experience and findings in international collaborative research on childhood cancer. Dr Chitose Ogawa (Chief - Dept of Pediatric Oncology, NCC Hospital) concluded the seminar highlighting the crucial importance of global collaboration to develop new treatments and increase survival rates for childhood cancer and other rare cancers.
Approximately sixty participants from all over the world took part. The seminar provided to be an invaluable opportunity to strengthen multilateral cooperation between global oncology leaders of WHO, IARC, IACR and NCC.



Dr Steliarova-Foucher (IARC)




Dr Aitken (IACR)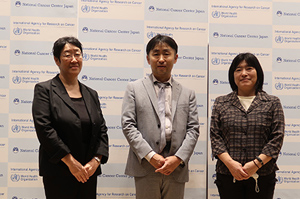 from left;
Drs Ogawa, Matsuda and Inoue (NCC)