Home > Royal Thai Embassy HE Ambassador Mr Singtong Lapisatepun Visit
Royal Thai Embassy HE Ambassador Mr Singtong Lapisatepun Visit
25 November 2020
His Excellency Ambassador Mr Singtong Lapisatepun and Minister Ms Prangtip Kanchanahattakij and others from the Royal Thai Embassy in Tokyo visited the National Cancer Center on 19 November 2020. Following the introduction of the center, research institute, hospital by NCC leaders, presentations on the mutual collaboration in research between Thailand and NCC followed. The Ambassador and his company toured the Endoscopy Center, Outpatient Treatment Center, Interventional Radiology Center and Radiation Oncology, Biobank and Brain Tumor Translational Research Lab.
We value our relationship with Thailand not only in hosting visiting doctors and researchers, but also in collaboration in various fields. Last May we also hosted the Director-General of Department of Medical Services from the Ministry of Public Health Thailand.
Our center looks forward to further strengthening ties with the kingdom of Thailand.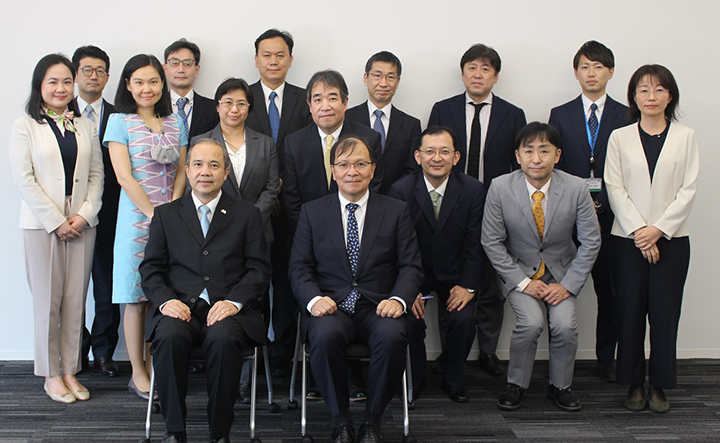 (front row from left)Ambassador Mr Lapisatepun, Dr Nakagama - President (second row from left) Ms Wongwan - First Secretary, Ms Sukseangdow - Minister Counsellor, Ms Kanchanahattakij - Minister, Dr Mano – Director, Research Institute, Dr Kaminota - Executive Advisor to the President, Dr Matsuda - Head, Office of International Affairs, Dr Saito - Staff Scientist, Cancer Statistics Integration (third row from left) Dr Suzuki - Deputy Director, Strategic Planning Bureau, Dr Shimada - Director, Hospital, Mr Sattayawuthiphong – Minister-Counsellor, Dr Ushijima - Chief, Division of Epigenomics, Dr Ito - Chief, Department of Colorectal Surgery NCCH East, Dr Terada - Staff Physician, International Trials Management Section
Outpatient Treatment Center wirh Dr Kondo

Radiation Oncology, BNCT (boron neutron capture therapy) with Dr Itami
Biobank with Dr Mano

Brain Tumor Translational Research Lab with Dr Ichimura