Home > Information > Franco-Japanese immuno-oncology webinar 3rd session held
Franco-Japanese immuno-oncology webinar 3rd session held
May 24, 2022
in Japanese
The French National Cancer Institute and the National Cancer Center of Japan, with support of the Office for Science and Technology of the French Embassy to Japan, are organizing a series of webinars focusing on immuno-oncology throughout 2022. They also enjoy support from a donation from the Kiyoko Goto and Paul Bourdarie Cancer Foundation.
On May 10, the third session addressed Anti-cancer vaccines and eradication of chronic inflammation covered by Professor Masanori Hatakeyama, Institute of Microbial Chemistry and Professor Eric Tartour, Hôpital Européen Georges Pompidou. Moderated by Dr Alain Eychene, who leads the French National Cancer Institute's Research and Innovation Division, and Dr Hiroyuki Mano, Director of National Cancer Center Research Institute, this outstanding session enabled high scientific quality presentations and fueled enriching exchanges, further strengthening the complementarity between the two talks.
If you missed the event, you can access the replay: https://www.webinars-oncoimmuno-frjp.com/ .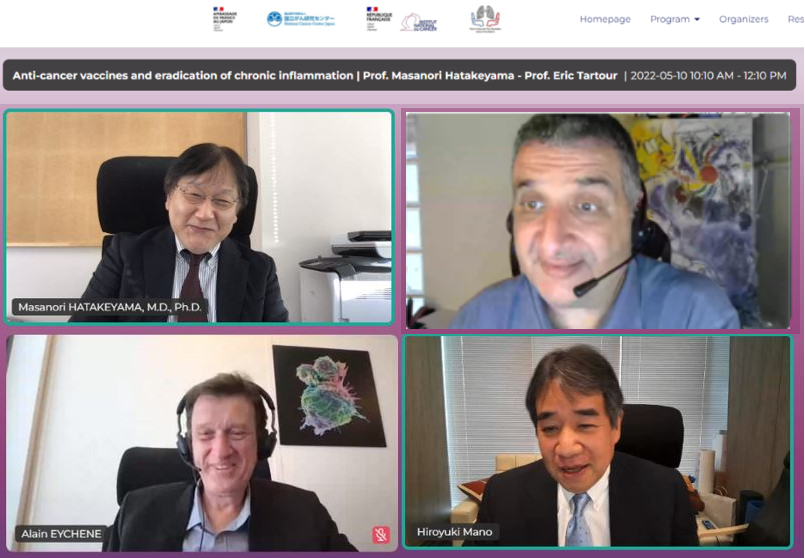 The next webinar will be held on June 27, 2022, with Professor Karin Tarte, Medical School of Rennes and Professor Osamu Takeuchi, Graduate School of Medicine, Kyoto University, on Tumor immune microenvironment.
Looking forward to welcoming you online!