Home > About NCCHE > Message from the Director
Message from the Director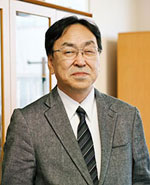 The National Cancer Center was founded in Tsukiji, Tokyo in 1962 as a hub for cancer treatment in Japan. With the continuing proliferation of cancer, and cancer being the No. 1 cause of death in many countries, overcoming the disease is the ardent wish of Japan as well as the whole world. Under these circumstances, this Center became an Independent Administrative Institution in 2010, and then a National Research and Development Agency in 2015, and now faces a strong demand to produce some of the highest-quality research development results in the world.
The National Cancer Center Hospital East was established in Kashiwa city, Chiba prefecture in 1992, with the objective of generating new cancer treatments for the increasing number of cancer patients. Currently, this facility receives more than 5,000 new patients a year, and has grown into one of Japan's highest-ranking specialized hospitals. The two missions of the Hospital East are providing the best cancer treatment in the world and producing new, world-class cancer treatments. Our employees and those at our joint establishment, the Exploratory Oncology Research & Clinical Trial Center (EPOC), work together as one unit to carry out these challenges. From a treatment perspective, our staff breaks down departmental barriers and works together laterally (under completely informed consent) to conduct the best treatment for the patient. In addition, we provide patient support from multi-occupational teams consisting of physicians, nurses, pharmacists, nutritionists, social workers, certified social insurance labor consultants, and others. These teams give patients physical, emotional, and social aid through surgery and multiple hospital visits. As Supportive Care Center, we have integrated the multi-occupational teams since 2014, and have built a system by which we can provide patients with seamless support from the time of their first visit. We have also established a medical treatment concierge to treat patients from within Japan as well as from overseas. We have achieved top-level results in Japan in all of the following: In the surgical field, high-difficulty minimally-invasive surgery by specialists with a wealth of experience; in the internal medicine field, the latest treatments with anticancer agents by experts in drug therapy; in radiation therapy, intensity-modulated radiation therapy (IMRT) implemented under high quality control, in addition to Japan's first proton radiation therapy facility; and in the endoscopic field, boasting skilled technique and historic contributions to the development of endoscopic equipment. As for facility maintenance, we opened a new outpatient ward in 2014, and expanded the Outpatient Treatment Center in response to the growing number of patients. In addition, the Center for Developing Next-generation Endoscopic-surgical Treatment (NEXT) will be completed in the spring of 2017, with plans for great expansion of the operating and endoscopy rooms.
From a research perspective, we, together with the Tsukiji campus and EPOC, have produced numerous global achievements as a central hub for the development of cancer-related pharmaceutical products and medical devices in Japan. These achievements include selection as Japan's hub for early-stage or exploratory clinical studies in 2011; recognition for activities to promote the practical use of innovative pharmaceutical products, medical devices, and regenerative therapy products (endoscopic field) in 2012; and selection as a core hospital for clinical research in 2015. These facilities have produced top-class global achievements for promising new treatment drugs, from domestic and international FIH (first-in-human) studies to clinical development studies before approval, and have made the best achievement in Japan for an investigator-initiated trial of an unapproved drug. Our staff has maintained a system whereby patients can be provided with the newest medications the world has to offer. In 2015 we launched a nationwide consortium for genomic cancer screening (SCRUM-Japan), in cooperation with approximately 200 Japanese facilities and 14 pharmaceutical companies. Our institutes are the driving force behind construction of a system for genomic treatment of cancer in Japan, wherein the optimal treatment drug is selected according to the results of genetic analysis. In addition, current advances employ the newest equipment, even in remarkable immunotherapies; and research aimed at improved treatment outcomes and optimization for patients is progressing.
Cancer research is progressing steadily around the globe, and the speed with which the resulting benefits return to the patients is increasing as well. In keeping with the motto of "Bringing patients the world's best treatments faster than anywhere else," the Hospital East provides patients with the latest treatments and seamless, multi-faceted support, and approaches patient's varying needs with the utmost in sincerity.
I hope you will keep our services in mind, and I ask for your support and advice from all sides.
Atsushi Ohtsu, M.D., Ph.D.
Director
National Cancer Center Hospital East