Home > Collaboration with a medical AI software start-up FathomX from Singapore
Collaboration with a medical AI software start-up FathomX from Singapore
Sep,28, 2022
The National Cancer Center Hospital East (NCCHE) has started the joint research project with FathomX Pte Ltd from Singapore to investigate the performance inconsistency of deep learning models for mammogram classification in different populations: an international, multi-center study
Background and Motivations
Recently, deep learning has demonstrated revolutionary potential in imaging recognition and has been rapidly applied in medical image research. However, the superhuman or near expert performance of these models may not be achieved on unseen external data sets. In previous multi-site retrospective trials, the generalization problem was addressed by fine-tuning models with a large amount of data from external datasets or using cohorts from same geometric locations to test. However, obtaining a large number of labeled mammograms requires considerable amount of time and expertise's' effort. In most clinical image datasets, there are very few manually labeled images.
FathomX's flagship product, FxMammo, is an AI Assistant that significantly improves the screening procedure for mammograms by reducing both the false positive and interval cancer rates. The solution also enhances the clinical workflow by reducing the time taken to assess a screen.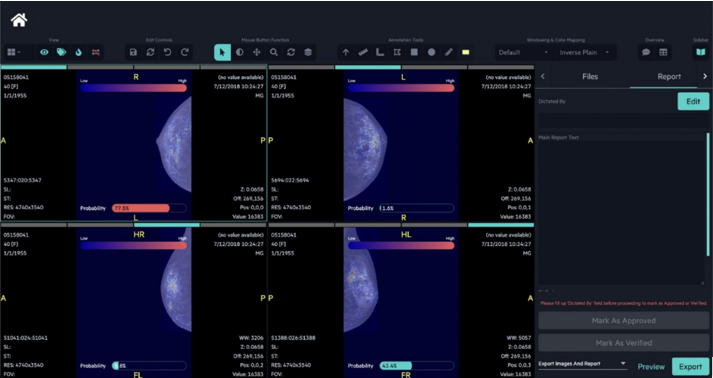 NCCHE's Tatsuya Onishi, MD, PhD, will undertake overall management of the research and evaluation of results while FathomX's Dr. Meng Ling Feng will undertake the design, implementation and reporting of research projects and manage and supervise all partnerships. The team in FathomX will also oversee the data management of medical information and images, as well as the development, training, and evaluation of the AI Model.
About FathomX:
FathomX is a Digital Health Artificial Intelligence (AI) spin-off company from the National University of Singapore and National University Health System. Till date, the company has set up a series of collaborative agreements across 9 regions in the Asia Pacific Region and is supported by strategic partners in the teleradiology, infrastructure and deployment space.
Further Information
Tatsuya Onishi, MD, PhD
Department of Breast Surgery, National Cancer Center Hospital East
Email: taonishi@east.ncc.go.jp
Galvin Lian, Mr
Business Development Director for FathomX
Email: Galvinlian@fathomx.co