Home > Specialist ctrs & depts > Department of Pharmacy
Department of Pharmacy
Shinichiro Saito, Kunio Takahashi, Toshikatsu Kawasaki, Yasuhiko Ichida, Tomoyuki Akimoto, Reiko Matsui, Hisanaga Nomura, Yasuaki Ryushima, Naoko Yoshino, Minako Yoshida, Hideki Funasaki, Yoshiki Kojima, Daisuke Kanou, Yousuke Maki, Nobuo Mochizuki, Kenji Kawasumi, Tomoka Okano, Shinya Motonaga, Ryoko Udagawa, Hiroko Ouchi, Tomoko Morita, Mai Itagaki, Shinya Suzuki, Takeshi Koike, Misaki Kobayashi, Motoko Kaneko, Akira Shinohara, Takahiro Outa, Daisuke Hisamatsu, Ayumi Yamaguchi, Takayuki Sano
Introduction
The main objectives of our Department of Pharmacy are: 1) To promote clinical studies to create new evidence-based data; 2) To provide chemotherapy based on the most updated evidence-based data; and 3) To pursue patient-centered pharmaceutical care.
Our residents' training program started in 2006. In 2015, five residents joined our Department. Presently, we have a total of 24 residents. In addition, our Department has accepted seven trainees from other institutions for our oncology pharmacist training programs. Through 2015, which is two terms of the training courses, we have educated eight pharmacy students and two advanced-training pharmacy students.
The Department of Pharmacy provides various important services: controlling inventory; dispensing medications; preparing i.v. solutions for chemotherapy, which include the aseptic mixing of antineoplastic agents; collecting and providing drug information; managing therapeutic drug monitoring; checking treatment regimens for each patient's chemotherapy; and providing pharmaceutical management and counseling.
Our Department reviews the drugs taken by patients before and during their hospitalization. In inpatient care, the Department assigns pharmacists to provide medication counseling and drug information for healthcare providers and patients, to pursue effective pharmaceutical care. In outpatient care, the Department provides a pharmacy outpatient service in which pharmacists check patients for adverse reactions and doses of antineoplastic agents, especially in the case of oral anticancer medications. We then assess the necessity of supportive-care medications and suggest them to physicians. The pharmacy outpatient service also reviews the drugs taken by all patients to evaluate when patients have to stop their anticoagulants before their operation or when they have to stop to take metformin before examinations with iodinated-contrast material. Pharmacists are on duty at the Outpatient Chemotherapy Center as dedicated staff members. The pharmacists provide a Chemotherapy Hotline Service, which is a direct line for our outpatients who have any problems concerning their chemotherapy treatment. In the Outpatient Chemotherapy Center, pharmacists are always available to provide drug information for healthcare providers and patients. We also manage investigational drugs.
New developments
Checking home medication, that is, medication reconciliation, is one of the core services in the pharmacy division. At the National Cancer Center Hospital East, pharmacists used to perform the service from a dispensing room window. However, the working place has changed from the dispensing room window to hospital wards, because patients had a long waiting time and underwent the burden of having their brought-in medicine checked. According to the change of working place, ward pharmacists have checked brought-in home medication in the ward since February 5th, 2015. The change of service location does not only reduce the burden of patients having to wait, but also reduces the nurses' work burden. In addition, the number of brought-in medicine checks has increased, and this enhances the clinical pharmacy service in the inpatient division.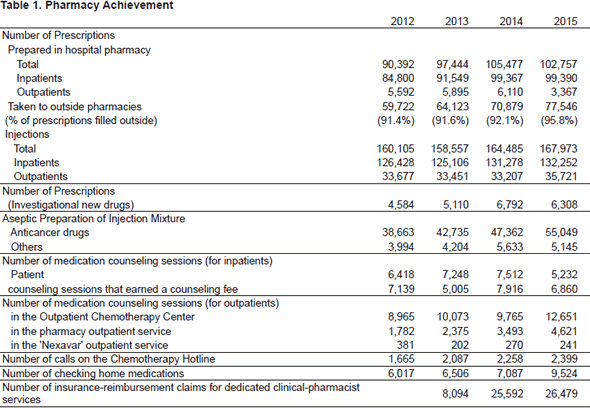 List of papers published in 2015
Journal
Shinohara A, Ikeda M, Okuyama H, Kobayashi M, Funazaki H, Mitsunaga S, Shimizu S, Ohno I, Takahashi H, Ichida Y, Takahashi K, Okusaka T, Saitoh S. Efficacy of prophylactic minocycline treatment for skin toxicities induced by erlotinib plus gemcitabine in patients with advanced pancreatic cancer: a retrospective study. Am J Clin Dermatol, 16:221-229, 2015