Home > About NCCH > Message from the Director
Message from the Director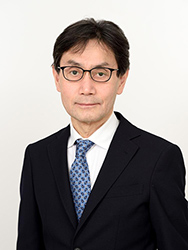 One of the original units of the National Cancer Center, the National Cancer Center Hospital (NCCH) has lead the nation's cancer care and research since its establishment in 1962, upholding its mission of 'providing best medicine to all citizens, working with the public.' Today, one in two citizens develop cancer, it is a challenging illness to overcome. We shall continue to serve the high demand for first-rate treatments, for cancers of all organs.
Designated as an incorporated administrative agency in 2010, our world-class services as the nation's cancer medicine core, develop new, more effective, safer treatments. To improve patient satisfaction in outpatient services, consultation support, and less invasive treatments, early stage cancers treatment with endoscopy and interventional radiology, high precision radiation therapy, laparoscopic and robot assisted minimally invasive treatments are promoted.
Clinical research is another important undertaking. With the research institute, whole genome sequencing and translational research are conducted as researchers are trained and informatics strengthened. Developing treatments for rare and refractory cancers, meeting unmet needs is another crucial responsibility. Having been designated a global clinical trial core center in 2015, and subsequently a cancer genomic medicine core hospital in 2018, we lead in clinical trials and cancer genomic medicine research both in quality and quantity, safely conducted in house as we also support other external institutions to do so, developing cancer medicine for the next generation. As a cancer genomic medicine core hospital, we provide precision medicine as part of a network, through a collaborative relationship with other medical institutions.
At the Supportive Care Development Center established in 2016, we address and mitigate the pain and anxiety of patients and families, those involving work and inconveniences in their daily lives. Research on supportive and palliative care is ongoing with the J-Support project, under which scientific evidence is accumulated. For such activities to bear fruit, patient engagement is essential, the kind cooperation we enjoy is very much appreciated.
We shall provide the very best cancer medicine to the largest number of patients, through clinical safety, collaboration with patients and communities, and high performance work systems. The kind support from everybody involved is held in esteem.
Dr Kazuaki Shimada, MD PhD
Director
National Cancer Center Hospital