Home > Clincal depts. > Department of Psycho-Oncology
Department of Psycho-Oncology
Ken Shimizu, Rika Nakahara, Takatoshi Hirayama, Masashi Kato, Yosuke Uchitomi, Yutaka Matsuoka, Saho Wada, Ryoichi Sadahiro, Yuko Yanai, Yuko Ogawa, Mariko Kobayashi, Chisato Kobayashi, Mae Endo
Introduction
The Department of Psycho-Oncology was reestablished in September 1995, together with the establishment of the Psycho-Oncology Division, National Cancer Center Research Institute East (reorganized to the Division of Psycho-Oncology, Research Center for Innovative Oncology in 2005). One of the most important clinical activities of the department is the management of cancer patients' behavioral and social problems as well as their psychological distress. Furthermore, this division's aim is to alleviate the distress of patients, patients' families and our staff. Research activity is focused on studying the psychosocial influence of cancer on the quality of life of patients, their families, and oncology staff.
The Team and What We Do
The Department of Psycho-Oncology consists of six full-time staff psychiatrists, one part-time psychiatrist, two full-time staff psychotherapists and three part-time psychotherapists. The department provides two major services: a clinic for outpatients (five days a week) and consultation for referred inpatients. The purpose of the psychiatric consultation is to diagnose and treat the mental distress and cancerrelated psychological problems of patients who have been referred by their attending physicians. Since 1999, the department has played an active role as a member of the palliative care team. There is a palliative care team meeting with other members of the team every Tuesday. Additionally, a multicenter joint clinical teleconference to discuss difficult cases is held biweekly on Thursday evening with staff members from six cancer center hospitals and four university hospitals.
In 2018, a total of 1,088 patients were referred for psychiatric consultation (Table 1). The mean age was 51.35 years old and 84.6% percent of the referrals were inpatients. Five-hundred and fifty-six (51.1%) of the total referred patients were males (Table 1). The most common cancer referrals were patients with hematological cancer (14.80%), followed by breast cancer (13.97%) and sarcoma (9.74%). The most common psychiatric diagnosis which is based on the DSM-5 criteria (Diagnostic and Statistical Manual of Mental Disorders, 5th edition) was delirium (23.71%), followed by adjustment disorders (11.86%), and major depressive disorder (5.42%), while 34.28% of the referrals had no psychiatric diagnosis. The three common mental disorders (delirium, adjustment disorders, and major depressive disorder) were responsible for half of the psychological problems.
Table 1. Psychiatric Consultation Data in 2018 (n=1,088)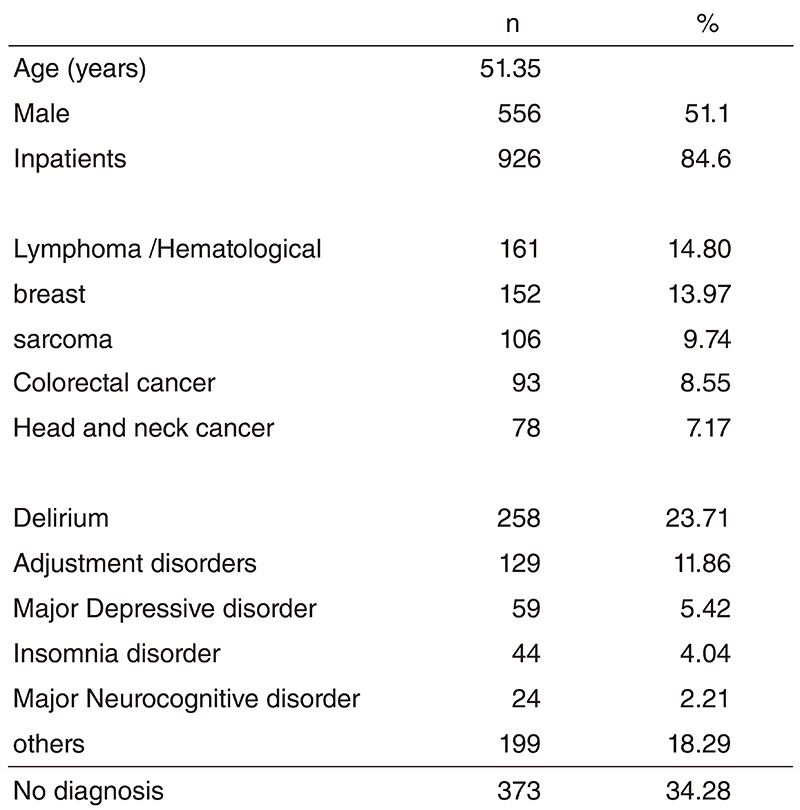 Research activities
We are now developing a psychosocial intervention for allogenic hematopoietic stem cell transplant survivors, the purpose of which is to improve the quality of life. This year, we have planned observational study to decide the intervention components.
We are also examining the usefulness of herbal medicine yokukansan as a prophylactic medicine for postoperative delirium.
Clinical trials
We completed randomized a controlled study to examine the usefulness of herbal medicine yokukansan as a prophylactic medicine for postoperative delirium.
Future prospects
We are now developing the ideal system of early palliative care for all cancer patients.
List of papers published in 2018
Journal
1. Okuyama T, Yoshiuchi K, Ogawa A, Iwase S, Yokomichi N, Sakashita A, Tagami K, Uemura K, Nakahara R, Akechi T. Current Pharmacotherapy Does Not Improve Severity of Hypoactive Delirium in Patients with Advanced Cancer: Pharmacological Audit Study of Safety and Efficacy in Real World (Phase-R). Oncologist, 2019
2. Wada S, Sadahiro R, Matsuoka YJ, Uchitomi Y, Yamaguchi T, Shimizu K. Yokukansan for perioperative psychiatric symptoms in cancer patients undergoing high invasive surgery J-SUPPORT 1605 (ProD Study): study protocol for a randomized controlled trial. Trials, 20時11分0, 2019
3. Nakaya N, Sone T, Tomata Y, Nakaya K, Hoshi M, Shimizu K, Tsuji I. All-cause mortality among Japanese whose cohabiting partners are diagnosed with cancer: the Ohsaki Cohort 2006 study. Acta Oncol, 58:425-431, 2019
4. Wada S, Inoguchi H, Sadahiro R, Matsuoka YJ, Uchitomi Y, Sato T, Shimada K, Yoshimoto S, Daiko H, Shimizu K. Preoperative Anxiety as a Predictor of Delirium in Cancer Patients: A Prospective Observational Cohort Study. World J Surg, 43:134-142, 2019
5. Yoshida S, Ogawa C, Shimizu K, Kobayashi M, Inoguchi H, Oshima Y, Dotani C, Nakahara R, Kato M. Japanese physicians' attitudes toward end-of-life discussion with pediatric patients with cancer. Support Care Cancer, 26:3861-3871, 2018