Home > About NCCRI > Message from the Director
Message from the Director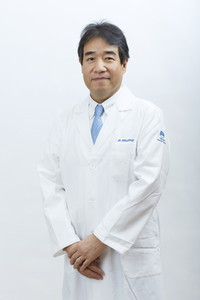 My name is Hiroyuki Mano, and I was appointed as Director of National Cancer Center Research Institute on April 1, 2016. This Research Institute was established in 1962 as one of the main parts of the National Cancer Center, and has been driving cancer research in Japan ever since. The Center was designated a National Research and Development Agency in April 2015. Since then, there is more demand than ever to promote research and development and to maximize results. In assuming the role of Director of this Institute, I am humbled by this heavy social responsibility, but I am devoting all my efforts to the tasks at hand.
Presently, we are facing major changes in the treatment of cancer. As new medications for molecular targeted therapy and immunosuppression are continuously released, patient-by-patient, personalized treatment based on genomic information from tumors is sought. This means more than simply accelerating drug research; it means great changes to the system of diagnosis and medical treatment. To keep Japan at the forefront of new cancer research and treatments, the Institute will focus on the following issues.
Development of new treatment methods and diagnostic procedure: even now, it is unclear why cancer develops in many cases. Without a solution to this problem, it is difficult to develop effective treatment drugs for cancer. In addition to cancer cell analysis using new techniques involving the genome, epigenome, proteome, and metabolome, we are conducting research to clarify cancer cell traits through creative approaches, and consistently working on areas of cancer research ranging from understanding the onset mechanism to developing treatment methods and diagnostic procedures.
Construction of a genomic treatment system: within the same illness of lung cancer, for example, there is a wide variety of genomic differences between tumors. In addition, adverse drug reactions for a particular medication will differ greatly depending on the patient. For these reasons, we need to use genomic information, etc., to optimize methods of treating cancer in the near future. In addition, if we can determine genetic abnormalities that make a patient susceptible to developing cancer, we may be able to identify new ways of preventing the disease. We will build this kind of new system for diagnosis and treatment so that anyone in Japan can receive effective medical treatment for cancer.
The solutions to the issues above cannot be found by this Institute alone. They will require close teamwork with the National Cancer Center Hospital, Hospital East, Exploratory Oncology Research & Clinical Trial Center, and Center for Public Health Sciences. In addition, we hope for proactive cooperation with businesses and universities and medical institutions outside the National Cancer Center.
We are working our hardest in hopes that we may save a life or improve QOL for even one of the many people in Japan suffering from cancer, and also so that we can contribute to prevention of this disease. We appreciate your support and cooperation.
Hiroyuki Mano, M.D., Ph.D.
Director
National Cancer Center Research Institute