Home > Information > Action across borders
Action across borders
November 19, 2018
Drs Yutaka Saito and Seiichiro Abe of the endoscopy center, National Cancer Center Hospital, were invited to the Cleveland Clinic on 24-25 September 2018, where both gave lectures. Dr Saito enjoyed the honor as 'invited professor' delivering the annual 'Mark Blue Lecture,' as the one top endoscopist from around the world. Dr Abe also shared his experiences with a presentation.
Dr Saito delivering the Mark Blue Lecture

Dr Abe at the podium
Cleveland Clinic performs the largest number of colorectal surgeries worldwide, and was listed second overall on the US News' best hospital ranking this year, out of 4500 clinics. Upon their visit, the pair enjoyed good discussions with Dr Conor Delaney, Institute Chair, Digestive Disease & Surgery Institute, and Dr Miguel Regueiro, Chair, Department of Gastroenterology, Hepatology & Nutrition respectively. They also visited the centers hosting overseas doctors, and serving patients in 70 plus languages.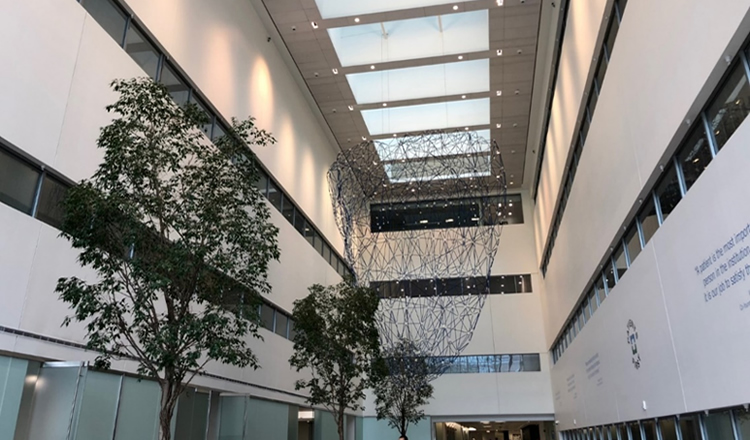 Cleveland Clinic main lobby
Dr Saito with Dr John Vargo

Drs Saito and Abe with Dr Regueiro
At the endoscopy center on Tsukiji campus, we host 100 plus visitors annually from all corners of the globe, as we also visit to lecture and demonstrate at destinations including Mayo clinic at Rochester, Jacksonville, and Arizona. We are pleased that our high quality and contribution to nurturing talent in the endoscopic field has been recognized, as a Center of Excellence by the World Endoscopy Organization.
The honour awarded at Hyderabad, India (February 2017)
Dr Inoki, Dr Nakajima, Prof Horst Neuhaus, Prof J Francis Rey, Dr Abe, Dr Jerome D Waye,Prof K L Goh (left to right)