Home > Information > Dr Kazuaki Shimada appointed Honorary Professor at Tianjin Medical University Cancer Institute and Hospital
Dr Kazuaki Shimada appointed Honorary Professor at Tianjin Medical University Cancer Institute and Hospital
January 22th, 2019
National Cancer Center
in Japanese
Dr Kazuaki Shimada, Chief of the Hepatobiliary and Pancreatic Surgery of the Hospital, visited Tianjin upon invitation, and was conferred with the title of honorary professor at Tianjin Medical University Cancer Institute and Hospital (TMUCIH), on 16 November 2018.
TMUCIH has its origins from a hospital established by english missionaries in 1861, and by 1952 already had established a ward specializing in cancer care. Currently, it is a tertiary hospital with 2000 beds.
Having hosted a number of visiting doctors from the TMUCIH, Dr Shimada looks forward to hosting more visitors, and also to visit Tianjin more frequently, to contribute in clinical research and education. It is hoped that the appointment will strengthen the relationship between the two institutions.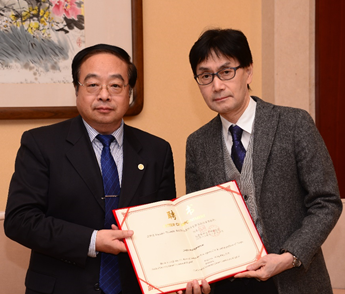 Dr Ping Wang and Dr Kazuaki Shimada at the ceremony