Home > Information > The Hon Mrs Carrie Lam, HKSAR Chief Executive visit
The Hon Mrs Carrie Lam, HKSAR Chief Executive visit
The Hon Mrs Carrie Lam, Chief Executive of the Hong Kong Special Administrative Region (HKSAR) visited the National Cancer Center on April 8th, 2019. She was accompanied by Ms Shirley Yung, Principal Representative, HKSAR Economic and Trade Office in Tokyo, and Mr Mitsuhiro Wada, the Consul General in Hong Kong.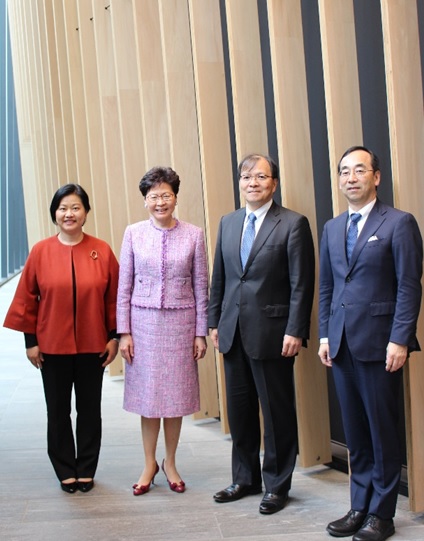 (from left) Ms Yung, Mrs Lam, Dr Nakagama, Mr Wada
Plans for a brand new cancer center, and for genome sequencing are picking up pace in Hong Kong. Having worked together with Hong Kong academia on research projects, and hosted Hong Kong doctors, we hope to expand our collaboration with Hong Kong.