Home > Information > Proposed Operational Plan and Recommendations for Cancer Registration in Myanmar
Proposed Operational Plan and Recommendations for Cancer Registration in Myanmar
August 16th 2019
Dr Tomohiro Matsuda (Head of National Cancer Registry Section, Center for Cancer Control and Information Services, NCC) provided technical assistance, working with Vital Strategies, in preparing the "Proposed Operational Plan and Recommendations for Cancer Registration in Myanmar"
Cancer registration is a system where cancer data are collected and analyzed, but as with other low and middle-income countries (LMICs), it is underdeveloped in Myanmar. Such cancer data are essential to the planning, implementation and evaluation of national cancer control plans. With the expected growing and ageing population, there is no doubt there will be a rise in cancer cases and for cancer control to become a national concern.
In such a context, in 2016, the first national cancer control plan was published by the Ministry of Health and Sports of Myanmar.
At the same time, Bloomberg Philanthropies launched the Data for Health Initiative which seeks to improve public health data and help governments of LMICs to enhance policymaking. Vital Strategies, one of the Data for Health Partners, is now working closely with the Ministry of Health and Sports of Myanmar to develop cancer registration in Myanmar.
Recommended by the International Agency for Research on Cancer (IARC), Dr Tomohiro Matsuda was invited to join this collaborative team, led by Vital Strategies to prepare the "Proposed Operational Plan and Recommendations for Cancer Registration in Myanmar".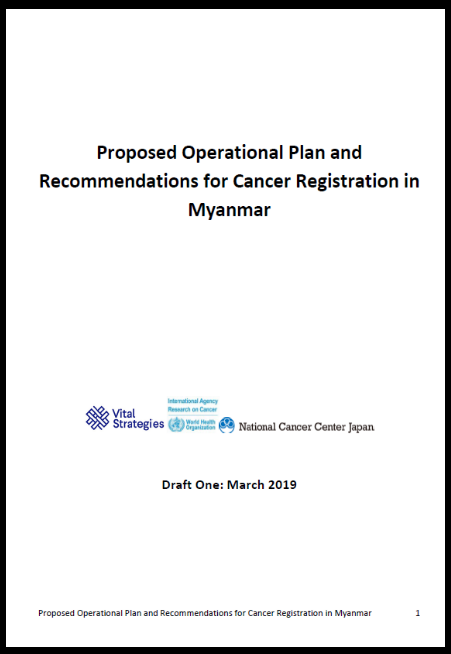 The Proposed Operational Plan and
Recommendations for Cancer Registration in Myanmar