Home > Information > Cancer Registration Training in Lao PDR
Cancer Registration Training in Lao PDR
February 7th 2020
On January 28th, the National Cancer Center of Japan (NCCJ) organized a cancer registration training at the Laos Cancer Center Mittaphab Hospital located in the capital city, Vientiane as part of the Global Initiative for Cancer Registry Development (GICR) of the International Agency for Research on Cancer (IARC).
Drs Tomohiro Matsuda (National Cancer Registry Section Head, NCCJ) and Sumiyo Okawa (Osaka International Cancer Institute) delivered lectures on the overview of cancer registration, ICD-O3 practices and data analysis, all which are required for the implementation of cancer registration which meets international standards.
Lao PDR is a landlocked lower-middle income country bordering Vietnam, Cambodia, Thailand, Myanmar and China with half of its population of approximately 7 million under the age of 25. Training participants included 30 doctors and nurses from the Mittaphab Hospital, the only institution in the country implementing cancer registration.
Prof Phetasmone Arounlangsy, the Head of Laos Cancer Center together with Drs Kan Yonemori (Head of Physician, Department of Breast and Medical Oncology, NCCJ Hospital) and Tomohiro Matsuda shared ideas on promoting exchanges between the two cancer centers by hosting observership visits for doctors and future collaborations on research projects.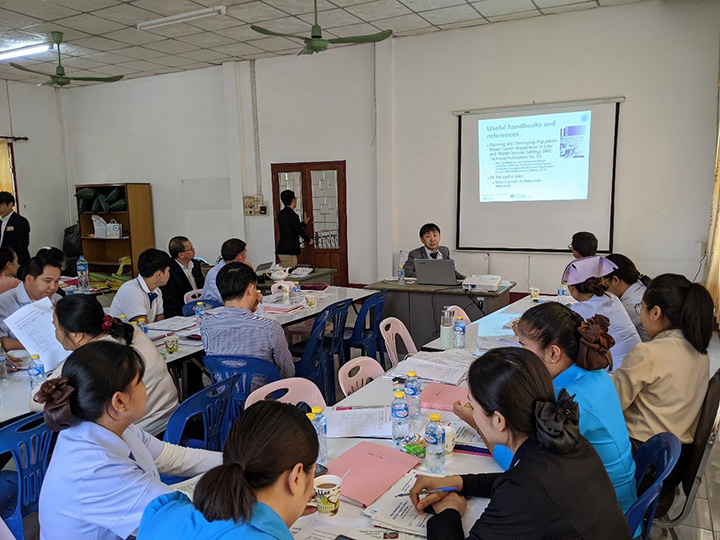 Cancer Registration Training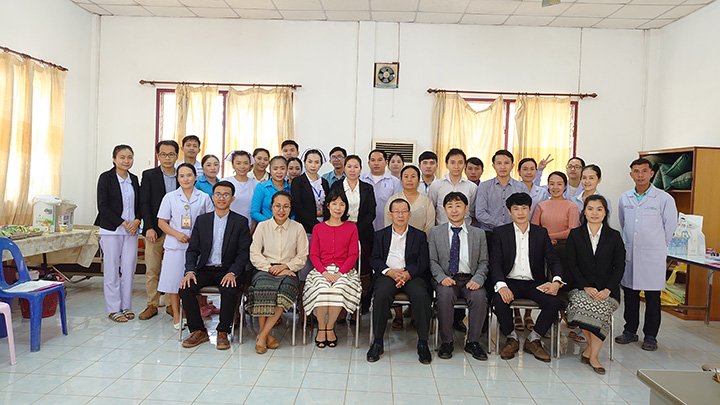 Group Photo
Front row center from left;
Dr Sumiyo Okawa, Prof Phetsamone Arounglangsy, Dr Tomohiro Matsuda