Home > MOU signed with Clinical Research Malaysia (CRM)
MOU signed with Clinical Research Malaysia (CRM)
On 30 October, the National Cancer Center Hospital (NCCH) signed a memorandum of understanding with Clinical Research Malaysia (CRM).
Clinical Research Malaysia was established by the Ministry of Health Malaysia in 2012 to serve as a one stop centre for local and international industry and investigators sponsored research and to facilitate the conduct of clinical trials in the country. The Honourable Malaysian Minister of Health is the Chairman of the Board of Directors in CRM. At the signing ceremony, Dr Hishamshah, the Deputy Director General of Health (Research & Technical Support), MoH Malaysia, and Dr Teiji Takei, Assistant Minister for Global Health and Welfare, the Ministry of Health, Labour and Welfare (MHLW) witnessed the ceremony, representing respective Ministers. Dr Kazuaki Shimada, Director of NCCH, and Dr Akhmal Yusof, CEO of CRM, signed a memorandum of understanding and the ceremony was successfully completed.
A CRM delegation, with leadership from the Ministry of Health visited our hospital in 2018.
In February 2020, our doctors led by Dr Kenichi Nakamura, Division Chief - Research Management Division visited CRM and agreed to work together in clinical research. To promote the ATLAS project, NCCH is strengthening its international team. The new agreement is anticipated to give new impetus to the partnership.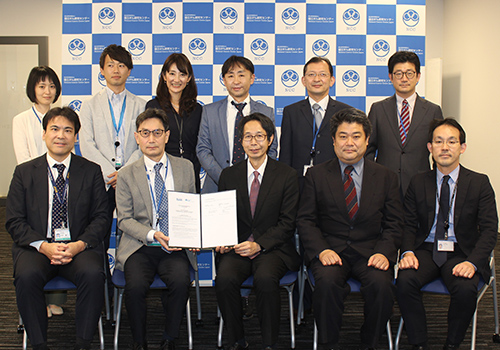 (Front row from left)
Drs Nakamura, Shimada, Takei, Kasamatsu-Director of Research and Development Division at the Health Policy Bureau (MHLW), Komoto- Director of Cancer and Disease Control Division at the Health Service Bureau (MHLW)
Dr Shimada

clockwise from upper left, Drs Shimada, Takei, Yusof, Hishamshah