Home > Webinar on Clinical Research with Guangxi, China
Webinar on Clinical Research with Guangxi, China
8 September 2021
The National Cancer Center delivered online lectures on Clinical Research for the Guangxi Medical University Affiliated Tumor Hospital and Oncology Medical College (GXMUCH) in Nanning city Guangxi province in China. Clinical trials of GXMUCH rank 89th among GCP institutions† in China.
The Webinar consisted of two lectures, first by Kenichi Nakamura, Director - Department of International Clinical Development, NCC Hospital on "Efficacy Evaluation in Cancer Clinical Trials," followed by Masashi Wakabayashi, Biostatistician - Biostatistics Division, Center for Research Administration Support, also Biostatistics Section at NCC Hospital East on "Basic Knowledge of Statistics Required for Planning Cancer Clinical Trial." The Webinar started off with an introduction of GXMUCH by Professor Yu Hongping, the Vice President. In QA sessions after each lecture, the directors of multiple clinical departments commented on their current status of their clinical trials for the first lecture, and how statistics has been applied to their department for the second lecture; active discussions ensued.
In addition to the central venue, over 900 Chinese participants joined online. In closing, Professor Huang Qichun, moderator of the event, extended an invitation to further collaborate in research in the future.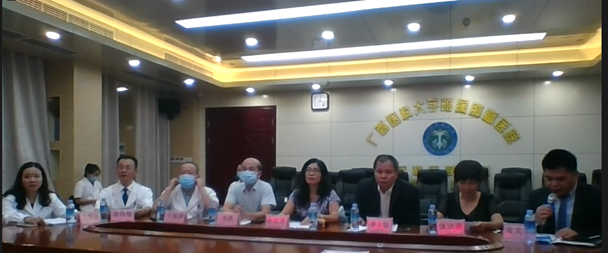 Central venue in China



Dr Nakamura


Dr Wakabayashi

† GCP is an abbreviation for Good Clinical Practice for clinical trials of pharmaceutical products. A medical institution registered through clinical trials of the National Medical Products Administration, which mainly conducts and manages clinical trials of drugs, is called a GCP institution.