Home > Organization > Divisions and Independent Research Units > Group for Cancer Development and Progression > Division of Cellular Signaling
Division of Cellular Signaling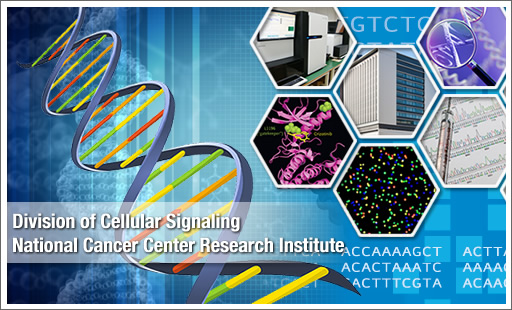 Research
Division of Cellular Signaling aim at identifying essential growth drivers in every cancer and developing new molecularly-targeted therapy, by taking advantage of our functional screening system coupled with the next generation sequencing technologies.
An effective drug against the EML4-ALK oncoprotein that we discovered in 2007 was approved only 4 years after the publication of the discovery. Additionally, clinical trials for ROS1, RET fusion-type oncogene etc. we discovered have already been started, and some of them have been approved already.
Unfortunately, the number of cancer types with effective therapeutic agents is still small, and more than 8 million lives are lost each year due to cancer. Cancer is the leading cause of adult death in developed countries, and we are engaged in research activities to help new molecularly-targeted therapy.
By sequencing the genome of cancer specimens, not only the essential cause of carcinogenesis will be clarified, but also significant progress will be made in elucidating the tumor diversity and the progression mechanism of cancer. By combining these information and functional assays we strive for the total cure of cancer patients.