Home > Organization > Division of Developmental Therapeutics
Innovative Cancer Treatment

Division of Developmental Therapeutics
News
Aug. 18, 2021

Jun. 14, 2021

Aug. 1, 2020

Apr. 9, 2020

Feb. 17, 2020
Feature
We are developing next-generation antibody drugs, including antibody–drug conjugates (ADC) and radioimmunotherapy (RIT) as armed therapeutic antibodies, as well as bispecific antibodies (BsAb) that can activate T cells directly. In addition to our regular research approach using DDSs and molecular imaging, we are also aggressively incorporating cell biological technology. Overall, we are taking a unique drug discovery approach based on host factors as well as the drugs themselves. Our advanced mass spectrometry and bioinformatics analysis can support effective translation of preclinical research to humans. Our cutting-edge research, such as the co-clinical trial project and DDSs based on nanotechnology, will also promote development of new drugs through interdisciplinary fusion and industry–academia collaboration.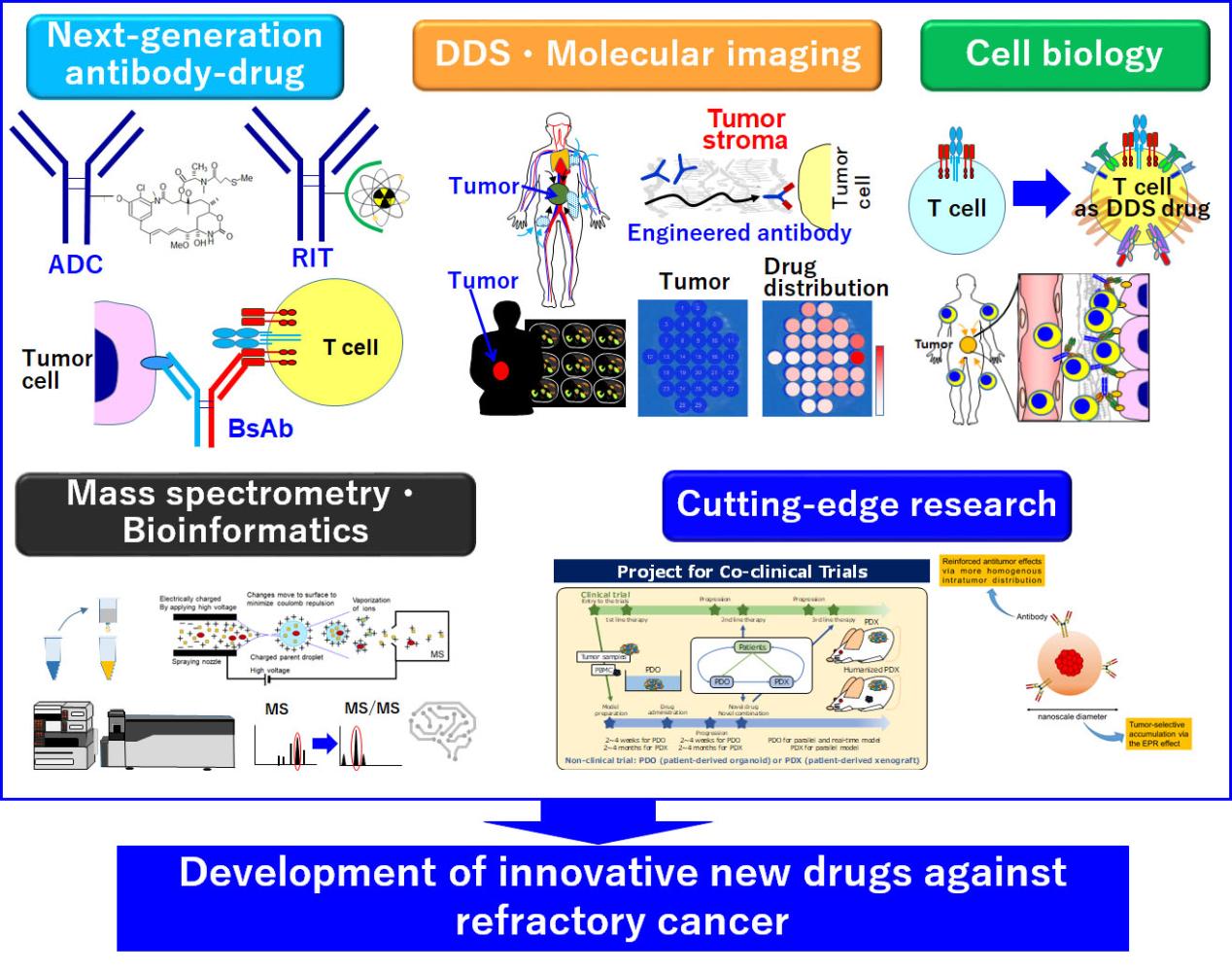 Development of antibody- and DDS-based drugs using DDSs and molecular imaging
Drug delivery system (DDS) is a method. When necessary, a dose of drug is delivered into the required area within the body. However, anticancer agents can distribute throughout the body, leading to adverse side effects. On the other hand, DDSs can target tumors, thereby enhancing drug action and minimizing toxicity.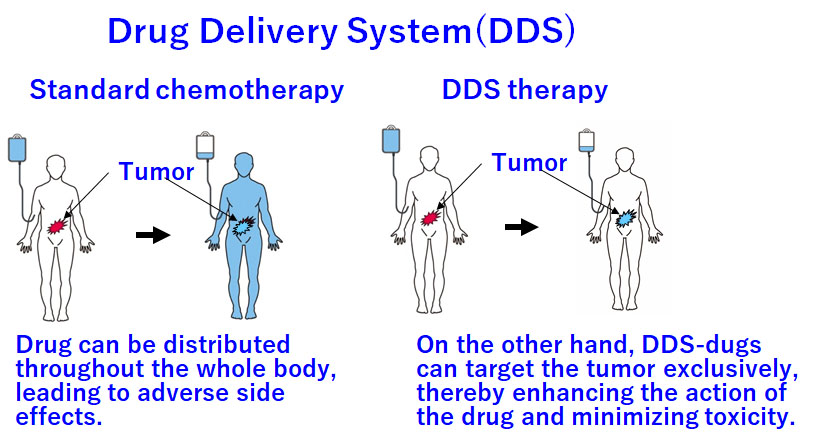 Therefore, it is important to know how a therapeutic antibody or drug acts in the body, and this is why we conduct molecular imaging as part of our research and development. Consequently, we have a good understanding of antibody delivery into tumors. Moreover, we succeeded in visualizing drug delivery within tumor tissue. We can determine whether a drug has been virtually delivered to tumor cells.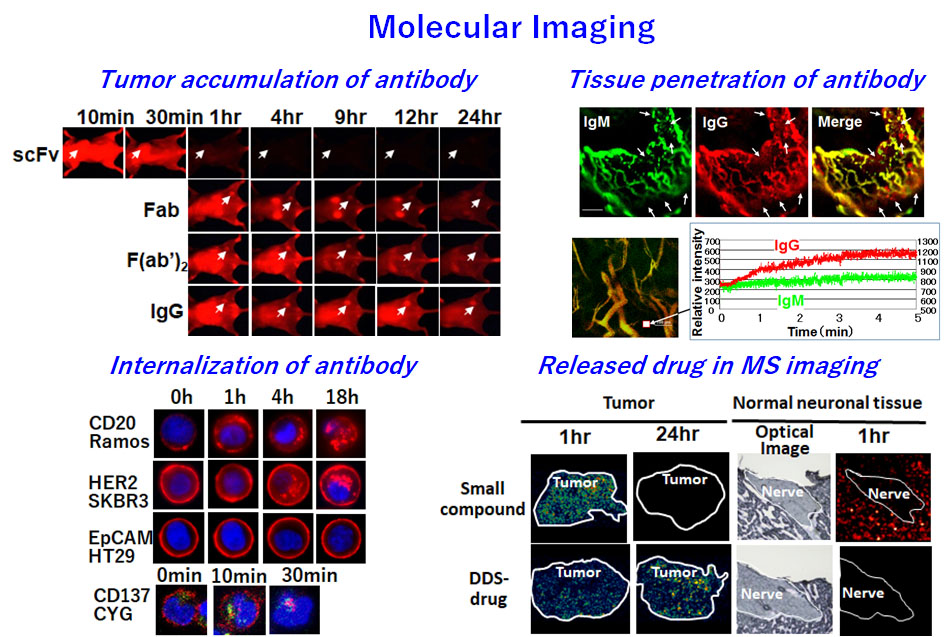 Furthermore, molecular imaging allows for precise evaluation of antibody–drug conjugates (ADCs) as next-generation antibody therapeutics, its clinical application is in progress, by visualizing the whole pharmacological process.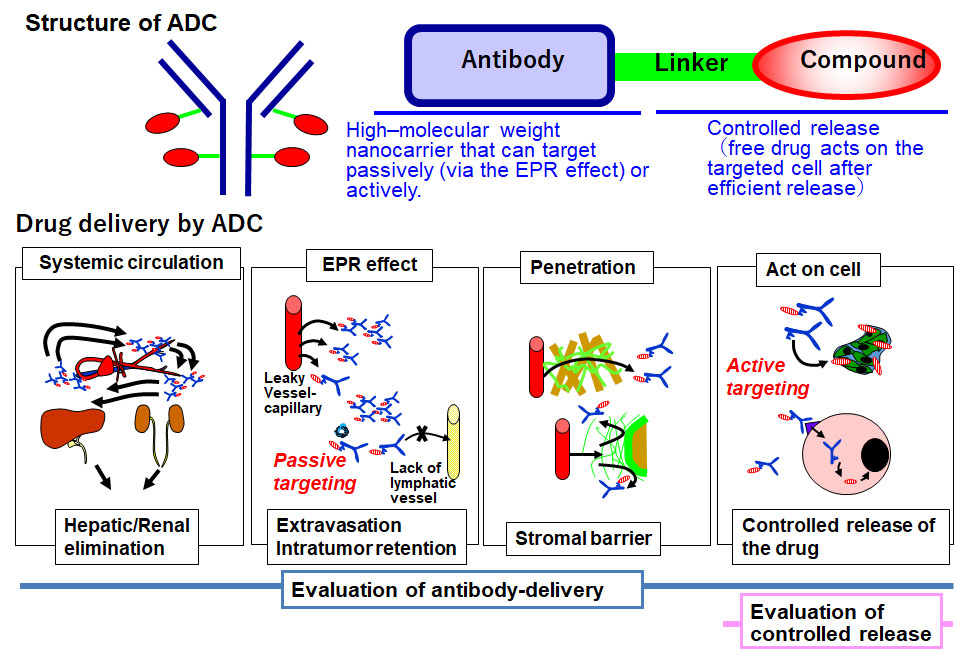 【Reference】
Yasunaga M, Manabe S, Tsuji A, Furuta M, Ogata K, Koga Y, Saga T, Matsumura Y.Development of antibody–drug conjugates using DDS and molecular imaging. Bioengineering 4, E78. 2017.

Yasunaga M, Manabe S, Tsuji A, Furuta M, Ogata K, Koga Y, Fujiwara Y, Saga T, Matsumura Y. Development of ADCs Using Molecular Imaging. Yakugaku Zasshi. 137, 535-544. 2017.

Takashima H, Tsuji AB, Saga T, Yasunaga M, Koga Y, Kuroda JI, Yano S, Kuratsu JI, Matsumura Y. Molecular imaging using an anti-human tissue factor monoclonal antibody in an orthotropic glioma xenograft model. Sci Rep. 7, 12341. 2017.

Sato R, Obonai T, Tsumura R, Tsumoto K, Koga Y, Yasunaga M, Matsumura Y.  Preparation and characterization of anti-tissue factor single-chain variable fragment antibody for cancer diagnosis. Cancer Sci. 1 05, 1631-7. 2014.

Hisada Y, Yasunaga M, Hanaoka S, Saijou S, Sugino T, Tsuji A, Saga T, Tsumoto K, Manabe S, Kuroda J, Kuratsu J, Matsumura Y. Discovery of an uncovered region in fibrin clots and its clinical significance. Sci Rep. 3, 2604. 2013.
Utilization of cell biology
In addition to the development of therapeutic antibodies and drugs as materials, we will aggressively use cell biology approaches, e.g., stem cell biology or developmental and regenerative biology. Here, we focus on ADCs and bispecific antibodies (BsAbs). The mechanism of action (MOA) of both approaches is illustrated below. Both types of agents can be delivered into tumor cells through either the EPR effect (passive targeting) or active targeting. The antitumor effect of an ADC depends on the released payload, i.e., the drug itself. By contrast, the antitumor effect of a BsAb depends on redirected T cells. Therefore, it is necessary to activate T cells, as well as providing the drug. As with general immunotherapies, T cell deserts and exhaustion are major obstacles for clinical application of BsAbs. To improve the efficacy of this approach, we will develop methods for regulating T cells using cell-biological technologies.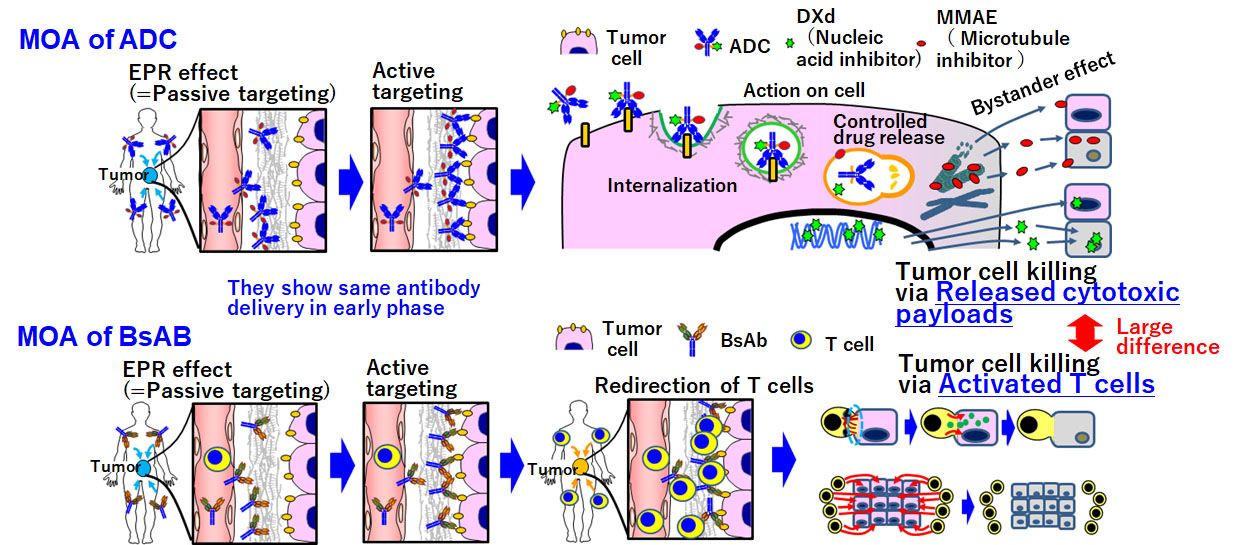 We also focus on immunological cell death (ICD), a cutting-edge topic in ADC research and development. In addition to mass spectrometry, which is applied in pharmacokinetics (PK) and pharmacodynamics (PD) studies of ICD, a cell biology approach could allow elucidation of the ICD-dependent MOA of ADC.

【Reference】
Yasunaga M, Nishikawa S,Nakano Y, Tada S, Okada M, Jakt,LM, Nishikawa S, Era T, Nishikawa SI. Induction and monitoring of definitive and visceral endoderm differentiation of mouse ES cells. Nat Biotech. 23. 1542-50. 2005.

Yasunaga M, Tabira Y, Nakano K, Iida S, Ichimaru N, Nagamoto N, Sakaguchi T.Accelerated growth signals and low tumor-infiltrating lymphocyte levels predict poor outcome in T4 esophageal squamous cell carcinoma.  Ann Thorac Surg. 70. 1634-1640. 2000.

Yasunaga M, Tabira Y, Okuma T, Kitamura N. Chemotherapy-induced apoptosis of lymphocytes in esophageal cancer worsens outcome. Hepatogastroenterology. 47.1020-5. 2000.

Yasunaga M, Yagi T, Hanzawa N, Yasuda M, Yamanashi Y, Yamamoto T, Aizawa S, Miyauchi Y, Nishikawa S. J Cell Biol. Involvement of Fyn tyrosine kinase in progression of cytokinesis of B lymphocyte progenitor. 132. 91-99. 1996.

Yasunaga M, Wang F, Kunisada T, Nishikawa S, Nishikawa S. Cell cycle control of c-kit+IL-7R+ B precursor cells by two distinct signals derived from IL-7 receptor and c-kit in a fully defined medium. J Exp Med.  182. 315-323. 1995.