Home > Organization > Section of Experimental Animals(Kashiwa) > Members > KOGA Yoshikatsu, MD, PhD
KOGA Yoshikatsu, MD, PhD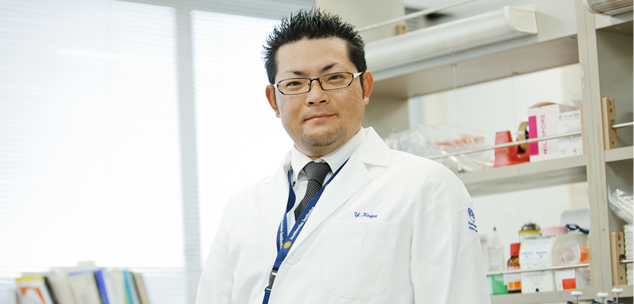 Official Title
Chief, Department of Strategic Programs, EPOC, National Cancer Center
Head, Section of Experimental Animals, EPOC, National Cancer Center
Head, Translational Research Sample Management Section, National Cancer Center Hospital East
Research Scientist, Division of Developmental Therapeutics, EPOC, National Cancer Center
Visiting Associate Professor, Department of NCC Cancer Science, Tokyo Medical and Dental University
Area of research
Tumor Diagnostics
Tumor Therapeutics
Oncology
Keywords
Cancer screening
Early detection
Exfoliated cancer cells
Drug delivery system (DDS)
Armed antibody
PDX models
Organoid models
Perfusable organoid models
Co-clinical trials
Current main research theme
Investigation of miRNA test using exfoliated cancer cells
Development of novel cancer diagnostic method by highly sensitive protein detection system
Preclinical study of antibody/drug conjugated micelle (ADCM)
Preclinical study of armed antibody (ADC, RIT, and PIT)
PDX models for development of anticancer drugs
Organoid models for development of anticancer drugs
Co-clinical trials of anticancer drug
Collaborative research themes
Early diagnosis of cancer using excretion
Preclinical study of armed antibody
PDX models and co-clinical trials
Email
ykoga●east.ncc.go.jp(Replace ● to @)
Brief History
1993-1999 Kumamoto University, Medical School, MD
2003-2009 Kumamoto University Graduate School of Medicine, PhD

1999-2000 Kumamoto University Hospital, Resident
2000-2002 Miyazaki Prefectural Nobeoka Hospital, Surgeon
2002-2003 Minamata Medical Center Hospital, Surgeon
2003-2006 Kumamoto University Hospital, Surgeon
2006-2009 National Cancer Center Hospital East, Research Resident of Investigative Treatment Division
2009-2011 National Cancer Center Hospital East, Research Fellow of Division of Developmental Therapeutics
2011- National Cancer Center, Section Head of Experimental Animals
2019- National Cancer Center, Chief of Department of Strategic Programs
2021- National Cancer Center Hospital East, Head of TR Sample Management Section
2021- Tokyo Medical and Dental University, Visiting Associate Professor of Department of NCC Cancer Science
Qualifications
National Board of Medicine
Japanese Board of Surgery
Japanese Board of Gastroenterology
Japanese Board of Gastroenterological Endoscopy
Japanese Board of Hepatology
Japanese Board of Gastrointestinal Cancer Screening
Biorepository Technical Administrator (BiTA)
Major affiliated societies
Japan Surgical Society
Japanese Society of Gastroenterological Surgery
Japanese Society of Gastroenterology
Japan Gastroenterological Endoscopy Society
Japan Society of Clinical Oncology
Japan Society of Hepatology
Japanese Cancer Association (Councilor)
Japan Society of Drug Delivery System (Councilor/Member of Editorial Board)
Japanese Society of Gastrointestinal Cancer Screening
American Association for Cancer Research
Publications
Tsumura R, Koga Y, Hamada A, Kuwata T, Sasaki H, Doi T, Aikawa K, Ohashi A, Katano I, Ikarashi Y, Ito M, Ochiai A. The report of the use of patient-derived xenograft models in the development of anticancer drugs in Japan. Cancer Sci 111(9):3386-3394, 2020.
Koga Y, Ochiai A. Systematic Review of Patient-Derived Xenograft Models for Preclinical Studies of Anti-Cancer Drugs in Solid Tumors. Cells 8(5):418, 2019.
Yamazaki N, Koga Y, Taniguchi H, Kojima M, Kanemitsu Y, Saito N, Matsumura Y. High expression of miR-181c as a predictive marker of recurrence in stage II colorectal cancer. Oncotarget 8(4):6970-6983, 2017.
Koga Y, Manabe S, Aihara Y, Sato R, Tsumura R, Iwafuji H, Furuya F, Fuchigami H, Fujiwara Y, Hisada Y, Yamamoto Y, Yasunaga M, Matsumura Y. Antitumor effect of anti-tissue factor antibody-MMAE conjugate in human pancreatic tumor xenografts. Int J Cancer 137(6):1457-1466, 2015.
Koga Y, Yasunaga M, Takahashi A, Kuroda J, Moriya Y, Akasu T, Fujita S, Yamamoto S, Baba H, Matsumura Y. MicroRNA expression profiling of exfoliated colonocytes isolated from feces for colorectal cancer screening. Cancer Prev Res 3(11):1435-1442, 2010.