Home > Organization > Division of Functional Imaging(Kashiwa) > Research Summary > Clinical imaging studies
Clinical imaging studies
The optimization is important in current cancer treatment and imaging tests are expected to provide functional information on sensitivity to the therapy and prediction of the prognosis, in addition to morphological features of tumors.
Prediction of prognosis of non-small cell lung cancer by using hypoxia PET tests
It is well-known that hypoxic areas inside tumors are often resistant to anti-cancer therapy such as irradiation and chemotherapy. Recently, it is also reported that hypoxia itself can enhance the malignancy of tumors and induce poor prognosis. We performed hypoxia PET tests for non-small cell lung cancer patients who were surgically treated and indicated that cases with abundant hypoxic areas in tumors showed poor prognosis.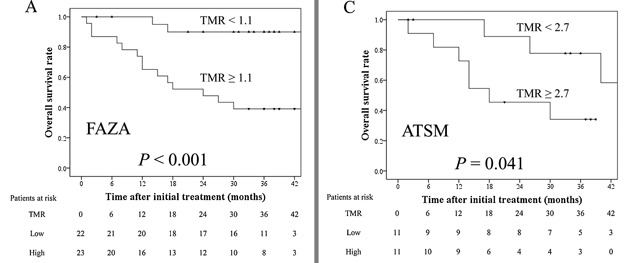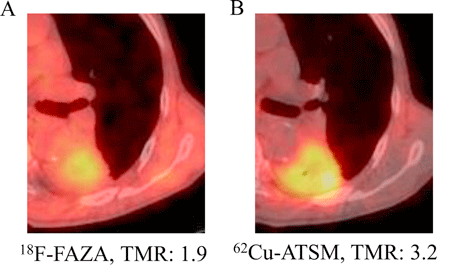 Reprinted from Lung Cancer, vol. 91, Kinoshita T, Fujii H, Hayashi Y, et al., Prognostic significance of hypoxic PET using 18F-FAZA and 62Cu ATSM in non-small-cell lung cancer, 56-66, Copyright (2016), with permission from Elsevier.
Kinoshita T, Fujii H, Hayashi Y, Kamiyama I, Ohtsuka T, Asamura H. Prognostic significance of hypoxic PET using 18F-FAZA and 62Cu-ATSM in non-small-cell lung cancer. Lung Cancer, 91:56-66, 2016[PubMed]